These Are The Ingredients I Use For My Juice Cleanse Recipes And WHY.
Last updated on
If this is your first or second juice fast, you may want to know WHAT to juice. I'll share with you my choices of ingredients that I use in my juice cleanse recipes. You can use these for any length of juice fast.
What To Juice
When doing a juice fast, there are a few fruits and vegetables that I usually use that work for me. You may modify the list to suit you. Below are some suggestions.
Quantities here are given to make about 3-4 liters that you can juice, bottle, refrigerate and drink over 2 or 3 days*. Some juice fasters drink 2-3 liters a day, but you do whatever you are comfortable with. Multiply the quantity or vary the types of greens if you wish, for variety. Read more about what else you can consume during a juice fast.
A masticating juicer is highly recommended when doing a juice fast, for its high quality juice result that is rich in nutrients and enzymes. If you use a centrifugal juicer (high speed juicer), I suggest that you consume your refrigerated juice within 12 hours.
Ingredients For Juice Cleanse Recipes
Here are suggestions of my favorite juicing ingredients and the reasons for using them. This can be your shopping list as well and there will be no wastage.
1 bunch of kale (the whole bunch as sold at your grocery store) — for the chlorophyll and its cleansing effect.
Alternative: Spinach, Romaine lettuce, beet greens, collard greens, Swiss chard, watercress, bok choy, kailan.
2 large cucumbers — for the high minerals content.
Alternative: Romaine lettuce, jicama, zucchini, fresh coconut water.
1 bunch of celery (about 10-12 ribs) — for the organic sodium and cleansing properties.
Alternative: Swiss chard, jicama, celeriac.
1 bulb of fennel — for healing of the gut.
Alternative: Jicama, kohlrabi, red/yellow sweet pepper.
6-8 carrots — for its rich nutrients that is also healing for many ailments.
Alternative: Sweet potato, pumpkin, cantaloupe.
5-6 green apples — for its natural colon cleansing enzymes.
Alternative: Any apple varieties, Asian pears.
½ bunch of cilantro — for its heavy metal detox properties.
Alternative: Basil, parsley, mint leaves.
1 pineapple (cut off thorny skin) — for its anti-inflammatory properties.
Alternative: Medium-sized beetroot, grapefruit, grapes, any berries and cherries.
1 lemon with peel — for its immune boosting effect and also to drive up nutrients absorption.
Alternative: Lime, orange.
2-inch ginger root — for its gut healing, anti-inflammatory properties and extra zing in the juice. Good addition in juices to keep the body warm during cold weather. Optional but recommended.
Alternative: Turmeric or ginger powder.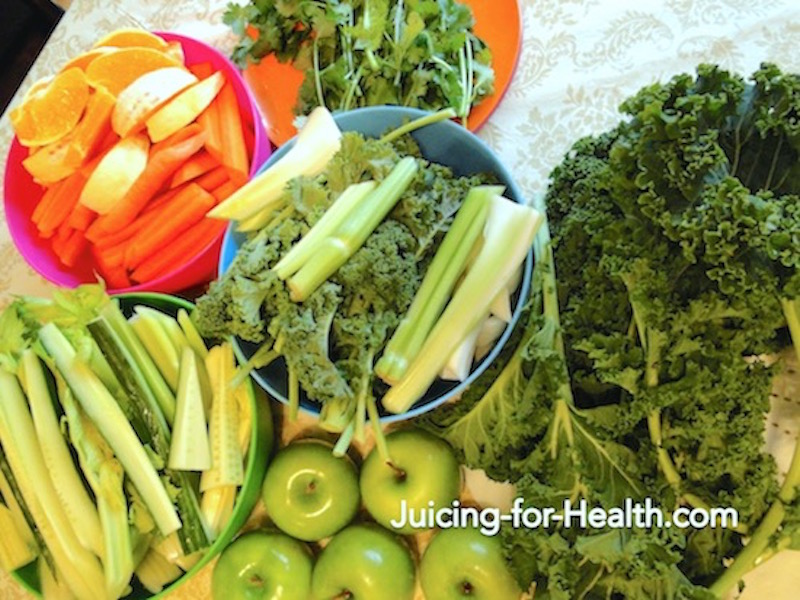 The above ingredients and quantities might take about 1 to 1.5 hour to prepare and juice if using a regular masticating juicer, producing about 3-4 liters of juice, depending on your type of juicer. Read how to store your freshly-extracted juices for maximum nutrient retention.
The quantities given above have been adjusted for taste. As you juice, pour the extracted juice into a large vessel till you are completely done juicing. Then, stir the juice in the large vessel and pour them into mason jars to be stored away in the fridge. If you like your juice without pulp, this is the time to strain it before bottling.
Use a few 400-600ml mason jars and fill them to the brim so that you can drink a whole jar each time, 3 to 4 times a day.
Note:  If you're using a centrifugal juicer, you may not get much juice out of small leaves like cilantro, basil or parsley. You may chop them finely to be added into the juice instead. A little extra preparation work and some chewing to do, but they give extra flavors to your juice!
You may decide to do a 3 to 7-day detox, or more days. The above ingredients suggestion is suitable for any length of juice fast. Buy your produce fresh for your juicing. Repeat the above steps, multiply the quantities of the ingredients or use alternative fruits and vegetables.
You may like to add or use a few other fruits/vegetables in your juicing, depending on the season and what is available where you are. The above is a good guide when you are starting out. Once you become familiar with juicing, experiment yourself and create your own favorite juice cleanse recipes!
Liver Cleansing
On top of the above juices, I also juice and drink beetroot juice at least once or twice during my 7-day juice fast for liver cleansing. Here's how to make a tasty beetroot juice.<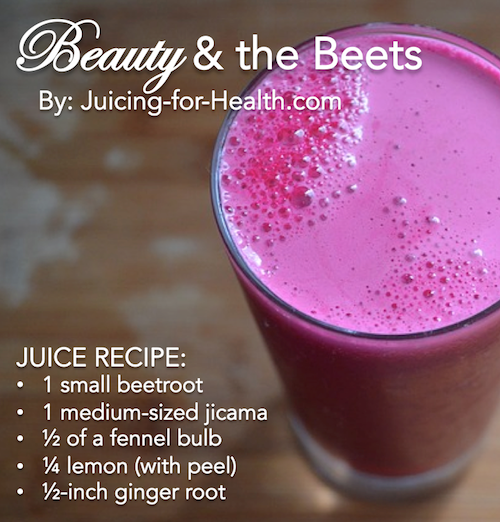 For every seven days of juicing, drink this delicious and liver-cleansing rooty juice at least once or twice.
Remember to add these ingredients on your shopping list. See this page on how to write your own shopping list.
Have fun, enjoy, and happy juicing!
Some of the links I post on this site are affiliate links. If you go through them to make a purchase, I will earn a small commission (at no additional cost to you). However, note that I'm recommending these products because of their quality and that I have good experience using them, not because of the commission to be made.