Omega CUBE300 Juicer Review
Last updated on
One of the key issues of owning a juicer is the fact that it will be an ever-present entity on your table or countertop since most models are too large to fit in cupboards. That will change entirely with the Omega CUBE300 Juicer. The Omega CUBE Juicer comes in two colors: CUBE300S is Silver and CUBE300R is Red.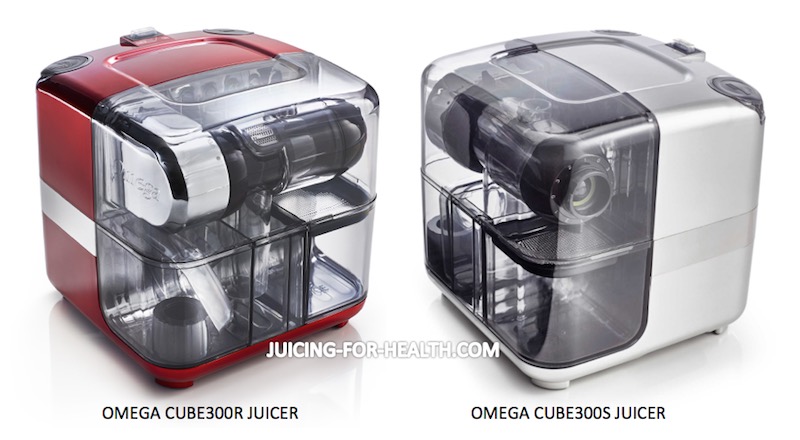 Although the size of the Omega CUBE Juicer may still be a little large, but with its ingenious nifty cubic design, it is aesthetically pleasing and fits most modern kitchens. Best of all, it does not need additional space for its accessories. All parts are stored inside this compact CUBE so that they don't ever get misplaced!
So, is this a great investment if you are into serious juicing? Let's take a look at it.
Why Choose The Omega CUBE300 Juicer?
The Omega brand has taken juicing experience to a new level. Juicing is no longer just about juicing, it is also about lifestyle, convenience, reliability ….
So, why choose Omega CUBE300 juicer over models that are less expensive?
The current (Summer 2017) price range of Omega CUBE300 Juicer is between $350 and $400. What I'm looking for, is a juicer that is sturdy and reliable. The Omega CUBE300 Juicer has many features found in more expensive juicers. Omega is a leading juicer brand in the industry so its quality is unquestionable.
How Does The Omega CUBE300 Juicer Work?
The Omega CUBE Juicer is a masticating juicer. It uses a horizontal auger design that pushes food through a screen that juices fruits, vegetables, herbs and wheatgrass efficiently. As I always mention, the horizontal juicers are great for juicing both fruits and vegetables. If you're juicing mostly vegetables, go with a horizontal. But if you're juicing mainly fruits, then go with a vertical juicer, such as the Omega Vert Juicer.
The wormlike-shaped auger works in two ways as it turns; it masticates (breaks down) pulp and presses it against the juicing screen to extract juice. It works very much like the Omega J8000 and NC800/900 series, but on the inside, they all operate on the same principle—masticating.
Like Omega J8000 and NC800/900 series, the motor in the Omega CUBE Juicer runs on equivalent of 2 HP, which is sufficient to masticate hard items like carrots, and yet sufficiently steady for extracting wheatgrass juice. Using the mincing screen, the CUBE Juicer is excellent for crushing frozen fruits for making sorbet.
The Omega CUBE Juicer motor spins the auger at a slow 80 RPM (compared to centrifugal juicers that spin at over 3000 RPM). The slow speed is key to its cold-pressing ability to preserve enzymes and nutrients. The low RPM design of the motor and the auger design gently break the cell walls of fruits and vegetables, so deep-seated nutrients are released still-intact into the juice. This is the reason juices extracted using the masticating method is more stable and can keep for longer (up to 5 days).
Related reading:  Centrifugal juicers Vs Masticating juicers.
The Build-Up
At first, the Omega CUBE Juicer may look like a "gimmick", as if Omega was trying to be "different" and being "unconventional" (nothing wrong with that!). But, when you look at the juicer more closely and actually use it, you will find that the CUBE is really a smart design that looks sexy too! 🙂
What Came In The Box
The Omega CUBE Juicer might look like a mess out of the box, but assembling the device is easy to figure out. The outside of the appliance, including the transparent front cover, is made of food-grade, non-toxic hardened, BPA-free plastic while the insides are metallic chromed.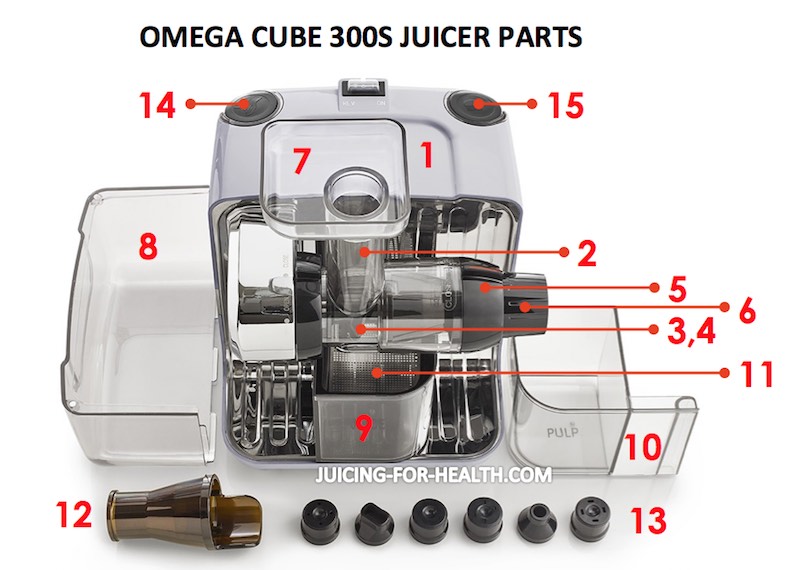 What came in the box:
Juicer CUBE base (the main body) and motor
Transparent L-shaped drum (housing body)
GE-Ultem auger
Juicing cone
Drum cap
Adjustable pressure cap
Food funnel/hopper
Top cover that can be used to place your juicing produce
Juice collector bowl (marked "JUICE")
Pulp collector bowl (marked "PULP")
Juice bowl sieve
Mincing/pasta/sorbet cone
Six nozzles: 4 pasta nozzles, 2 ricestick cake/sorbet nozzles
Food pusher
Cleaning brush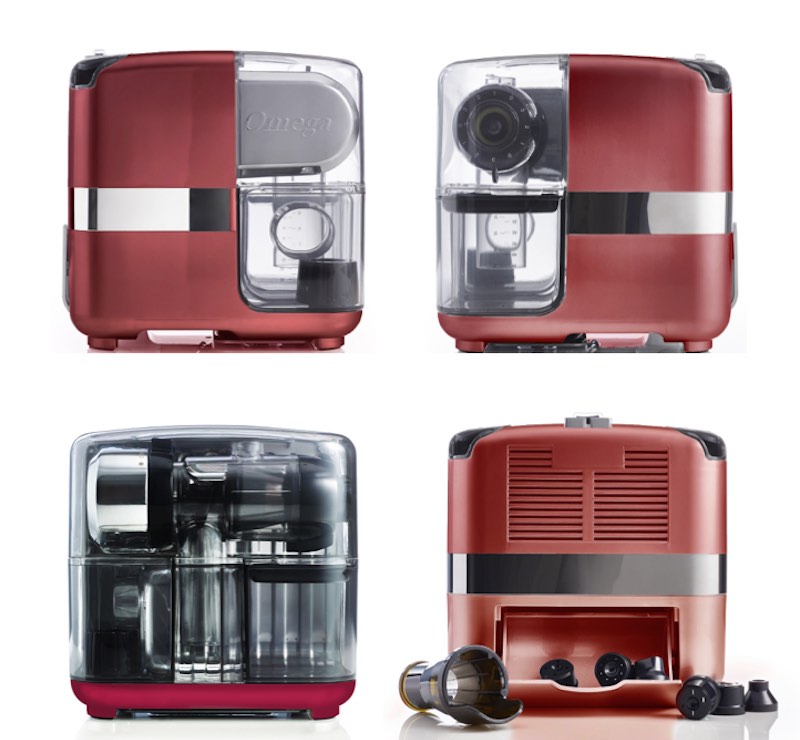 All its attachments and accessories are stored in its box-like body. There is a small compartment at the back of the juicer where the additional cone and nozzles are stored.
The chord is nicely wound up at the bottom of the juicer so that you can put it away neatly.
The main parts are assembled and tucked into the cube with the top cover, juice and pulp containers acting as its outer shell, forming a cubic shape.
The cleaning brush and food pusher are also neatly tucked into the machine, located on both top corners in the rear.
This really is a neat idea, come to think of it. It saves countertop space, protects the parts from external dust and insects, ensures that parts never go missing, and best of all, it looks pretty! It's even a great conversation starter!
What's New And Cool
Omega has been in the juicer-making industry for decades and each new product just gets better. What I really like about the parts in the Omega CUBE Juicer:
The housing body is made of transparent plastic, instead of the dark shade plastic in previous models. Transparency makes it easy to see what's going inside when juicing. This is helpful when your juice gets backed up, so you know to adjust the output pressure cap.
The feed chute is a little wider and oval, not round as in previous models. The opening is at 1.5″ x 1.75″. This makes prep work a little easier by not having to cut fruits into very small pieces. The wider opening also allows for self-feeding where you just need to drop the pieces of fruits and they get ground up easily without much use of the food pusher.
The output adjustable pressure cap with this model is a first among Omega juicers. This pressure cap allows you to control the juice extraction pressure. When juicing harder fruits where more pressure is needed, you turn the cap to 2 or 3. Juicing wheatgrass and small fruits such as berries, also requires more pressure so you keep it at 2 or 3. For fruits that are softer and mushier, turn the cap to 0-1. Fruits such as oranges, pineapple, tomatoes, red apples can get mushy and the adjustable pressure cap really comes in handy. You might think it is a hassle but this really is key in extracting more yield. If you cannot bother with it, the attachment is optional, or just keep it at 2 for everything!
Unlike previous Omega horizontal juicers which juicing screen holes are made of plastic, this one is made of stainless steel.
The juice bowl is big enough to hold up to 950ml (approximately 32oz) of juice.
BUY: Omega CUBE300S Juicer >>
(Currently only available in USA/Canada)
Quality Of The Juice
The Omega brand is known for its quality, so expect only high quality juice extraction.
The Omega CUBE Juicer produces a slightly higher yield compared to the previous models, thanks to the innovative adjustable pressure cap. The juice is thick, concentrated and deeply flavored. And because of the masticating method of juice extraction, the enzymes and nutrients are intact, making the juice stable and rich as it should be.
Like its other horizontal sister juicers, the Omega CUBE Juicer comes with a mincing cone and six accessory nozzles. This means that the other functions (aside from juicing) are retained: you can use it to grind chillis, onions, produce nut milks, nut butters, and baby food. You can even freeze chopped fruit, and put them through the juicer to make tasty and wholesome sorbets.
Assembly And Washing Up
Assembly is really easy. All the parts are stored in the boxlike form. First of all, you remove the transparent plastic top cover, pulp and juice collector bowl.
The housing body is stored upside down, just remove it and turn it right side up and lock it in place. Attach the food funnel, place the juice bowl under the spot below the auger and the pulp bowl just below the nozzle. Once you get acquainted with the CUBE juicer, assembling the parts take hardly one minute, it's that easy! The appliance is now ready to get to work!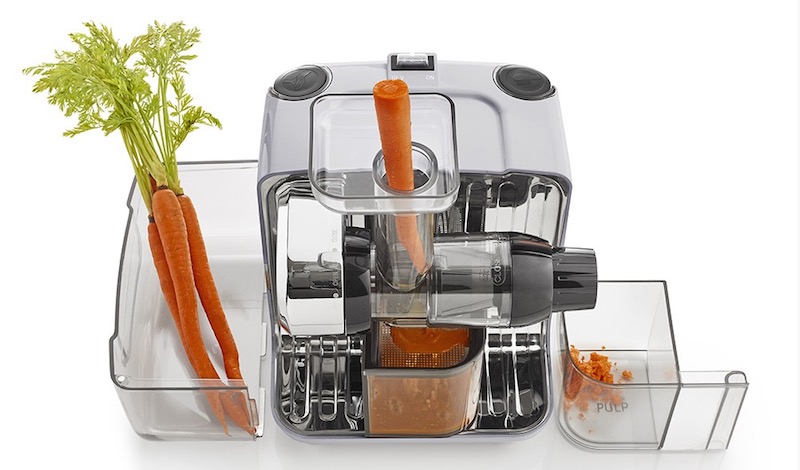 Horizontal juicers are always easier to clean because they have smaller screen area to brush. If you're like me and don't like to spend a lot of time washing up, this juicer is just perfect!
To wash the juicer, simply unlock the entire housing body (with all attachments still intact) and take it to the sink. Dismantle all the parts in the sink and run each piece under running water to rinse off the bits of pulp that stick. The crushed pulp just gets washed down the drain pipe easily without worry of clogging.
Use the cleaning brush to brush the juicing screen and sieve and you're done! If you like, the parts can also go into the dishwasher as they are dishwasher-safe, although I like to just hand-wash them. Cleaning takes under two minutes (yes, I actually timed myself!).
Specifications
Omega CUBE300 Juicer is, as its name implies, roughly cube-shaped. One of the key things you want to look for in a juicer is low RPM (as opposed to high speed centrifugal juicers operating at over 3000RPM), although this does not determine how good a juicer is. Juicers operating at 40RPM is not any better than those operating at 80RPM, and vice-versa.
Its dimensions are L10.24″ x W10.43″ x D10.24″ (L260mm x W265mm x D260mm), weighing at about 20 pounds (about 9kg) and shipping weight at 24 pounds (about 11kg). It is a lot heavier than its sister models but its heaviness makes it sturdy and doesn't "run" when in operation.
Perhaps, one of the most important things is that Omega is so confident with their products that their juicers usually come with a 15-year warranty at no additional cost. This warranty alone makes the juicer a worthwhile buy if you juice regularly.
BUY: Omega CUBE300S Juicer >>
(Currently only available in USA/Canada)
Conclusion
I have used a few Omega juicers in the past, so I'm confident with the juice quality that is perfectly concentrated and rich. I don't expect any less from Omega, moreso when they have put in so much investment into the design of this brand new, unconventional design of having a multi-functional juicer/processor into a CUBE!
One thing that I really like about this model that is unique, is how I can store all the attachments and accessory cone and nozzles into one neat compact cube that even looks pretty on my countertop. (I like my kitchen to be neat, so this neat feature works well for me!) With previous models, I stored my attachments in three different places, and you can guess that sometimes looking for the parts are a hassle!
Another thing I like is that the feeding chute is a little wider so it makes prep work easier with less cutting of fruits.
So, is this Omega CUBE Juicer for you?
Answer these questions:
Is the price range of $350 to $400 within your budget?
Do you want a sturdy, durable and reliable juicer that comes with a 15-year warranty?
Do you like how the CUBE juicer will look on your countertop?
Do you juice frequently?
Do you intend to juice equal amounts of fruits and vegetables, or more vegetables than fruits?
Do you like concentrated, rich-tasting fresh juices?
Do you like the additional features for making pasta, nut butters, nut milk, sorbet?
Do you want to spend less time prepping your juicing produce?
Do you like easy assembly, dismantling and washing up?
If you answered "YES" to all the questions above, then what are you waiting for? Go ahead, get an Omega CUBE Juicer and start juicing!
BUY: Omega CUBE300S Juicer >>
(Currently only available in USA/Canada)
Some of the links I post on this site are affiliate links. If you go through them to make a purchase, I will earn a small commission (at no additional cost to you). However, note that I'm recommending these products because of their quality and that I have good experience using them, not because of the commission to be made.