Manual Non-Electric Juicers
Last updated on
Manual (non-electric) juicers are juicers built for only one specific purpose.
The Citrus Juicer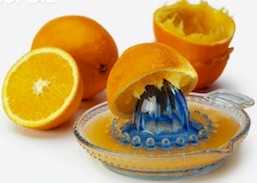 A citrus juicer must be one of the earliest type of juicer we knew.
Being the most common functional juicer, it is designed to juice oranges, grapefruits, limes and lemons.
The price of a citrus juicer can cost as little as $10 for a hand-operated unit, to as much as $150 for an electric-operated one.
When using a citrus juicer, cut your citrus fruit across in the middle (not from the stem-end). When cut this way, the fruit's center fits nicely on the tip of the cone of the citrus juicer (see picture).
On a hand-operated unit, you squeeze the fruit and turn it with the help of the cone to squeeze out the juice. On an electric unit, of course less effort is needed, and is especially useful when making orange juice in large quantities.
Some centrifugal juicers are built with an optional attachment for juicing citrus.
Tips for using a manual juicer:
To get the most juice yield out of your citrus, use fruits at room temperature. Roll the fruit with your palm on your kitchen counter top a few times before you juice.
When you have extra citrus juice, put them in ice cube trays and freeze them. It is refreshing to later use them in other juices for that extra tangy taste, besides cooling drinks. Or just simply suck them for the extra cool feeling!
When only a few drops are needed from a lemon, or any of your citrus fruit, poke through the skin of the fruit with a sharp and tough toothpick and squeeze out only what is needed. To store, reinsert the toothpick into the fruit, plastic cling-wrap it and refrigerate.
The Wheatgrass Juicer
While the masticating and triturating juicers tear/grind/crush the wheatgrass, the wheatgrass juicer presses and squeezes the wheatgrass fiber. The action is much likened to mangle-wringing a wet cloth.
If you wish to purchase a wheatgrass juicer, I suggest you opt for those made of stainless steel or plastic (polycarbonate). Forget the iron ones as these may rust with time.
Purchase a wheatgrass juicer only if you are drinking wheatgrass for healing purpose and wants a separate juicer just for this purpose. Otherwise, you are better off purchasing a multi-purpose juicer that can juice other fruits and vegetables. Take a look also at the masticating juicers.
Advantages of Manual Non-Electric Juicers
They are cheap compared to all the other electric-operated juicers
The manual juicers do not require electricity, thus is wonderfully portable and easy to carry around during travel.
Silent operation and its low speed eliminates oxidation, therefore, preserving the enzymes and nutrients of the juices.
Cleaning up is easy and fast.
Quality of the juice yield is preserved—ideal for use for healing purpose.
Disadvantages of Manual Non-Electric Juicers
They are limited in the types and amount of produce it can juice.
Extra patience is required when using these types of juicers as they are slow and some effort is needed to operate them. Fruits and vegetables need to be cut in smaller pieces for easy feed.
Review of Selected Popular Models
There are many kinds of hand-operated juicers (mostly built for one kind of produce only) in the market as inventors get creative. Most of these you can easily buy from departmental store at the kitchen appliances or the accessories section.
Some work well but some cheap ones are just a waste of money. But there are a few good, popular models that are worth mentioning. These may not be easily available at the departmental store, depending on where you are.
Here are some interesting models I found, if you are looking to buy a manual juicer:
Hamilton-Beach Commercial 932 Juicer
Jupiter Large Commercial Juice Press
Types Of Juicers:
Some of the links I post on this site are affiliate links. If you go through them to make a purchase, I will earn a small commission (at no additional cost to you). However, note that I'm recommending these products because of their quality and that I have good experience using them, not because of the commission to be made.