The Health Benefits Of Juicing – What You Need To Know
Last updated on
Juicing is the process of extracting juice from fruit, vegetables, roots and tubers for consumption. There are many important health benefits to be gained from juicing fresh fruit and vegetables rather than eating them whole or sliced.
In A Nutshell: Why Juice?
Although freshly-extracted juice contains the same nutrients as the original fruit and veg, the juicing process removes the fiber. Consequently, the juice is more concentrated, easier to digest and offers a higher absorption rate of nutrients from the gut into the bloodstream.
Faster and more effective absorption offers many health benefits: from improved detoxification and stronger immune system, so increased energy levels and healthier-looking skin.
Below I will discuss the health benefits of juicing and bury the occasional bad press and myths that unfairly follow juicing.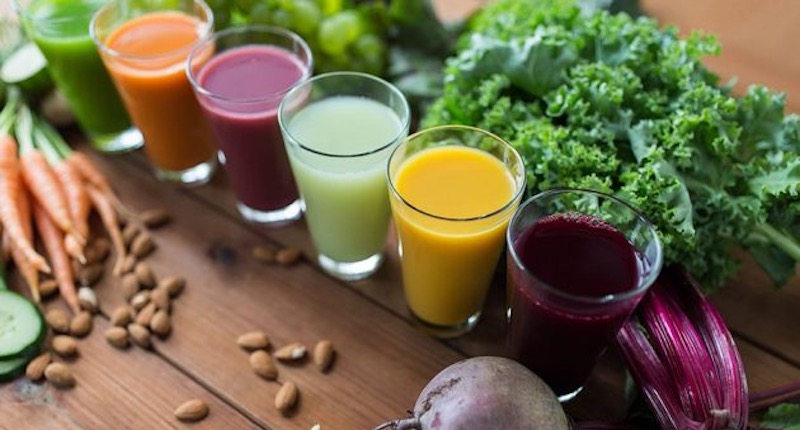 The Advantages Of Drinking Juices
Let's make one thing clear: we are talking about freshly-extracted fruit and vegetable juices – not the store-bought drivel with chemical additives, preservatives and refined sugar!
1. You consume a greater quantity of fruit and veg in juice form
Did you ever try to eat 10 different fruits in one seating? This can be difficult. However, it is easy to knock back the juice of 10 fresh fruit (largely because the bulky fibers have been removed).
This allows you to get far more vitamins and essential minerals into your system, in higher concentrations, and in a shorter time frame.
2. Juicing allows quicker digestion of fruits and vegetables
Juicing removes the fibers from fruit and vegetables, allowing for easier consumption and quicker digestion.
3. Your body can absorb nutrients more effectively from juice
Freshly-extracted juice is more concentrated than whole fruits and vegetables. A higher concentration allows your body to absorb nutrients more effectively at a cellular level.
4. Juicing is a great way to get your kids to eat their greens
Juicing for kids is a great way to get kids to eat their greens, or any other vegetables that they refuse to eat in isolation. Use your child's favorite fruit (such as banana or orange) to disguise the taste of other ingredients like spinaches that you may have sneaked in.
Myths Of Juicing
The leftover pulp often goes to waste
Pulp or fibers are the side-product of juicing, and often get thrown away. Some people think that they are a waste.
However, once you understand how a masticating juicer works, you will see that removing the fibers is the best way of eliminating the pesticides on non-organic produce.
Besides, here are some great uses for leftover pulp.
Juice leaves high concentration of sugar in the mouth, which can cause tooth decay
Drinking juice leaves fructose in the mouth. However rinsing with fresh water and brushing gently 30 minutes after drinking juice will prevent tooth decay from happening.
Furthermore, it is now understood that an acidic body is the real cause of teeth decay. Drinking freshly-extracted juices actually helps to alkalize your blood pH, reducing your body acidity.
What Are The Health Benefits Of Juicing?
There are immense health benefits of juicing arising from the increased amounts of nutrients consumed in juices:
Juicing leads to more efficient detoxification
Build-up of toxins in the body can manifest itself in the skin, such as acne, eczema, psoriasis and allergies. This is due to many years of poor choices of food lacking nutrition and containing harmful artificial additives.
Often, people with colon and liver congestion will have skin breakouts as the body is trying to push out the toxins through the skin (our largest detoxification organ).
Excessive toxins in the body that don't get removed put a strain on the immune system, allowing diseases to develop, resulting in chronic disease.
Drinking fresh juices floods the body with nutrients
Juices supplies your body with all the right nutrients it needs – very much like filling your car with fuel to get it moving.
Vitamins, minerals, protein, enzymes, phytonutrients and antioxidants are densely concentrated in fresh fruits and vegetables. By drinking juices, you literally flood your body with a river of goodness.
These nutrients have many functions in your body—they repair damaged cells, heal and nourish them back to health. Some of these nutrients need co-factors for them to work effectively. They provide synergized healing power to help your body perform at its optimal capacity, and if diseased, will help your body to speed up healing.
By drinking freshly-extracted juices daily, you can expect better metabolism and improved circulation, Organs such as the pancreas, liver and kidneys are better able to perform their tasks.
Getting started
If this article has done its job, I have converted you to the powerful health benefits of juicing. Are you ready to begin a new chapter in your life, leading to a new, healthier you?
To get started, here are two guides I have created:
The beginner's guide to juicing
Why hardcore juicers do the "juice fast"
Happy juicing!
Some of the links I post on this site are affiliate links. If you go through them to make a purchase, I will earn a small commission (at no additional cost to you). However, note that I'm recommending these products because of their quality and that I have good experience using them, not because of the commission to be made.