Omega J8003 / J8005 Masticating Juicers
Last updated on
Single Gear Juice Extractor Review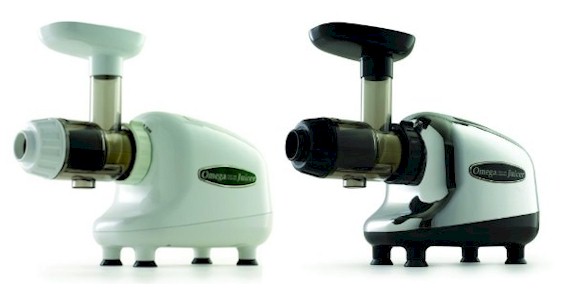 Oscar VitalMax 900 = Omega J8003/J8005 = Alpha Juicer DA-900
These are all the same models, except that they are marketed with different brand in different countries:
The Omega J8003/J8005 (this page) are two colors, sold in USA and Canada.
Omega's Classic Gear Juicers
The Omega J8003 and J8005 are second generation twin masticating juicers, fashioned after the original Samson 6-in-1 single-gear juicer.  When the public began to understand the importance of preserving enzymes and nutrients through low-speed RPM extraction method, these models became Omega's best-sellers and still are, until the emergence of the third generation Omega J8004 and J8006 twin models.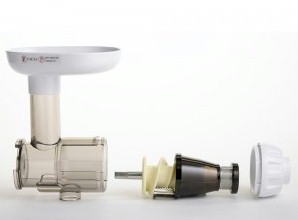 An improvement after the first generation. These twin models were made to have a smaller and cuter body design compared to the earlier bulkier models.  There is now lesser assembly parts, easier handling, less washing and produces dryer pulp (i.e. higher juice yield).
These two models are really the same juicer sharing all the same functions and features. The only difference is just the color. Omega J8003 has a white body whereas the Omega J8005 is adorned in chrome and black with a price difference of only about $20 for the more "sophisticated" look.
I like the chrome look of the J8005 model, very modern. The attachments are made in black color, a very convenient color if you don't like to have unsightly pigmentation stains that is likely on the sister model J8003. Worth paying an additional $20 for that permanent "cleaner look".
If you're interested in this model, read my comprehensive review about the equivalent Alpha Juicer.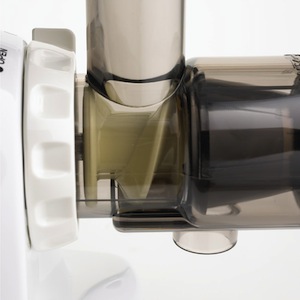 The unique feature of this model is its dual-stage juicing screens which help in producing dryer pulp. Its heaviness, at 13 lbs (~6 kg), gives it the weight to 'hold' the machine from 'walking' when in use.
The operation is slow, steady and very quiet. I have used this juicer almost daily for many years and have never had any problem with it.  It is a power work horse that tirelessly churns out rich juices for you without ever breaking down.  It's one of the best investments I've ever made for my kitchen.
Warranty
Omega is giving these models a 10-year warranty on the motor.  The reason it's at less years than the third generation's 15 years is possibly because it may be phasing it out gradually as these models have been in the market over five years now.  It might be worthwhile to pay a little more to invest in the J8004/J8006, unless you're happy with even the 10-years and at a lower price.
Features
This earlier model still uses the original (non-toxic) melamine plastic auger which is not quite as tough as its newer sister models that are made of GE's ULTEM material.  Perhaps this is a good reason to pay a little more for the Omega J8004/J8006 which auger is supposedly 8 times more solid than the older model single-gear juicers. The hardier auger means that there is less chances of the gear chipping when being mishandled.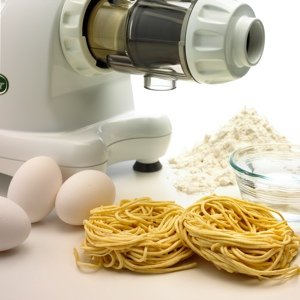 Like most gear juicers in this category, this model is suitable for juicing fruits, vegetables (does this very well), wheatgrass, grinding, mincing, food milling, making soy milk, frozen desserts, and even nut butter.
All these functions make the juice extractor a versatile machine that is worth investing in for a modern kitchen.  If you like to juice lots of greens, even wheatgrass, I suggest you go with the horizontal gear juicers, rather than the upright versions (Omega VERT, Hurom Slow Juicer or the JuicePresso).
As with most gear juicers in this league, the auger spins at between 75 and 85 RPM to preserve the enzymes and nutrients from being destroyed (as opposed to 3,000 RPM and above in centrifugal juicers).
The operation is slow, steady and very quiet—a slow hum. The assembling, dismantling and cleaning up is a breeze and is an important feature to look for when buying a juicer.
With the feeding chute opening of 1½-inch diameter, like the older model, your produce needs to be cut in smaller pieces length-wise.  The narrow opening is necessary to ensure that produce is not fed too quickly for its low 80 rotation speed.
This supposed disadvantage is really to protect and preserve the quality of the juice that is extracted.  If you hate cutting produce but yet want a masticating juicer, the vertical versions have wider-mouth making them easy to use:  Omega VERT or the JuicePresso, although they're not multi-purpose like the horizontal cousin models.
My Opinion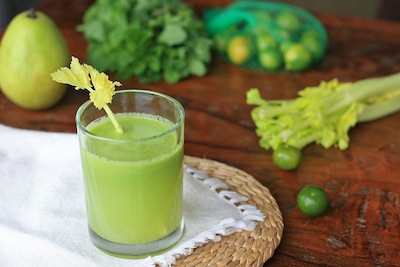 Being very well acquainted with the older equivalent model and Omega's reputation, I'm all for their quality-built masticating juicers.
Not only do they preserve the precious enzymes and nutrients in juices, the juice yield is much higher compared to that extracted using a centrifugal juicer. The result is juice that is less foamy and that can last longer before it oxidizes.
Once you've drunk juice extracted from a gear juicer, you would never again go back to a centrifugal juicer. It is a huge and pleasant difference.
The price of this juicer is about $30-$40 less than the newer models.  The functions are the same, number of parts the same, only that the outward built design is a little different and more compact.  If you're serious about juicing but have a budget constraint, then I would say the basic model Omega J8003 would suffice and serve you well for many years to come.
Read my comprehensive review about the equivalent Alpha Juicer.
Motor Power: 
 600 watts

RPM:
  Low rotation speed of 80

Weight: 
 13 pounds (~6kg)

Dimensions:
  W6½" x D14½" x H15½"  (W165mm x D368mm x H394mm)

Warranty:
  10 years

Price: 
 From US$230
Buy Now:
Other Masticating Juicers:
| | | | | |
| --- | --- | --- | --- | --- |
| | | | | |
| Hurom AA Series | Omega VERT | Breville BJS600XL | Omega J8004/J8006 | Kuvings Wide Mouth |
| | | | | |
| | | | | |
| Alpha Juicer | Omega NC800/NC900 | Lexen Healthy | Oscar VitalMax | Samson 6-in-1 |
Some of the links I post on this site are affiliate links. If you go through them to make a purchase, I will earn a small commission (at no additional cost to you). However, note that I'm recommending these products because of their quality and that I have good experience using them, not because of the commission to be made.