[Review] Omega NC900HDC Masticating Juicer
Last updated on
This mid-range masticating juicer is without compromise (seriously, we have almost nothing bad to say about it)
[Review] Omega NC900HDC Masticating Juicer
A fantastic mid-tier juicer that provides great value (and juice)!
The Omega NC900HDC sits in the middle of the mid-range juicer price point, but it's still below the $500 threshold. They say you get what you pay for and the NC900HDC is well worth the price, being easy to use, quick to clean, and almost silent to operate. It also comes with a wider chute than previous models, meaning you spend less time chopping and more time juicing.
Pros
Quiet and efficient low-speed auger
Large chute
Easy to assemble and clean
High yield, dry pulp
Cons
Slightly bulky and heavy
Chrome finish fingerprints easily
Mid-range price
---
We Put this Omega Juicer to the Test…
We've put this masticating juicer to the test and we definitely were not disappointed, to say the least. Based on the spec sheet alone we were anticipating an impressive juicer, and the Omega NC900HDC delivered.
While you can get cheaper juicers than the NC900HDC, you can also get more expensive ones too. This juicer has a mid-range price with many of the same features as more expensive juicers that cost almost twice as much.
So, to summarize: If you want a higher-end juicer without the high-end price tag, the Omega NC900HDC is the juicer for you. Keep reading for 2,000 more words as to why.
Use Case
We bought the Omega NC900HDC a few weeks ago and we've been putting it through its paces ever since. For the most part, we juiced hard fruits like apples and pears as well as vegetables like celery and cucumber.
After each use, we disassembled the juicer and cleaned it with warm, soapy water.
Initial Impression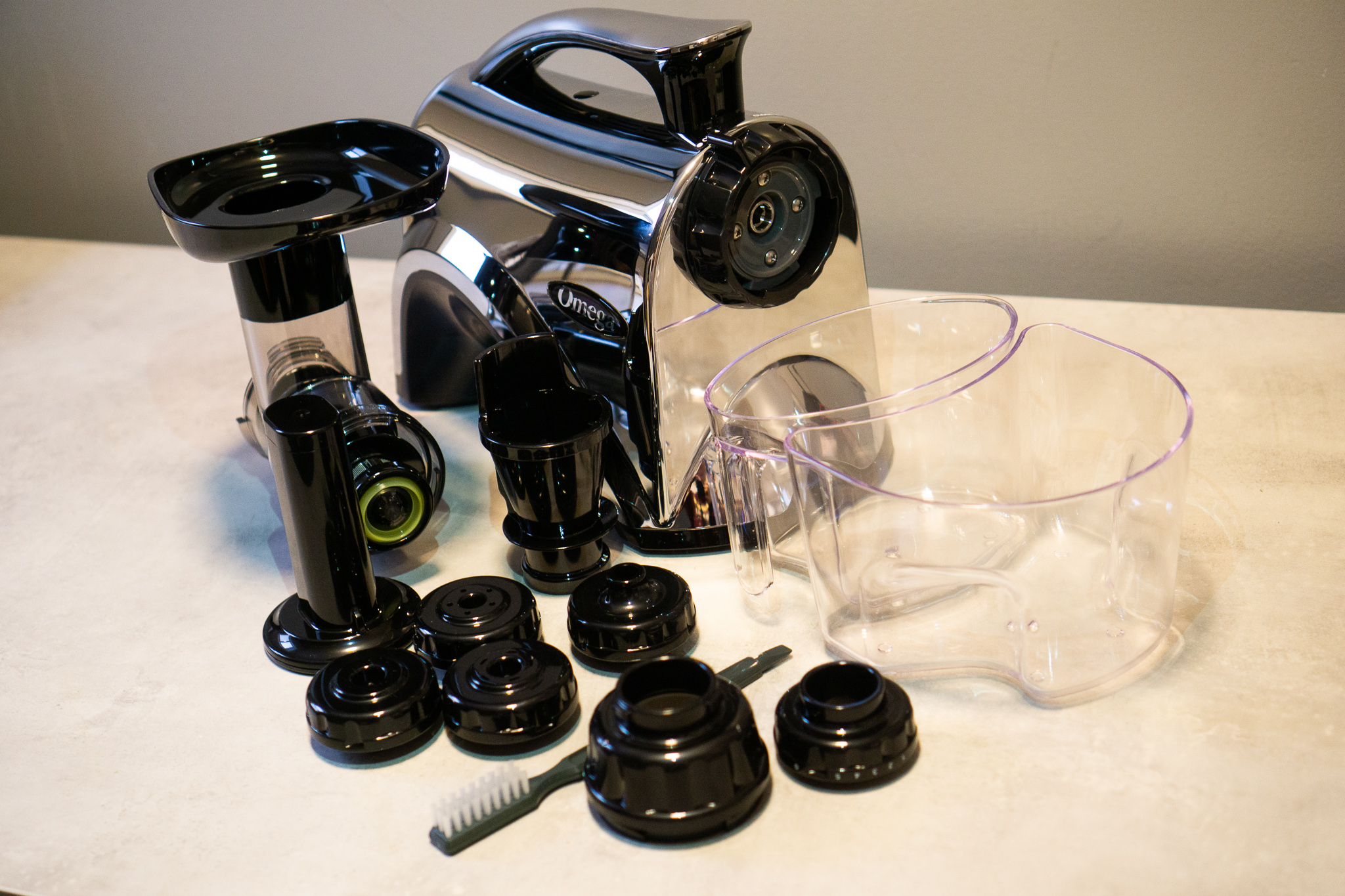 The NC900HDC is in the middle of the pack of mid-range pricing. It's certainly not a bargain juicer at $380, but it's priced well below most premium juicers. At this price, you aren't compromising on quality or breaking the bank.
As a horizontal juicer, it's naturally on the bulkier side. It weighs in at 13 pounds and would stick out on a countertop. We keep ours in a cupboard, where it admittedly takes up a majority of the shelf space.
The size and weight mean this juicer doesn't compromise on power, however. With 2 horsepower rotating the auger at 80 RPM, it can crush just about any fruit or veggie, including frozen ones for sorbet.
The outside finish is chrome and all of the internal parts are BPA-free Ultem plastic. While it's slightly disappointing to see so much plastic at this price, Ultem is about 8 times stronger than other plastic alternatives. That, combined with the 15-year warranty, makes us confident that this juicer is an investment appliance.
Horizontal Power
As a horizontal juicer, the Omega NC900HDC comes with more features and capabilities compared to verticle juicers. It has handled everything I've thrown at it (or into it) from hard root vegetables to citrus fruits to leafy greens.
With this versatility comes a slight compromise on size. As mentioned earlier, this horizontal juicer isn't an appliance you can tuck away on your countertop. That said, its versatility means you can use this juicer to replace a variety of kitchen appliances.
It can make sorbets, baby food, nut milks, nut butters, and pasta. Its varied resume means you could use this juicer as a multi-purpose appliance and eliminate the need for an ice cream maker, pasta maker, or even a blender depending on your needs.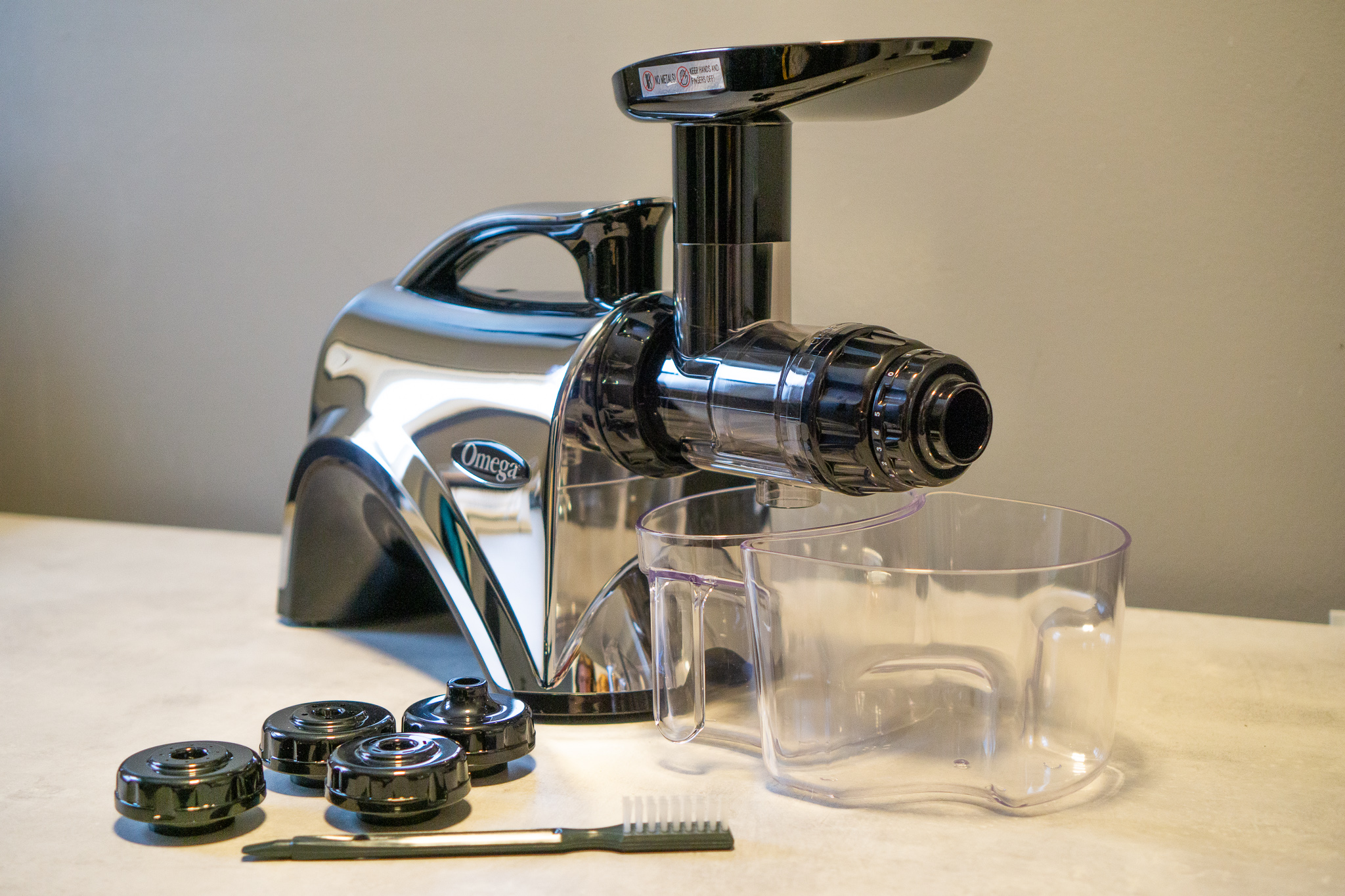 The NC900HDC is well worth the compromise on space given its juicing abilities and versatility.
Pulp & Yield Containers
The yield and pulp containers fit snuggly into each other and the body of the juicer with curved edges. They don't appear to be anything especially sturdy or remarkable, just your average transparent plastic containers. As such, I wouldn't put these in the dishwasher as they would likely discolor and wear over time.
The manufacturer (and me) both recommend hand washing. This will improve the longevity, although I wouldn't be surprised if I needed to replace the containers long before I replace the juicer.
Get Yours on Amazon
When you make a purchase via one of our affiliate links, we may earn a small commission. We buy all the ingredients and juicers for our reviews and recipe posts and rely on this revenue to maintain our website. Thank you for supporting us 🙂
Ease of Use
Everyone has their own factors they use when determining ease of use, but for the purposes of this review, we're including how much prep is required, how intuitive it is to use, and how laborious the overall juicing process is. There's also cleaning, of course, but that gets a section of its own.
Basically, is the Omega NC900HDC uncomplicated and effortless or convoluted and problematic?
Food Preparation
The NC900HDC's chute is larger than previous models at 1.5 x 2 inches. It's oval in shape and while you don't have to mince your fruits and veggies before juicing, you do have to pre-chop.
The chute is large enough that thin items like celery require little prep. For produce with round edges like cucumber and apples, I did find that larger pieces sometimes got stuck in the chute, although the reverse function made getting them un-stuck fairly easy.
Overall, I found that I had the best results when cutting everything into 1-inch cubes. If you would choose occasional jamming over more prep time, however, you can use the following sizes:
Chop apples, pears, beets, etc. into eighths

Chop cucumbers and carrots in half

Group leafy greens and pulp together
The NC900HDC has a larger chute than most, meaning less prep and fewer jams.
Using the Juicer
Chances are if you're reading this review you can easily use this juicer. There is one switch at the back for on, off, and reverse.
Simply press down on the top of the switch to turn the unit on and press down on the bottom of the switch for reverse. The middle position is the neutral or off position.
If you're interested in using this juicer as a food processor, simply replace the front nozzles as needed. This might require a quick review of the user's manual, but the instructions there are well-laid out and easy to understand.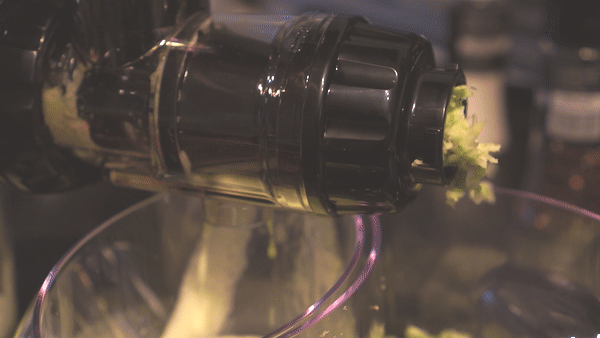 When I was testing this juicer I ran it on and off for about 45 minutes straight. While it did warm up, it showed no signs of heating up or slowing down.
Fruits
Apples: Good, but remove the seeds first

Citrus: Good, peels and all

Ginger: Good, better when peeled
Vegetables
Kale: Good, when packed together

Celery: Great, no problems with jamming

Cucumber: Good, with narrow enough pieces
This juicer has a powerful auger. Make sure you don't apply too much pressure and let the juicer do its thing!
Noise
The NC900HDC operates with very little noise. It's about the same noise level as a boiling electric kettle and as a testament to that, my dog napped the whole time I was juicing today for this review.
Clogging
I have yet to experience any true clogs or jams while using the NC900HDC. While I don't juice leafy greens that often, I haven't had any problems with them yet, either.
The only issue I've run into is while testing the upper size limits of cucumber and apple pieces. Large, round pieces can get clogged, but even then the reverse function made it easy to get anything unstuck.
Get Yours on Amazon
When you make a purchase via one of our affiliate links, we may earn a small commission. We buy all the ingredients and juicers for our reviews and recipe posts and rely on this revenue to maintain our website. Thank you for supporting us 🙂
Yield
Given that the NC900HDC is a horizontal juicer, it's no surprise that it supplies an impressive yield.
I put this yield to the test with our Green Energy Punch recipe three times. Once complete, I took the average yield from each juicing session.
Testing via the Green Energy Punch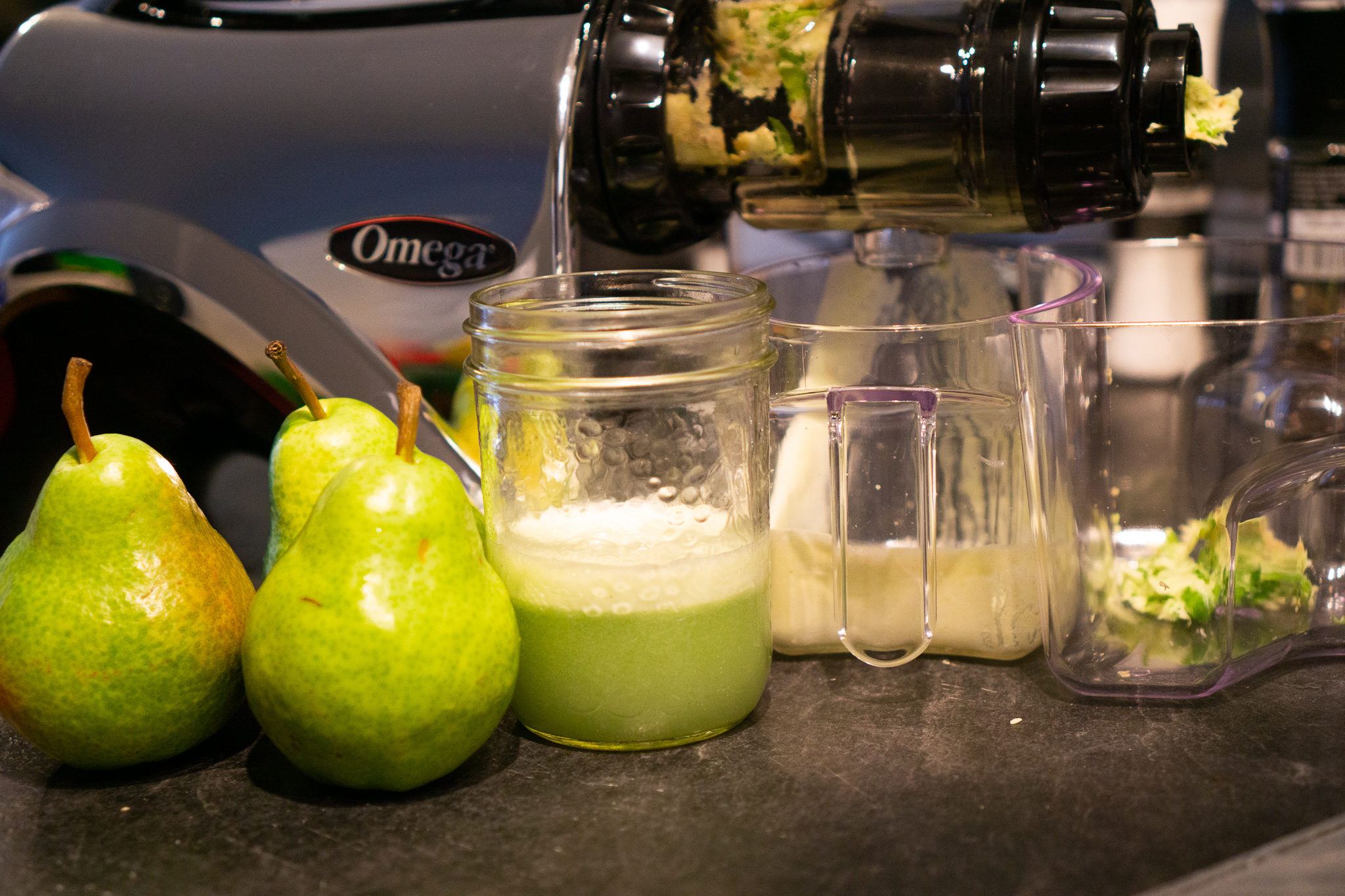 You can check out the Green Energy Punch recipe here. It's one of my favourites because it's not too sweet. It's also great with a bit of added ginger and lemon for an extra kick. Yum!
When testing juicers, we standardize the ingredient weights:
| | |
| --- | --- |
| Ingredient | Weight |
| Pear | 185g |
| Celery | 131g |
| Granny Smith Apple | 192g |
| Cucumber | 191g |
Every juicer we test makes the above recipe/weights three times.
Resulting Yield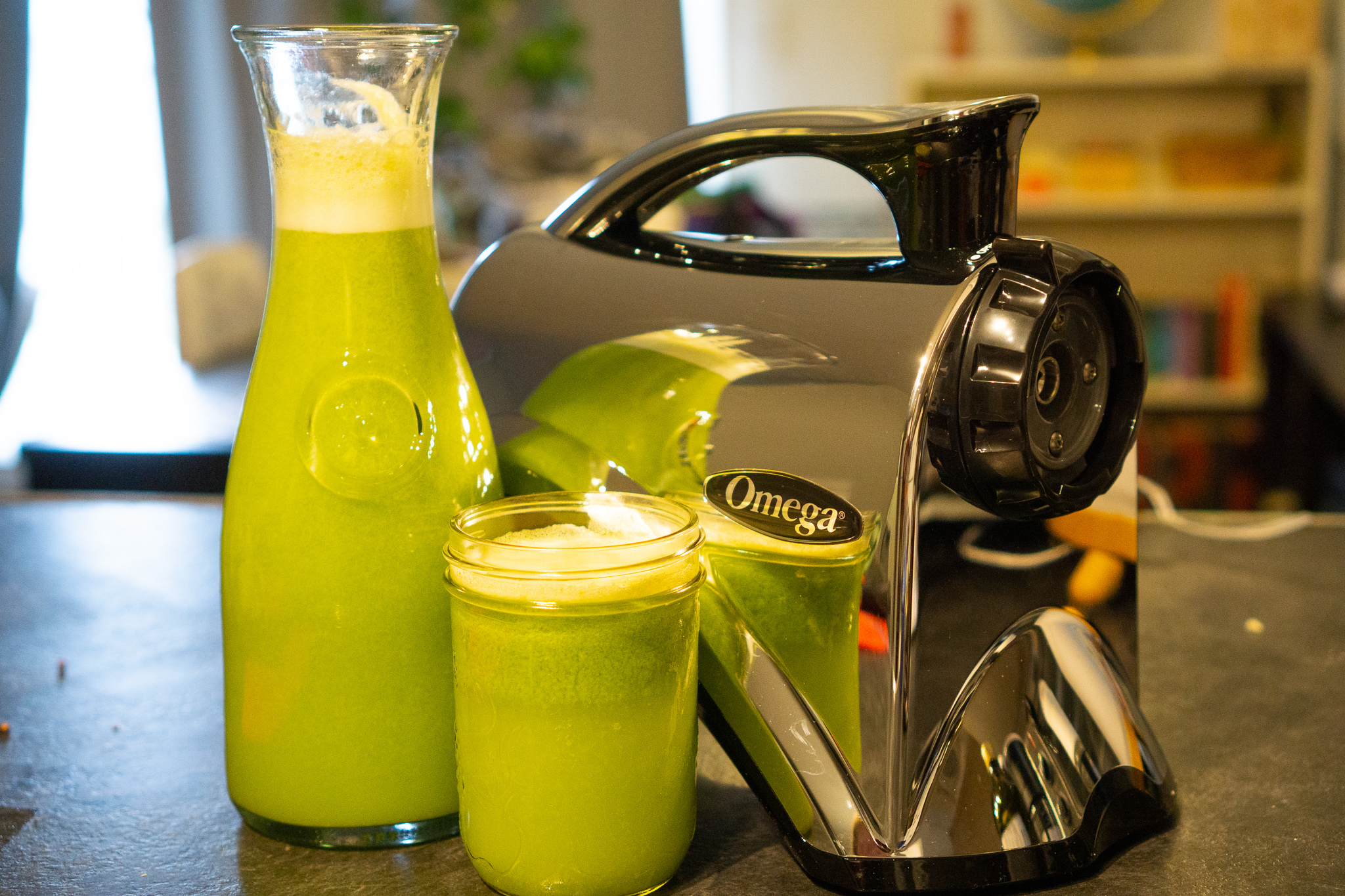 Out of the 3 rounds of juicing, the average total output was around 290ml. We didn't include the foam on top as part of our calculation, but even without it, we were very impressed with the yield.
Cleaning
The NC900HDC lives up to Omega's standards and is quick and easy to clean.
It's simple to disassemble. From there, simply place it in warm soapy water and do some light scrubbing. The "toothbrush" provided works great for cleaning the smaller components like the juicing screen.
In my (and most juicer's) experience, it's best to clean your juicer as quickly as possible after juicing, and this juicer is no exception. When you're done juicing, place the parts into warm, soapy water and clean them right away. This will prevent pulp and juice residue from drying onto your juicer and will also help prevent issues like scaling.
The sooner you wash your juicer, the easier it will be!
Omega NC900HDC Quirks, Tips, & Tricks
Leafy Greens, Small Items, & Pulp
The NC900HDC is so easy to use I almost had nothing to put in this section. In fact, its ease of use may be the cause for its only downfall.
I found when juicing small items, leafy greens, and re-juicing pulp, that the plunger didn't quite press the produce to the auger. If you want to juicer small items, I would do them before larger pieces of produce to help push them to the auger and all the way through the juicer (otherwise you'll be stuck with bits and pieces trapped in the juicer when you go to clean it).
Re-Run the Pulp For an Extra 10% to 15% Yield
The NC900HDC already has an impressive yield, but re-running the pulp can provide even more.
As an experiment, I ran the pulp through the juicer again to see if I could increase the yield. In most cases, it gave an additional around an additional 10% yield, so I wouldn't necessarily say it's worth the hassle given the issue above, but to each their own
For more watery items, the additional yield was closer to 15%, so it's more worth it for fruits and vegetables on the watery side like cucumber.
Get Yours on Amazon
When you make a purchase via one of our affiliate links, we may earn a small commission. We buy all the ingredients and juicers for our reviews and recipe posts and rely on this revenue to maintain our website. Thank you for supporting us 🙂
Conclusion: A Mid-Range Juicer with Premium Performance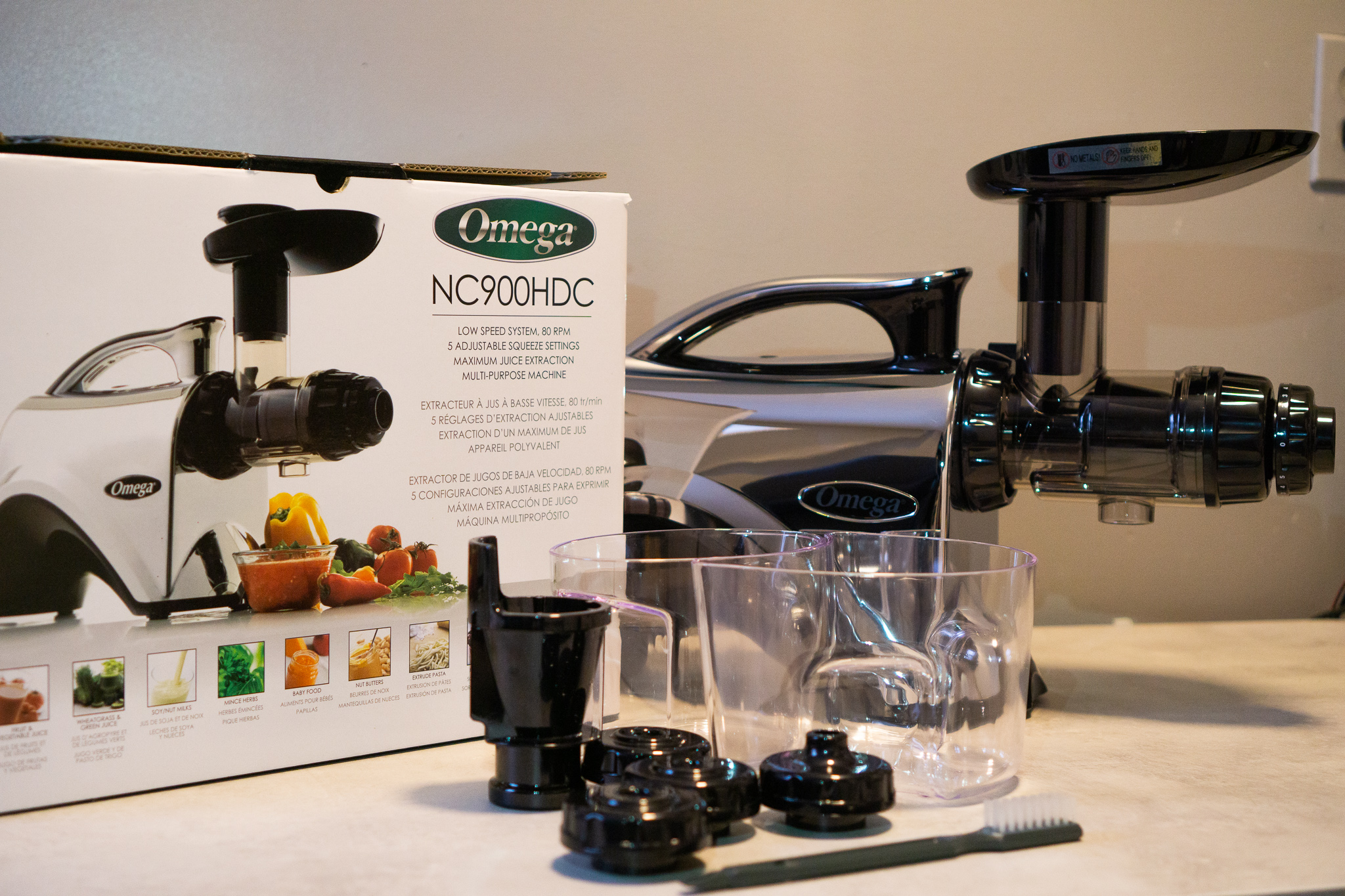 The price point of the NC900HDC is reasonable without compromising on quality.
This masticating, dual-stage juicer provides an impressive yield when juicing and that's not even all it can do. This horizontal juicer also works as a pasta maker, sorbet maker, and overall food processor, making it well worth the investment.
In addition to the numerous applications and features, it's also quiet and easy to clean.
Experienced juicers will appreciate the power and high-quality juice and newbies will appreciate the ease of use. This juicer has something for everyone and at its mid-range price, it's more accessible to everyone too.
The Omega NC900HDC is one of the most well-rounded juicers out there. If you're looking for a juicer that doesn't compromise on quality or ease of use at a reasonable price then this juicer might be what you're looking for.
Overall score: 8.8/10 – recommended!
Omega NC900HDC Specifications
| | |
| --- | --- |
| Type | Masticating Juicer |
| Price | $375 |
| Juice Quality | High |
| Juice Shelf Life | 72 Hours |
| Motor | 80 RPM, 2 horsepower |
| Wattage | 150 Watts |
| Dishwasher Safe | No |
| Pulp Ejection | External |
| Chute Size | 1.5 x 2 inches (oval) |
| Build | BPA Free Plastic |
| Design | Horizontal |
| Color | Chrome |
| Noise Level | Low |
| Warranty | 15 Years |
Get Yours on Amazon
When you make a purchase via one of our affiliate links, we may earn a small commission. We buy all the ingredients and juicers for our reviews and recipe posts and rely on this revenue to maintain our website. Thank you for supporting us 🙂
Some of the links I post on this site are affiliate links. If you go through them to make a purchase, I will earn a small commission (at no additional cost to you). However, note that I'm recommending these products because of their quality and that I have good experience using them, not because of the commission to be made.