Omega NC800HDS and NC900HDC Juicers
Last updated on
6th Generation Nutrition Center Juicers Review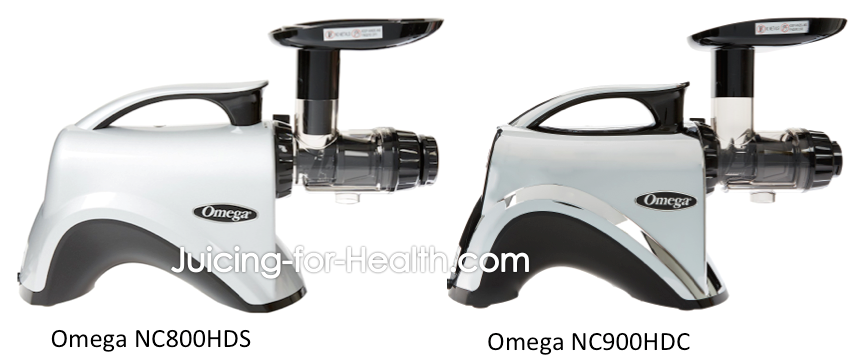 These Omega 6th Generation Nutrition Centers were introduced to the juicing market in 2013 and have been a hit for its improved design. These two models are the same except for their casings:
NC800HDS = Heavy Duty Silver
NC900HDC = Heavy Duty Chrome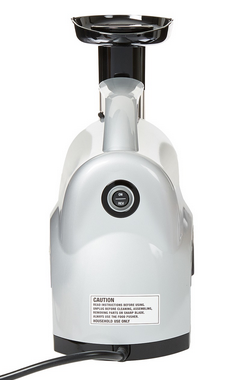 As their model number implies, they are built for heavy duty household use. There are a few things with these new models that I really like which I will talk more about here.
Omega had done well since they introduced the J8000 series which have been some of the best juicers I've ever used. They have been best sellers for more than a decade because of their solid build, efficiency, performance, and reliability.
I personally own two of these J8000 series juicers and love them!! You may look up the earlier models here: Omega J8003/J8005 and Omega J8004/J8006.
The Nutrition Centers are horizontal masticating (or slow) juicers that operate on low RPM and preserves the enzymes and nutrients of your juices, as opposed to centrifugal juicers that operate on high speed. If you are new to the juicing scene, read more about the differences between centrifugal and masticating juicers before you decide which type to buy.
The Omega NC800HDS And NC900HDC Juicers
There are a few key improvements with the Nutrition Centers and I will compare them with the earlier J8000 series models.
1.  New Body Design
At one glance, those who are familiar with Omega juicers will love the new body design that has a futuristic feel to it. If you like a really sophisticated design for your kitchen, you might like the chrome beauty (NC900HDC).
The body of this new model is "longer", and having a bigger footprint (of about 15% more) than the fourth generation Omega J8004/J8006. If space is not an issue, this juicer may look really good on your kitchen counter.
Although the juicer body is longer, it is a little "slimmer" than its earlier sister models.<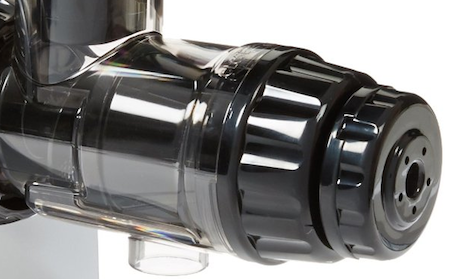 2.  Adjustable Drum Cap
Unlike the previous J8000 series models, these Nutrition Centers have a 2-piece drum cap.
The 5-setting outer cap nozzle is adjustable and produce a higher juice yield with really dry pulp. Looks like the technology has gone back to the first generation where there was also a 2-piece adjustable drum cap.
It takes some time to get used to adjusting the outer nozzle but once you understand and get the hang of it, it really is much more efficient than the previous models.
3.  Larger Feeding Chute
This may well be the very first horizontal masticating juicer that has a large feeding chute. At an "oval" shape opening of 1.5″ x 2″, it is a welcome change.
A bigger feed chute opening means less produce preparation and more time-saving. A bigger opening also means that produce fed will self-feed, making juicing a joy and almost effortless.
4.  Juicing Drum And Auger
The manufacturer claims that the Nutrition Centers' juicing drums are made of BPA-free material, whereas in the previous models they were simply said to be made of "high quality non-toxic polycarbonate material".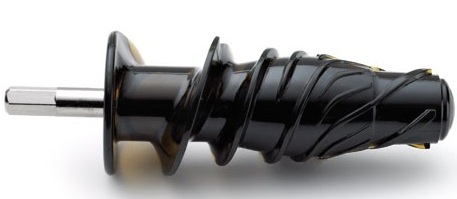 This is not to say that the J8000 series juicers are subject to BPA contamination. Plastics made of lower grade materials may leach BPA when they come into contact with heat.
In the case of the Omega juicers, the drums are made of high quality materials and they do not come into contact with heat.
Omega has made the auger/screw from the 6th generation juicer to be the same as that of the 4th and 5th generation, and that is using the GE ultem material which is said to be 8x hardier than the polycarbonate material. It is heat resistant which is important to withstand heavy duty juicing and continuous contact/friction with food.
What Come in the Box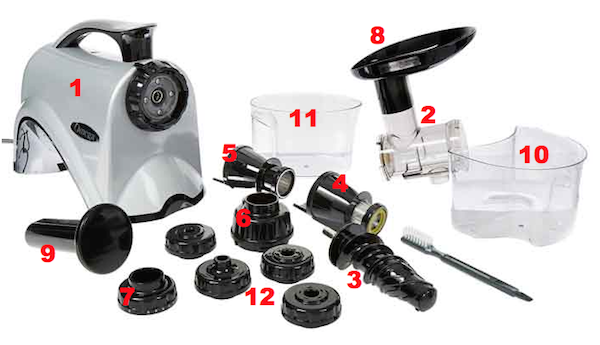 Motor/Body
Drum
Auger/gear/screw
Juicing screen
Mincing/grinding screen
Drum cap
Adjustable cap
Hopper
Food pusher
Pulp collector bowl
Juice collector bowl
4 pieces of accessory nozzles
Features
Like most horizontal gear juicers, this model comes with an additional mincing cone and for nozzle attachments that you can use for …
Juicing fruits and vegetables. Every juicer has its pros and cons. This juicer can juice vegetables very well but not great if doing just fruits alone. I get around this by mixing and alternating the feeding of the produce, e.g. harder fruits, softer fruits, harder fruits, etc.
Juicing wheatgrass. Horizontal juicers are always better for juicing wheatgrass (or any other grass) compared to vertical juicers. Other than the horizontal juicers though, I've found that the Green Power Kempo (twin-gear) extracts wheatgrass the best as the result is always a sweet-tasting wheatgrass juice, not tasting "green".
Nut milk extractor. Use this Nutrition Center to make soya bean milk, almond milk or any other nut milk that you fancy.
Grinding. Commercially made peanut butters are so full of transfats. How about making your own peanut butter at home, without the additives and preservatives? With this multi-purpose machine, you can also grind rice, dried chillies, coffeee beans, toasted bread to make crumbs, nuts, etc. You are only limited by your own imagination!
Mincing.  Chop and mince seasonings and herbs such as garlic, scallions, onions, peppers, ginger, radishes, etc. You may run your herbs through the juicer a few times to get it to the fine texture you desire.
Food milling.  Mill your healthy food to make a nutritious meal for your toddler. Or mill your grains into smooth flour.  Mill your own healthy whole-meal flour for making pasta/noodles, bread, cakes, etc. (Avoid consumption of white flour).
Pasta/noodle maker.

You can make your own healthy homemade pasta/noodle with this Nutrition Center that is free from preservatives, additives or coloring. Simply make your dough from your own whole-meal flour, add spinach juice (for green noodles), or beetroot juice (for red noodles), or carrot juice (for orange noodles!). If you like egg noodles, just beat up a couple of eggs and add on to the flour to knead and put through the juicer. This model comes with four nozzles of different sizes for making rice sticks or bread sticks.
Make frozen desserts or sorbet. Half-freeze your fruits (put in freezer for about 20-30 minutes), then run them through the juicer with yogurt to make a healthy dessert.
All the above functions make the Nutrition Center a versatile machine that is worth investing in for a modern kitchen.
As a masticating juicer, the auger spins at 80 RPM that preserves the enzymes and nutrients from being destroyed (as opposed to 3,000 RPM and above in centrifugal juicers).  The operation is slow, steady and very quiet—a slow hum.
Juice Result
With the help of the 5-level adjustable setting drum cap nozzle, and the dual-stage masticating extraction system, these Nutrition Centers produce even higher juice yield compared to their earlier sister models, some say up to 15-25% more! The ejected pulp is very dry.
A slow juicer preserves enzymes and nutrients that keep the extracted juice stable and not separate. If stored properly in an air-tight container in the fridge, the juice can keep up to 72 hours or even a little more, depending on what you juice. See how to delay juice oxidation here.
You will be surprised with how the juices extracted using these juicers really taste, so delicious, rich, concentrated and flavorful. The feedback I get are always just 5-star!
Like all masticating juicers, the Nutrition Centers minimize pesticides and chemicals in your juice. You will save much from not having to buy organic produce. Although I would still recommend that for cancer patients, to please use organic produce only.
Easy To Assemble, Dismantle And Wash-up
When looking to buy a juicer, it is very important that you choose one that is easy to assemble, dismantle and wash-up.  I have seen too many people give up on juicing simply because of the tedious wash-up.
There are only six easy parts to assemble and dismantle. The parts are very clean-cut (with no difficult-to-reach corners), thus are easy to wash.
As they are made of BPA-free materials, they can be popped into the dish washer, are non-toxic and easy to maintain. However, I would just hand-wash the parts under running water, they take just under two minutes to wash up.
My personal opinion is that Omega Juicers have made juicing really fun, and enjoyable even. This is another great model and if you don't have space constraint in your kitchen, I am sure you will love how easy it makes for juicing daily.
Read my recommendations on other popular slow juicers.
Specifications
Models:  NC800HDS and NC900HDC
Voltage:  120V / 60Hz
Power Consumption:  150 watts
Gear Speed:  80 RPM
Warranty:  15 years
Dimensions and Weight
Product Size:  W165mm x L368mm x 394mm (W6.5″ x L14.5″ x H15.5″)
Shipping Weight:  9 kg / 20 lb
Buy Now:
All text on this page are originally researched and written by Juicing-for-Health.com.
Other Masticating Juicers:
| | | | | |
| --- | --- | --- | --- | --- |
| | | | | |
| Kuvings Wide Mouth | Omega VERT | Breville BJS600XL | Omega J8004/J8006 | Omega J8003/J8005 |
| | | | | |
| | | | | |
| Alpha Juicer | Hurom AA Series | Lexen Healthy | Oscar VitalMax | Samson 6-in-1 |
Some of the links I post on this site are affiliate links. If you go through them to make a purchase, I will earn a small commission (at no additional cost to you). However, note that I'm recommending these products because of their quality and that I have good experience using them, not because of the commission to be made.