Last updated on
One of the best masticating juicers ever built that preserves enzymes and nutrients in juices extracted.
Note:  ** New wine color effective November 2012 **
Demo images below done using the "old" Alpha Juicer color in white. 
Oscar VitalMax 900 = Omega J8003/J8005 = Alpha Juicer DA-900
These are all the same models, except that they are marketed with different brand in different countries:
The Alpha Juicer DA-900 (this page) is sold in wine color, in Malaysia and the Southeast Asia region.
How is the Alpha DA-900 Juicer Unique?
The Alpha DA-900 single-gear juicer is an updated model of the Matstone juicer (phased out). They are designed and manufactured in Korea where the manufacturers place high importance on the quality of their products. This single-gear juicer is a class by itself for its smooth operation, reliability and durability.
Next to the normal centrifugal juicer, this beauty is an excellent invention that takes into consideration, production of healthy juice yield, ease of operation, hygiene and compact design.
I love this juicer simply for its high juice yield and its "cute" design. And of course most importantly, like all well-made gear juicers, it can greatly help to minimize pesticides and chemicals in your juice.
How Does the Alpha DA-900 Juicer Work?
The Alpha DA-900 single-gear juicer works on a stone-milling method. What this means is that it crushes and grinds the produce fed into it, squeezing out the juice and separating the dry pulp, using a 'worm-like' screw (auger).
This method of juice extraction tears open the produce's cell membranes and releases its deep-seated nutrients and enzymes. This results in a richer colored juice which contains 99% of the enzymes, nutrients and minerals still intact.
The Alpha Juicer operates at a low RPM speed of 80, which does not disrupt the cellular structure of the fruits and vegetables. This is important as it eliminates oxidation of the juices, preserving the precious enzymes and nutrients closest to its natural form.
There is a marked difference in the quality of the juices extracted from both a centrifugal and the Alpha Juicer. For example, an apple juiced on a centrifugal juicer will produce an oxidized brown colored clear juice (mainly water content with no enzymes and nutrients) which has a metallic taste; whereas the apple juiced on the Alpha Juicer will result in un-oxidized, even-colored and great tasting juice. Oxidized juice is effectively, spoiled juice. Check if your juicer is safe.
Below is a comparison of juices which I extracted using a centrifugal juicer and the Alpha DA-900.
Apple juice extracted using the Alpha Juicer:

Has a healthy, even color, showing that it's full of enzymes and nutrients.
20% more juice yield
Less foam

Apple juice extracted using a centrifugal juicer:

Has oxidized and turned brown—juice has separated, only water content with no enzymes and nutrients
20% less juice yield
A lot of foam
Click on image to see larger image.
(Will launch a new window)
What Are The Functions Of
Alpha DA-900 Single-Gear Juicer?
Let's get intimately acquainted with this beauty, and I don't call it a beauty for nothing! I really fell in love with it the first time I saw the sister model (Matstone Juicer) years ago. And after drinking a glass of juice extracted from it, I know that I simply must have it. All the extra functions that come with it are just bonuses! And now they have made this Alpha DA-900 so much better.
They call the Alpha DA-900 a 9-in-1 and you will soon see why.
1. Fruit juicing
2. Vegetable/Wheatgrass juicing
3. Soya Bean, Almond, and Other Nut Milk Extractor
You don't need to buy a soya bean milk maker, and making almond milk is now such a breeze. And … you can even extract coconut milk (or santan) from fresh coconut. Perfect for those who likes to have fresh santan for cooking curry!
4.  Mincer/Chopper
Oh, the wonders you can do with this little appliance. Chop and mince seasonings and herbs such as garlic, scallions, onions, red peppers, ginger, radishes, basil, chilies, and even meat like beef, chicken, mutton, and fish, etc.
5.  Grinder
Grind and make your own healthy and delicious peanut butter. Commercially prepared peanut butter may contain moldy peanuts that are cancer-causing. Moreover, they are made using a hydrogenation process which contains dangerous trans-fats. Make your own minus all the additives and preservatives! Other things you can grind–rice, dried chilies, toasted bread to make crumbs, nuts, etc. You are only limited by your own imagination!
6.  Pasta/Noodle Maker
You can make your own healthy homemade pasta/noodle with this Alpha DA-900 that is free from preservatives, additives or coloring.
Simply make your dough from whole-meal flour with spinach juice (for green noodles) or carrot juice (for orange noodles!). If you like egg noodles, just beat up a couple of eggs and add on to the flour to knead and put through the Alpha. (Recipes will be given when you purchase through this site.)
 This model comes with four noodle nozzles—two round and two flat—of different sizes. There are also nozzles to make rice sticks or bread sticks. Want to hear more?
7.  Food Mill
If you have a baby at home, you can easily prepare healthy and nutritious food for your baby. You don't have to cook separately for your baby. Take whatever healthy food you are eating and put them through the Alpha DA-900 and you have a quick nutritious meal for your child.
I can't say enough—avoid canned baby food that you buy off the shelf in supermarkets. You don't know how long the food has been sitting on the shelf and whether they contain preservatives, coloring or additives which are harmful for your baby.
8.  Grain Mill
Using the two-tier mincing strainer, you can also grind grains into smooth flour. Mill your own healthy whole-meal flour for making pasta/noodles, bread, cakes, pancakes, etc. Read about why white flour is so harmful.
9.  Slicer and Ice Shaver (optional attachment)
Just change to Ice Shaver attachment and you are ready to make your own ice kacang or ice blended. Simply put some ice cubes into the Ice Shaver and press "Start". You can also make healthy desserts like yogurt sherbet using frozen fruits with this attachment.
This optional attachment is also a slicer which you can use to slice potatoes to make your own chips. In fact, you can put almost any kinds of vegetable in it for slicing—cucumber, carrot, ginger, garlic, shallot, chili, etc.
Phew!! Of course you don't have to use all of the functions, but it's good to know that should you need to do this or that, you have it all in the faithful Alpha DA-900. And imagine the amount of kitchen top space you save (not to mention the money you save!) by having just ONE appliance with all the 9-in-1 functions.
What Comes In The Box?
The following are parts that come in the package when you purchase an Alpha DA-900.
Click here to see bigger images of Alpha Juicer parts.
Portable motor with
handle.
(Weighs ~ 5.5 kg).

Clockwise from top:




Hopper, drum, screw (auger), drum cap, mincing and juicing strainer.

Nozzles for making
pasta, mincing and
making bread stick.

Collection bowls with external strainer, food pusher and brush.

3-piece slicer/ice-shaver parts. Optional (add MYR206.00)
 

The Technical Build-up

Alpha DA-900 has a built-in safety device which prevents the motor from overheating. It can run for 2 hours non-stop without loading or 30 minutes non-stop with loading. It automatically shuts off when overheated and will automatically commence operation again when cooled down.
Assembling and dismantling the juicer is an easy 4-step that even a child can handle the entire process with ease. (Involve your child with the whole process of assembling, juicing and dismantling. It would encourage them to want to drink juice, and instil in them the concept of healthy living.)
Washing up after juicing is equally easy. It takes only about 2 minutes to wash up under running water—very convenient for busy people who are always on the go. Easy clean-up is a factor to consider when you are looking to purchase a juicer. If a juicer is difficult to clean up, you will soon tire of juicing.
The total build-up of the juicer weighs approximately 7 kg. The heavy motor ensures that the machine is stable and steady and doesn't "run" when in operation. The body of the juicer is made of high quality and solid polycarbonate material that is non-toxic and easy to wash.
The quiet operation enables you to juice at any hour of the day. (I usually do my juicing early in the morning before everyone else wakes up, so this is ideal for me.)
Easy To Assemble, Dismantle And Wash-up
When looking to buy a juicer, it is very important that you choose one that is easy to assemble, dismantle and wash-up. I have seen too many people give up on juicing simply because of the tedious wash-up.
The Alpha Juicer parts are very clean-cut (with no difficult-to-reach corners), thus are easy to wash. Because they are made of melamine, the parts are durable, non-toxic and easy to maintain.
Caring for and optimizing your gear juicer. (Will launch a new window.)
 Step # 1
Step # 2
Step # 3

Step # 4

 
Step # 5
Ta-da!
 
Juicing Greens — What Alpha Juicer Does Best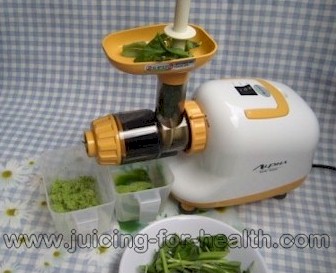 See the Alpha DA-900 in action. How easy and gracefully it juices green, leafy vegetables. And the very dry pulp …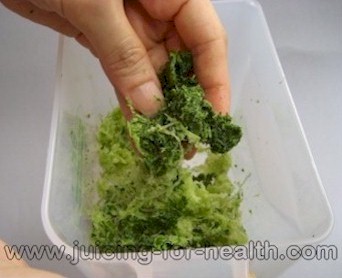 Testimonials
Here are what satisfied customers say ….
"The juice extracted using the Alpha Juicer is very fresh, sweet and concentrated, far surpassing the juice quality prepared by a normal juice extractor. It actually tastes alive and delicious."

~ Ms Jenny Tan, K. Lumpur ~
"It is so easy to clean … takes me only less than 3 minutes to do so! I gave up juicing previously because of the troublesome cleaning-up after juicing. Thank you!."
~ Madam Khoo, K. Lumpur ~
"It is not only a juice extractor, but a versatile food processor too. It's really more than nine functions in one machine. I used to do all my grinding, mincing, juicing and slicing by hand, but now my Alpha Juicer does it all for me. It's the ultimate kitchen helper and time saver!"
~ Madam Ng C. B, Subang Jaya ~
"This is my first juicer and I love it! Seeing what happens when I put a whole carrot through it makes me respect this superior juicer. I was surprised to see how dry the pulp was when expelled. I am impressed!"
~ Mr K.C. Tan, Petaling Jaya ~
"My children didn't like to drink fruit juice until I bought an Alpha juicer. Now they even drink celery and carrot juice, one of their favorite recipes."
~ Ms Julie Lim, K. Lumpur ~
Decide Today That You WANT To Live A Healthy Lifestyle
Remember, at the end of the day, not only is this kitchen appliance easy and convenient to use, it will be your life-long faithful health companion, both for you and for your family.
Don't look at this as a "kitchen appliance" but rather as an investment towards a healthier lifestyle. Definitely a small price to pay for good health. Don't wait till it's too late, prevention is better than cure. We all know that healthcare is SO EXPENSIVE these days, not to mention heart-breaking and inconvenient for you and everyone around you.
How Much Does the Alpha DA-900 Cost?
You have seen for yourself what the Alpha DA-900 is capable of doing, but let me summarize for you what you get when you purchase this superior single-gear juicer:
What does the price include?
Rest assured you are purchasing a high quality product manufactured in Korea, which has been awarded a Gold Medal at the Geneva International Invention & Patent Products Exhibition 2004 AND is fully endorsed by the TUV Rheinland Product Board in Germany.
You are purchasing an appliance that has 9-in-1 functions, saving all the money you could have spent buying all the other appliances that serve the purposes that Alpha DA-900 is already doing. (Not to mention you save kitchen top space too!)
Twenty (20) years warranty on motor with technical support by trained and well-equipped technicians. (This is how confident we are of the durability of this machine.) Repairs/servicing, if necessary, usually takes only 3 working days.
---
The retail price of this beauty comes with
20 years warranty on the motor, at …
West Malaysia : MYR 2,086.00
East Malaysia :  MYR 2,136.00
Singapore : SGD 810.00
(Prices include GST and shipping)
Email me for delivery to outside of Malaysia (Asian region)
For Malaysia purchase, please email me.

---
All text on this page are originally researched and written by Sara Ding.
Buy Now:
Other Masticating Juicers:
| | | | | |
| --- | --- | --- | --- | --- |
| | | | | |
| Kuvings Wide Mouth | Omega VERT | Breville BJS600XL | Omega J8004/J8006 | Omega J8003/J8005 |
| | | | | |
| | | | | |
| Alpha Juicer | Omega NC800/NC900 | Hurom AA Series | Oscar VitalMax | Samson 6-in-1 |
Some of the links I post on this site are affiliate links. If you go through them to make a purchase, I will earn a small commission (at no additional cost to you). However, note that I'm recommending these products because of their quality and that I have good experience using them, not because of the commission to be made.