10 Foods You Can Add To Make A Really Rich Salad
Last updated on
Salads are a great go-to, to include more raw foods into your diet for eating healthy. Here are some ideas/tips on foods you can add to make a nutrient-rich salad that is also delicious, and keep you full for longer.
As much as you please your taste buds and nutrients requirements with your bowl of salad, try to add as many colors into it as well to make it pleasing to the eyes. When it looks good, you will want to eat more of it!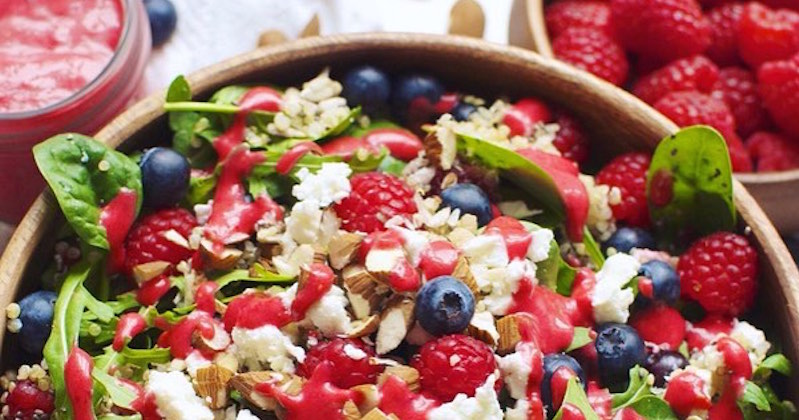 10 Foods To Make A Nutrient-Rich Salad
1. A Large Variety of Greens
Iceberg lettuce isn't the only vegetable you can use in salads. Try other varieties: sweet kale, radicchio, red cabbage, arugula, cucumber, cilantro, etc. There's a whole world of greens out there, you just need to try to see which ones you would like to use more often.
Each vegetable has their own unique benefits and flavors, the more greens you enjoy the more benefits you'll receive. And you won't have to "add taste" with fats – just switch up the taste every day with a different green in your salad.
2. Cooked Quinoa or Chickpeas
High in protein and fiber, quinoa makes you feel fuller for longer. It is one of the best foods to obtain your omega-3 requirement.
You can precook a small pot of quinoa to be eaten within 3-4 days. Store it in an airtight container in the fridge and only add a little into your salad each time.
Instead of quinoa, you could also use steamed brown rice, edamame or chickpeas, or even sprinkle with some feta/cottage cheese. You're only limited to your own imagination!
3. Hard-Boiled Egg
Feel full with protein without adding full helping of fat. A hard-boiled egg is great on salads. Start boiling an egg when you begin to prepare your salad and add it to your salad at the end.
4. Fennel or Onions
Similar to licorice in taste, this herb can sweeten up your salad, reduce your bloating and help you feel full. Slice fennel thinly to be added on your salad. In the absence of fennel, onions are a good alternative that you can use. Slice thinly to reduce the pungent taste.
5. Hot Peppers
Spicy peppers contain capsaicin, which boosts your metabolism and helps you feel full.
Capsaicin is found mostly in jalapeno, cayenne, bell, and chili peppers. Slice them thinly to be added into your salad.
I like to use the red and yellow peppers to give my salad some colors.
6. Good Fats
Full of the healthy fats that help your body burn away unwanted fats, adding avocado is an excellent way to get your daily magnesium requirement. And with an added creaminess, most find they use less dressing when their salads have avocado.
7. Fruits
Always add a little fruits into your salad for some sweetness. A handful of raspberries, or any berries you have in the fridge can really ramp up the taste. Sliced or small chunks of apples, pears, mangoes, tomatoes, and oranges go well in salads as well. I usually avoid using banana because of its overpowering taste.
8. Almonds, Cashews or Other Nuts and Seeds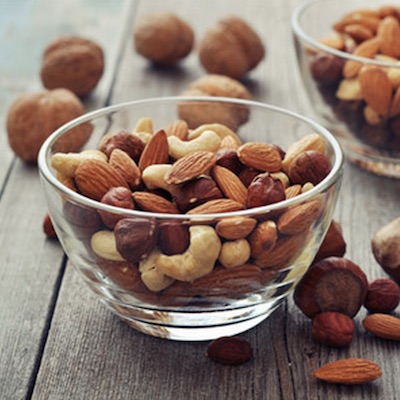 Eating too many almonds can be overly-caloric, but the right amount will keep you satisfied after you've finished your salad.
A small handful of almonds, chopped, adds taste and texture to your salad. You may also like to try adding other nuts like cashew nuts, pistachios, pine nuts or macadamia nuts.
I like to add them at the end after I mix up the bowl of ingredients, to retain their crunchiness.
Sprinkling some sunflower seeds or sesame seeds also make your salad awesome!
9. Fermented Foods
Just for good measure, I like to throw in some fermented foods into my salad for that extra salty-sour taste. I may use sauerkraut, kimchi, pickles or fermented tofu. If need to, I cut them into smaller pieces to be added into the bowl.
10. Healthy Dressing
Homemade is the way to go. A healthy cold-pressed oil (avocado or extra virgin olive), lemon juice, and a bit of salt and pepper make a great, light dressing. Add some apple cider vinegar for an immune boosting vinaigrette. Or a drizzle of balsamic vinegar adds taste to the bowl of salad too.
Some nutrients in salad need fat to be absorbed, this is why oil-based salad dressings are important. Mixing with vinegar increases satiety and has fat-releasing properties.
Salads don't need to be just boring lettuce, and by adding any of the above with some creativity, you might even come to "crave" a salad! Reach for one of these healthy ingredients, and share your favorite salad recipes with us on Facebook.
Some of the links I post on this site are affiliate links. If you go through them to make a purchase, I will earn a small commission (at no additional cost to you). However, note that I'm recommending these products because of their quality and that I have good experience using them, not because of the commission to be made.