2 Powerful Kale Recipes To Supercharge Your Workout
Last updated on
Kale juice can help reduce the risk of cancer, relieve inflammation, and lower bad cholesterol levels. This green juice is also one of the best things for melting away fats, fast!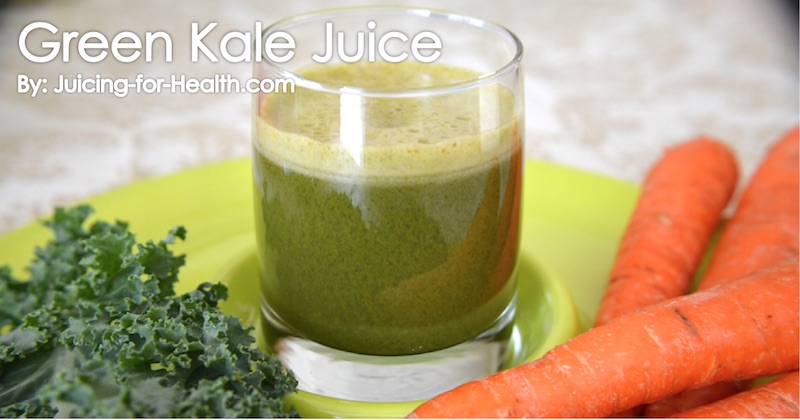 Everyone knows that kale is one of the most nutritious vegetables on the planet. People have used all kinds of metaphors to describe just how healthy it is, calling it "the king in the castle of vegetables", or "the quarterback of the vegetable football team". Whatever you want to call it, kale is amazing.
Rich with vitamins and minerals, kale can help reduce the risk of cancer, relieve inflammation, and lower bad cholesterol levels. It is a great source of Vitamin B1, B2, C, E and K as well as calcium, copper, iron, and potassium, which all work synergistically to contribute to better bone, brain, skin, and muscle health.
Yet, one of its most amazing and underrated abilities is what it can do for your weight loss!
How Kale Can Help You Lose Weight
Kale is particularly good for helping people lose weight, for a bunch of different reasons.
First of all, kale has a lot of fiber, more than most other vegetables, which helps you fill up and stay full for longer. When you feel hungry during the day, it's most often caused by your body lacking some essential nutrient. Drinking kale juice is a great way to ensure you don't lack any nutrients, helping you to control your snacking and keeping you on track throughout the day.
Secondly, all of the minerals and nutrients in kale kick-start your metabolism, which helps your body burn more fat and calories every day. That's why it's such a great idea to drink kale juice in the morning!
The best part is that juicing it makes digesting all that goodness even easier, leaving you feeling energized and ready for anything. Maybe even a morning jog?
Green Kale Juice Recipe
I love drinking this green juice in the morning because it keeps me full at least until lunch and I can take it on the go.
1 bunch of kale
1 cucumber
2 carrots
1 bunch of parsley
½ bunch of chard
½ bunch of spinach
2 ribs of celery
1 lime with peel
Add a few ice cubes
For Something Less Bitter
If you find the above recipe a little too far on the bitter side, you can always add fruit to sweeten it. Apples are a common choice because they are once again full of fiber, help control cravings, and can assist with regulating your blood sugar. But whatever fruit you like best would work, from grapes to pineapple.
You can also experiment with lemons instead of limes, or adding ginger. For example, you can try this fruitier option:
A Fruitier Kale Juice Recipe
6 big kale leaves
1 cucumber
1 green apple
A few chunks of pineapple
A few fresh mint leaves
1 lime with peel
Just be sure to not drink too much. Kale can aggravate gallbladder and kidney stones if you have a history of such conditions. You can get too much of a good thing.
Happy juicing!
Image:
https://www.dulanotes.com/wp-content/uploads/2010/05/kale-juice.jpg
https://media.philly.com/images/istock-treadmill-running.jpg
Sources:
https://www.beyonddiet.com/articles/147/super-fat-burning-food-kale
https://www.healthambition.com/juicing-recipes-for-weight-loss/
https://www.hamiltonbeach.com/kale-pineapple-mint-green-juice.html
<
Some of the links I post on this site are affiliate links. If you go through them to make a purchase, I will earn a small commission (at no additional cost to you). However, note that I'm recommending these products because of their quality and that I have good experience using them, not because of the commission to be made.