Lexen Healthy Electric Juicer
Last updated on
Multi-Purpose Wheatgrass, Fruits & Vegetable Juicer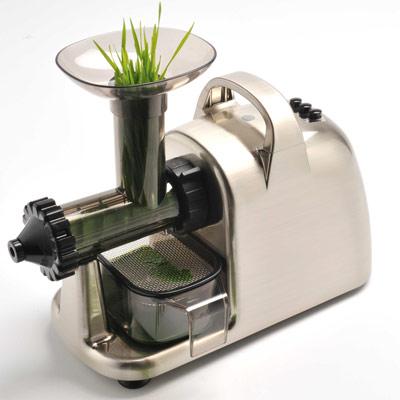 I really like the neat look of the Lexen Healthy Electric Juicer. The unique feature of this model is that it does not have an internal strainer, thus saving cleaning time by half compared to other juicers.
The juice-collecting bowl is placed neatly on a little built-in platform. The bowl comes with a removable stainless steel screen/sieve. This gives you an option whether to have a pulpy juice or just clear juice. And the pulp collector bowl comes just beneath the pulp ejector, what looks like the "nose" of this juicer.
The disadvantage with having the sieve externally is when you want just pure juice (without the pulp), the pulp can easily and quickly collect on the sieve and clog up the screen, causing you to have to empty it frequently and wasting a lot of juice. It can get a bit messy. This is especially so when your recipe includes a soft fruit like tomato.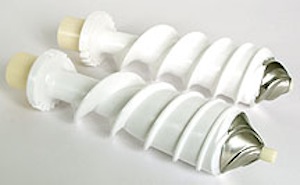 The machine also comes with two specially designed augers—one for wheatgrass, and the other for fruits and vegetables.
Again, I don't quite like the idea, as this would mean that you would have to change the augers when you juice wheatgrass and other produce. I believe it is easy to change the augers, but it is still something to consider.
Wheatgrass Juicer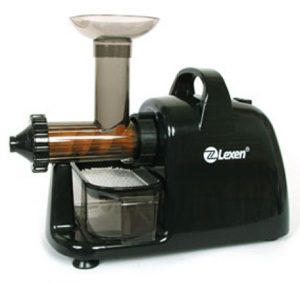 This juicer is marketed as a multi-purpose juicer that can extract juices from wheatgrass, fruits and vegetables.
Besides that, it can also make nut butters, act as a food mill, make pasta, ice-cream and sorbet, like most other multi-purpose masticating juicer in the market.
It may juice wheatgrass and leafy vegetables very well, but feedback has it that this juicer is not very efficient when juicing fruits and harder vegetables like celery and carrots.  In my opinion, if that's the case, then the juicer has failed in its purpose as a juicer.
If you do intend to do "heavy" juicing of a variety of fruits and vegetables (after all that is the purpose of a juicer, isn't it?) … I would recommend other juicers like the Omega J8003/J8005 or the Omega J8004/J8006.  The Omega may cost a little more, but take it from me as a frequent juicer, they will be worth every single penny!
The Maker
Like most things that I invest in, it is very important that I know who the maker is.  Most masticating juicer in the world comes from Korea, a country that place utmost importance in R&D (research and development) and quality of their products.
There are also masticating juicers made in the USA like the Champion Juicer, or the Super Angel.
The Lexen Healthy Electric Juicer is one of the very few masticating juicers made in China that has made its presence felt in the world, even in the Western countries.  This fact does say a lot about the juicer, that it has survived many tests and time, to be where it is now.
See other recommended slow juicers.
Buy Now:
Other Masticating Juicers:
| | | | | |
| --- | --- | --- | --- | --- |
| | | | | |
| Hurom AA Series | Omega VERT | Breville BJS600XL | Omega J8004/J8006 | Omega J8003/J8005 |
| | | | | |
| | | | | |
| Alpha Juicer | Omega NC800/NC900 | Kuvings Wide Mouth | Oscar VitalMax | Samson 6-in-1 |
Some of the links I post on this site are affiliate links. If you go through them to make a purchase, I will earn a small commission (at no additional cost to you). However, note that I'm recommending these products because of their quality and that I have good experience using them, not because of the commission to be made.