JuicePresso-CJP03 Juicer Review
Last updated on
3-in-1 Smart Extraction SystemTM
Coway's Third Generation JuicePresso, giving juicing a new meaning. Less parts, easier handling.
Coway Korea launched their third generation JuicePresso (Jun 2014), giving the juicer a totally different look from the first generation.
A new slimmer and taller design that will look aesthetically pleasing in any modern kitchen.
WE took this juicer for a test drive, and the following is our review:
What's New with the CJP-03?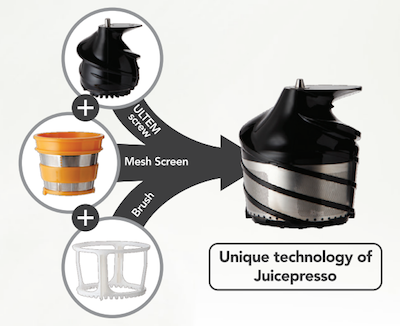 When we were first introduced to the JuicePresso CJP-03, we were amazed with how "simple" Coway had made this juicer to be. There were considerably less parts, doing away with the wiper blades, mesh screen (strainer), auger, and building them all into one integrated solid piece.
This is a unique technology of JuicePresso pending patenting (as at time of writing this review).
We found this interesting as our immediate thought was "time-saver"! Definitely time-saving when you have two parts less to wash! Think less hassle.
Whereas in other vertical slow juicers, the fruits and vegetables are being crushed on the inside of the mesh screen where the auger is placed, the JuicePresso CJP-03 crushes on the external of the mesh screen, against the internal wall of the juicing bowl. The juice is filtered by the strainer to the hollow inside of the screen and then expelled through the juice spout.
Like other vertical slow juicers, the pulp then gets a second squeeze before being expelled.

How Does the JuicePresso Work?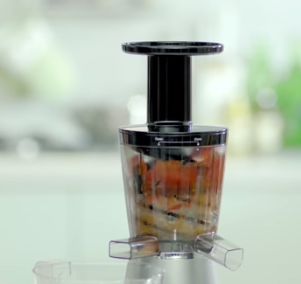 The JuicePresso CJP-03 works on a very similar concept as its predecessor CJP-01 (discontinued).  It uses a "Smart Extraction System" that runs on a very low speed at only 32 RPM (lowest among all slow juicers that we know about). However, it does not mean that 32RPM is better than say, the Green Power Juicer that operates at 160RPM.
A slow juicer is recommended for preserving enzymes and nutrients, versus the destructive high speed of 3,000-6,000 RPM on a centrifugal juicer.
This method of masticating extraction, presses out the juice from the pulp, instead of cutting and spinning at high-speed. The action tears open the produce's cell membranes and releases its deep-seated nutrients and enzymes. It also breaks up phytonutrients from the produce, resulting in a richer-colored juice, abundant in its nutrients and minerals.
When testing this juicer, we were pleasantly surprised that the extracted juice tasted extremely sweet when compared to juices extracted using another slow juicer.
We noted oxidation threshold to be up to par, similar with other slow juicers that we are used to.
The Juicer Built
The assembled juicer weighs about 4.8 kg, with a solid and heavy base unit that prevents the juicer from "running" when in operation.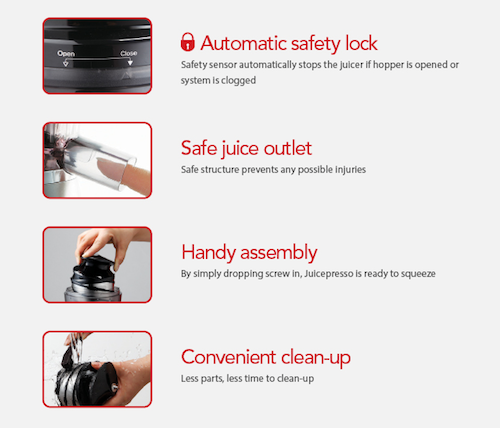 Although the juicing bowl is made of plastic, Coway claims that it is made of BPA-free material that is food-grade, non-toxic and dishwashable. So there is no worry about BPA (Bisphenol-A) leach during juice extraction process.
There is a safety lock that prevents juicer from operating if the lid is not closed properly.
The 3-in-1 gear is made using GE ultem, a material that has become an industry standard for new slow juicers.
The feeding chute/tube opening measures slightly smaller than its predecessor, at 1.75″ x 1.50″. Cutting of fruits and vegetables is required, unlike the Kuvings Wide Mouth Slow Juicer where you can feed a whole apple through its wide mouth.
As with new technology, new juicers are now being built with smaller footprints. The compact and sophisticated look is a welcome change.
What Came in the Box
Unlike the higher-end vertical slow juicers, the JuicePresso CJP-03 is a rather "basic unit" that is aimed at a specific market. It is built for those who want to enjoy juices extracted using a slow juicer, yet not paying a high price for it.
It is a very easy-to-use juicer with no frills and extras (like a smoothie or ice-cream maker as in other vertical juicers).
These are all the parts that come in the box, very simple, easy and straight forward. Ideal for those who don't like to have a "complicated" juicer that has many parts.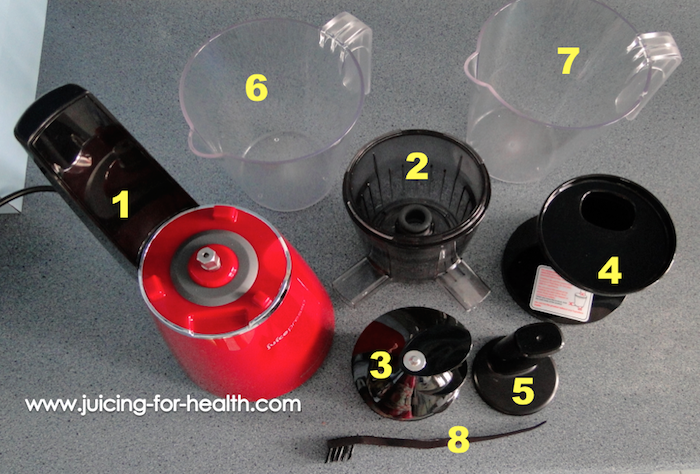 Juicer base unit / motor
Juicing bowl / drum
Integrated juicing screw (3-in-1: wiper blades + mesh screen/strainer + auger)
Hopper / feeding tube
Food pusher
Juice collecting jug
Pulp collecting jug
Cleaning brush
* Technical specifications are at the end of this page.
Juice Quality
When testing a juicer, there are a few basic fruits/vegetables that we use. Here are just some highlights.

Juicing Mung Bean Sprouts
It is nearly impossible to juice beansprouts if you used a centrifugal juicer (high-speed juicer). JuicePresso CJP-03 does it with ease.
There were still some bean sprouts heads being expelled in the pulp, not fully ground. You might not find this when juicing with a horizontal slow juicer.
We were actually impressed with the quality of the juice that was extracted. Although the juice had a strong sprouts odor (which is a good thing as it means that the nutrients are properly extracted), the juice texture tasted rich and smooth.
We later mixed this juice with the apple juice that we made, and the combo tasted heavenly!!
Juicing Green Apples
A primary requirement when juicing apples is that the apple juice must not oxidize immediately. The juicer fails if apple juice oxidizes (turns brown) upon extraction. The JuicePresso CJP-03 passed with flying colors.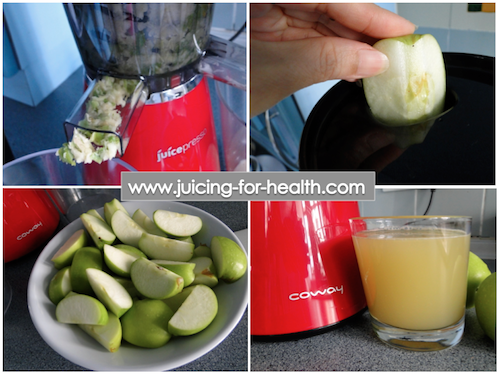 As with most slow juicers, the feeding chute opening is rather small for a reason, and that is to slow down feeding of produce. This juicer is no different, patience is required.
Pulp is not super dry when compared to say, the Alpha Juicer (or the Omega J8003), but oh my … the juice is extremely sweet!! We don't know if it's the juicer or it's the batch of fruits we bought … we don't remember the last time we tasted a juice that was this sweet. The same thing happened when we juiced carrots with this JuicePresso.
This surprised us, as we buy the same fruits/veggies from our regular supplier every week for the past few years!
Not to say that sweet is a bad thing. We just think that the juicer somehow extracts the enzymes and nutrients very well, even though it's not reflected in the pulp that was expelled.
Juicing Leafy Green Vegetables
As with the bean sprouts above, it would be almost impossible to juice leafy green vegetables using a centrifugal juicer and hoping to get much juice out of them.
Feeding the vegetables into the chute was easy with the help of the food pusher.
The juice yield is acceptable for a slow juicer in this range. The result was a green juice that was rich and concentrated.

Juicing Carrots
JuicePresso CJP-03 was able to crush carrots effortlessly. The juice yield was not as good as we expected but it was still better than what a centrifugal juicer would have done.
As with most vertical slow juicers, we find that you can improve the juice yield by alternately feeding different fruits/vegetables, as the various composition seem to help squeeze more juice out of each other.
The juice result was a little pulpy but considerably less pulp than its predecessor CJP-01. We used a sieve to filter out the bits of pulp. To our surprise, the juice was again extremely sweet, as described with the apple juicing above. The juice texture (after filtering) was smooth, rich and concentrated, exactly how fresh juices should taste like.

Juicing Celery and Cucumber
As mentioned above, when there is a variety of produce fed alternately into the juicer, the pulp tends to be dryer. This was a combo of celery, cucumber and green apples. The juice yield was good and tasted smooth and rich. We liked the result.
Note: We tested with a different batch of (Granny Smith) green apples again. It was sweet and lent a good mix to the juice.

Easy Assembly and Wash-Up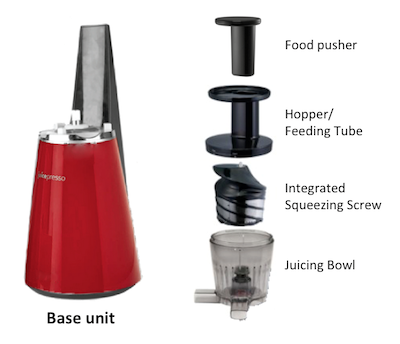 There are only four parts to assembling a JuicePresso CJP-03. Due to the 3-in-1 integrated squeezing screw system, you have two parts less to wash compared to other vertical slow juicers.
We must say that this slow juicer is the easiest to wash, that we have ever come across. Really, look at it … there is only the integrated strainer/screw that needs a little brushing with the brush provided. Other parts can just be rinsed under running water and put away.
When looking to buy a juicer, easy wash-up is an important factor to be taken into consideration. If you're like us, we don't like to spend too much time washing up and these very few parts suit me fine!
Specifications of the JuicePresso CJP-03
As mentioned, the JuicePresso CJP-03 is quite a "basic unit" with no bells and whistles. It functions mainly as a slow juicer that produces fresh juices with their enzymes and nutrients still intact. Most importantly, juice oxidation is delayed using a slow juicer and this juicer passed the test.
This juicer is currently available at a voltage of 220~240V, suitable for Asian countries.
Model: CJP-03
Voltage: 220~240V
Frequency:  50/60Hz
Power Consumption: 150w (saves energy)
Speed: 32 RPM (revolution per minute)
Dimension: W150mm x D193mm x H432mm (126mm taller than CJP-01)
Weight: 4.8 kg
Motor: DC motor
Warranty: 7 years FULL warranty on motor, 2 years on parts
Standard usage time: No more than 20 minutes continuously
Conclusion—What We Like
Easy wash-up. This is the first and foremost important feature. Helps save time!
Its sophisticated, slim and elegant design.
Small footprint. Saves space on my crowded kitchen counter top.
Light-weight and compact. Easily portable to take with me when traveling.
Low noise. At about 55 decibels, the low noise is acceptable and juicing can be done at anytime of the day without being too loud.
Self-feeding. Saves time and juicing is almost effortless.
Juice quality. Juice result is very rich and concentrated. A pleasure to drink.
Low, economical price
What We Dislike About the JuicePresso CJP-03
Juice yield could be better. However, it's still a little better than the juice yield from a centrifugal juicer.
Usage time. Manufacturer's manual shows as <20 minutes. Not for high volume production. The rebellious me tried juicing for more than 20 minutes non-stop and the juicer was doing fine. However, we recommend to not juice more than 20 minutes continuously, to prolong your juicer's life.
Having said all that, we would like to reiterate that JuicePresso CJP-03 is manufactured by a reputable company, Coway Korea, that spends millions of dollars on R&D. This juicer, although a "basic" unit that doesn't come with all the frills, is a pretty decent slow juicer that is suitable for small families who don't want to spend too much on a juicer.
You get juices that don't oxidize quickly, so it's a decent-priced juicer if you're upgrading from a centrifugal juicer (high-speed spinning juicer). If you have used the latter, you will see and appreciate the immediate difference in juice quality.
Hurom Slow Juicer | Omega Vert VRT330
All text on this page are originally researched and written by Juicing-for-Health.com
Some of the links I post on this site are affiliate links. If you go through them to make a purchase, I will earn a small commission (at no additional cost to you). However, note that I'm recommending these products because of their quality and that I have good experience using them, not because of the commission to be made.