How To Naturally Treat And Prevent Milia Seeds Without Leaving Scars
Last updated on
Milia (a.k.a. oil seeds) is the technical term for patches of small white bumps that can appear in the skin. They generally appear on the face, are hard, resemble and can be felt like millet seeds in the skin. People of all ages can get them, although they're common in infants and teenagers.
These little bumps are not acne. Milia most often form when the skin is not properly exfoliated. The dead skin cells are not shed properly, and got trapped in the skin's pores. They form into hard balls of keratin just underneath the skin's surface.
Overuse of rich facial creams, steroid creams, oily makeup or products are other common causes. Blistering injuries and sunburn can also form milia.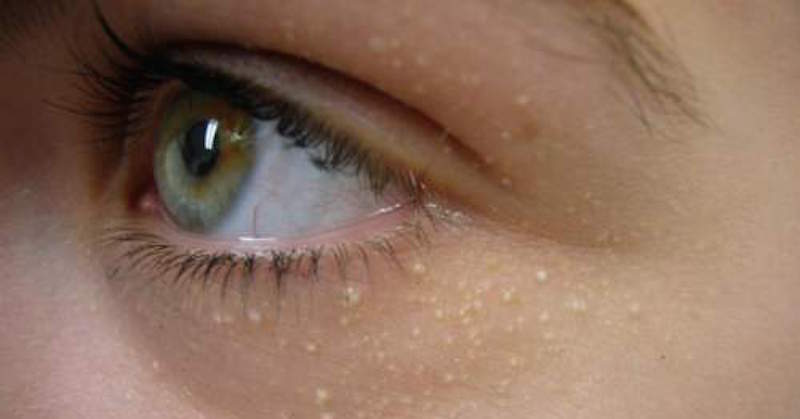 Effective Treatment And Prevention
Milia do not respond to squeezing or most acne treatments. Attempts to press them out can leave scars on the skin. Effective treatment involves first gently exfoliating the surface of the skin. The small balls of keratin can be dissolved with gentle skin cleansers.
Milia patches in the skin are difficult to prevent. There are some things that can be done to reduce outbreaks. Regular use of mild skin cleansers can prevent build up of dead skin cells. Using sunblock and moisturizers regularly can prevent sun damage or blistering damage. These five natural home remedies treat the skin to help remove existing milia and can prevent new ones from appearing.
1. Honey
Honey is a wonderful substance. It is a natural humectant that also kills bacteria on the skin. There are several ways to use it to treat milia. Apply raw honey to the skin daily. Gently rub it in and leave it for at least fifteen minutes.
You can mix it with these oils for better effect: Castor oil for a deep cleansing treatment for milia and blackheads, or jojoba oil for a milder treatment that is just as effective.
Honey can also be used to make a scrub. Mix three tablespoons of ground oats and one tablespoon of fine sugar with raw honey. Rub gently onto the skin using circular movements. Allow it to sit for fifteen minutes.
2. Castor Oil Treatment
Castor oil is deeply cleansing with anti-bacterial properties. It can easily absorb oil from the skin while helping remove dead skin cells. Mix the castor oil 50-50 with extra virgin olive oil. Olive oil is moisturizing and allows the thick castor oil to spread easier.
A spot treatment can be made with castor oil and baking soda. Mix the two till you make a thick paste. Dot the paste on the milia. This mixture helps to cleanse and dissolve milia.
3. Aloe Vera Rub
Aloe vera is a plant with healing properties. You can use the thick gel straight from the plant. Rub the gel onto the skin. Leave it on overnight. Cleanse the skin in the morning. It moisturizes and soothes the skin, helping it to expel the clogging skin cells.
4. Apple Cider Vinegar With Bentonite Clay
Apple cider vinegar is an excellent astringent and cleanser. Bentonite clay helps absorb excess oil and remove dead skin cells. Mix the two till you have a thin smear-able paste. Rub it gently onto the skin. Allow it to set for a half hour. Rinse it off with cool water.
This article is shared with permission from our friends at positivemed.com.
Other Natural Remedies For Various Skin Conditions
In addition to milia, a variety of other skin conditions affect people every day. Here is list of other homemade remedies you might be interested in for treating your specific skin disorder or simply maintaining your skin's health:
For warts: Apple Cider Vinegar for Wart Removal
For eczema: Coconut Oil for Eczema; Natural Moisturizers for Eczema
For reducing acne and wrinkles: Natural facial masks to reduce acne; Chemical-free acne treatments
For skin care: 5-step essential skin care
For makeup removers: All natural makeup removers
For skin toner: DIY antioxidant toner.
Some of the links I post on this site are affiliate links. If you go through them to make a purchase, I will earn a small commission (at no additional cost to you). However, note that I'm recommending these products because of their quality and that I have good experience using them, not because of the commission to be made.