Skip The Cosmetics Aisle With These 3 All-Natural Makeup Removers
Last updated on
Do you really know what ingredients are used in your branded makeup remover? As with most commercial products, makeup remover can contain potentially harmful ingredients.
Mother Nature provides a variety of natural solutions for both health and beauty. Using completely natural ingredients, you can create your own makeup remover. It is a simple process and anyone can do it. You just need to gather a few ingredients.
Homemade makeup remover can be created in various ways, but the simplest method is to soak a cotton pad or a cotton swab in an essential oil or other ingredient and then apply to your face.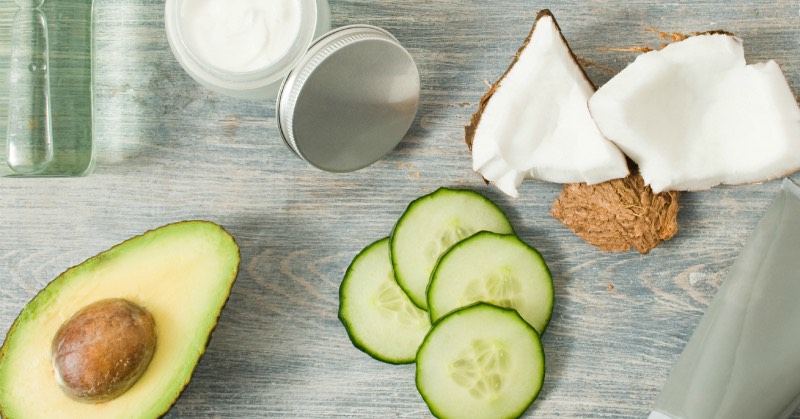 Here are five examples of DIY makeup removers that you can use to save money and protect your skin.
1. Coconut Oil
Coconut oil is a great makeup remover and offers so many other benefits. You can use coconut oil on your skin, your teeth, your hair, and just about any other part of your body. To use coconut oil as a makeup remover, soak a cotton swab in some coconut oil and then use it to wipe off your makeup.
2. Avocado
Avocados are a nutritional vegetable that contains a variety of vitamins and minerals, including vitamins A, D, E, and omega-3 fatty acids. You can use an avocado as a makeup remover. Simply cut the avocado in half and rub a cotton swab along the inside of the avocado. The cotton swab will pick up all the nutrients of the avocado.
3. Cucumber Slices
Cucumbers contain a high water content, along with various vitamins, which is why they are commonly used to reduce puffiness around the eyes. Along with being used for facials, you can use cucumber slices for removing makeup. As with the avocado, swipe a cotton swab along the cucumber slices and use to remove makeup.
4. Grapeseed Oil
Grapeseed oil can be used to remove makeup, prevent acne, clean up sun spots, and prevent wrinkles. Soak a cotton pad in a small amount of grapeseed oil to be used as a makeup remover. This is a perfectly natural way to take care of removing makeup and cleansing your face at the same time.
5. Jojoba Oil
Jojoba oil is one of the most used ingredients for makeup removers; though, this one requires a little bit of preparation.
Mix one-part jojoba oil to two-parts water. Soak a cotton swab in the mixture and use to remove your makeup.
You can also use this combination to moisturize your skin or as a cuticle cream.
If you are looking for other DIY makeup removers, learn more about the ingredients that they use. You should never apply citrus juice, such as lemon, or apple cider vinegar to your face. The acidic content can burn your skin, or cause severe irritation—leading to acne breakouts or skin damage.
These are the top five natural makeup removers. They have all been used for many years; though, you may want to start with a small test area, when using one of these removers for the first time. Make sure that you do not have a negative reaction to the ingredient before using it all over your face.
Making your own natural makeup remover is not complicated. Give each of them a try and decide which remover works best for you. Everyone has different skin, so you may find that some DIY makeup removers may work better than others.
Sources:
https://beautybets.com/2014/06/19/5-diy-natural-makeup-removers/
Some of the links I post on this site are affiliate links. If you go through them to make a purchase, I will earn a small commission (at no additional cost to you). However, note that I'm recommending these products because of their quality and that I have good experience using them, not because of the commission to be made.