Homemade Muscle Rub Recipe With Cayenne Pepper For Quick Pain Relief
Last updated on
Muscle soreness and pains are incredibly common. According to the National Institutes of Health (NIH), "Pain affects more Americans than diabetes, heart disease and cancer combined."
Whether you've been exercising, spending too much time sitting, or slept in an awkward position last night, we have all experienced pain of some sort.
Pain can also be a result of an illness or infection. Some common causes of muscle pain include:
The below muscle rub recipe has worked wonders for my sore muscles. It combines the following ingredients to soothe and relieve pain in the muscles while helping you to relax and de-stress.
Foods For Pain Relief
1. Coconut Oil
Coconut oil is a superfood for many reasons but with the added bonus of pain relief it's even better for us than we initially thought.
Coconut oil has been linked to relieving colds, stomach aches and even arthritis. This natural oil is packed with anti-inflammatory compounds that fight off many illnesses and help relieve arthritis. Thus, consuming coconut oil can help soothe our sore bones and joints.
Moreover, coconut oil has been found to stimulate blood flow to our joints and muscles that have been under stress and pain, allowing for the muscles to heal.
2. Cayenne Pepper
Cayenne pepper is a stimulant that can be used to stimulate blood flow and as a natural pain reliever. Hot peppers contain capsaicin which is directly linked to blocking pain. Capsaicin tricks our brains into believing the area that we have rubbed it on is actually hot, therefore numbing our nerves. Our brain then releases substance P which helps reduce the amount of pain we are feeling.
Capsaicin in cayenne peppers can help relieve pain caused by arthritis, muscle soreness and lower back pain.
3. Ginger And Turmeric
Both of these spices have anti-inflammatory properties and have been used in treatments for rheumatoid arthritis.
Ginger is also used to relieve other types of pain including chest pain, lower back pain and stomach pain. Patients with osteoarthritis or rheumatoid arthritis claim to experience reduced pain levels after consuming ginger.
Curcumin, the active compound found in turmeric is among the most potent anti-inflammatory agents in the world. Thus, turmeric has proven to be effective in bringing relief to chronic pain and inflammation.
Now that you know about all of the amazing pain-relieving ingredients in this muscle rub, you don't need to purchase any muscle creams at the store. Once you try this homemade muscle rub recipe, you'll want to go all natural all the time.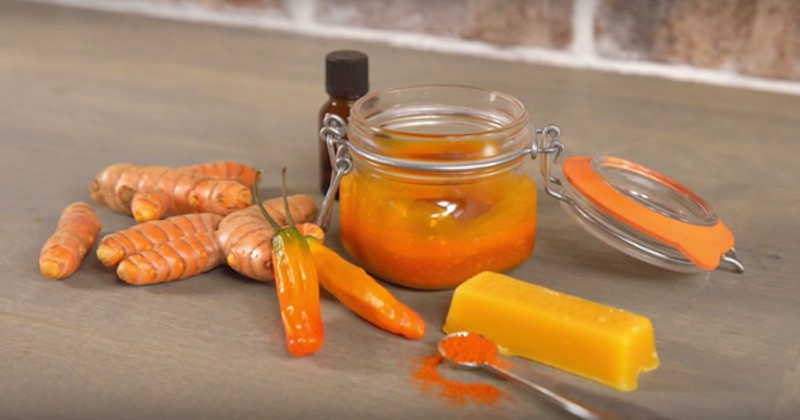 Homemade Muscle Rub
Serves: 30
Prep time: 20 minutes
Cook time: 10 minutes
Ingredients:
½ cup coconut oil
¼ cup grated beeswax
2 teaspoon cayenne powder
2 teaspoons ginger or turmeric powder
(Note: While turmeric is an outstanding anti-inflammatory, be aware that it will cause some temporary skin discoloration)
15 drops of peppermint essential oil
15 drops of lavender essential oil
A glass jar
Instructions:
Pour all oils (except essential oils) in to a jar. Place a saucepan with 2 inches of water over medium low heat.
Place jar in saucepan and allow contents to melt. Stir to combine. Add the cayenne and ginger/turmeric.
Once combined, allow to cool slightly and then add in essential oils. Mix well.
Pour mixture into metal tins or storage containers and allow to set.
This recipe is shared with permission from our friends at draxe.com.
Sources:
https://draxe.com/homemade-muscle-rub/
https://www.naturalblaze.com/2013/06/top-10-natural-health-remedies-of
https://www.livestrong.com/article/525034-hot-pepper-rub-for-sore-muscles/
https://report.nih.gov/nihfactsheets/ViewFactSheet.aspx?csid=57
https://draxe.com/turmeric-health-benefits/

Some of the links I post on this site are affiliate links. If you go through them to make a purchase, I will earn a small commission (at no additional cost to you). However, note that I'm recommending these products because of their quality and that I have good experience using them, not because of the commission to be made.