Fat-Burning Kale-Quinoa-Black Bean Salad With Spicy Dressing
Last updated on
Not gonna lie, sometimes I love a good Chipotle bowl!
Especially on the go, or when I'm too tired and lazy to cook. Brown rice, black beans, bell peppers, corn, salsa, lettuce, a lil' guac—what's not to love? I know they (unfortunately) have a lot of oils but once in a while, I give in… balance right? ♥ It was only a matter of time before I shared my recipe for this Spicy Kale and Quinoa Black Bean Salad because it tastes THE SAME as chipotle, and without any unhealthy oil whatsoever.
You don't need it, I promise.
Cooking without oil can take some getting used to but now that I think of oil as pure fat, I do my best to eliminate it completely.
This spicy salad is crunchy, savory, bursting with flavor and totally addicting. A crowd-pleaser for sure. It's the perfect salad for any occasion and can be customized to your "spiciness" liking.
*Editor's note: Some additional information has been included to better provide you with information on healthy eats.
The Kale Gets Better
With kale, quinoa, black beans, corn, onion, savory spices, cilantro, hot sauce, *cumin, apple cider vinegar … I mean, you gotta love it. And you gotta try it. For anyone weary of kale, you won't notice the 6 cups of green goodness in this giant bowl—the yummy spices and other ingredients overpower the kale while the dressing softens it—what does that mean?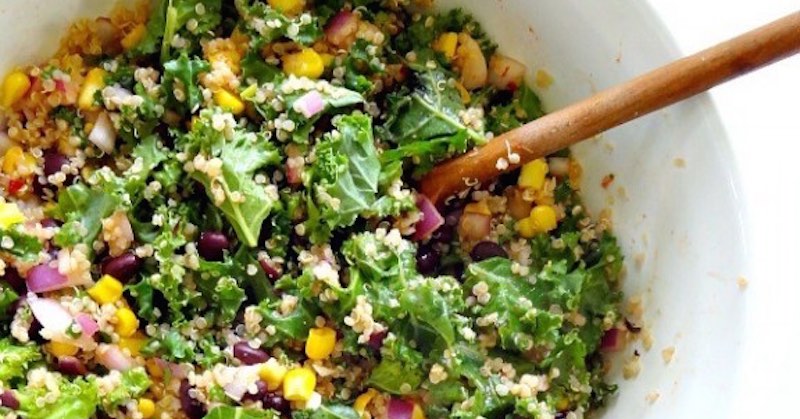 Not that you always want to overpower the kale taste, personally I've grown to crave it, but there are days where a salad just doesn't sound appealing, am I right? This recipe will change that, especially with the added health benefits.
People have raved for years about how foods like kale and quinoa are good for you. But it's time to add the benefits of cumin to your knowledge.
According to Marks Daily Apple, cumin seeds are pungent, potent little things with the ability to significantly change the trajectory of a dish. They are featured prominently in Mexican, Mediterranean, Indian, Middle Eastern, and certain Chinese cuisines.
Read up on the benefits of cumin seeds and how it helps in weight loss
Cumin appears to provide a number of potential health benefits, from anti-glycation agent to antioxidant to anti-osteoporotic, and much more.
Health Benefits Of Cumin
Lowers blood-glucose levels
Reduces cholesterol levels
Improves immune system
Protects liver from ethanol- and rancid vegetable oil-induced toxicity
What's Not To Love?
This salad can be eaten warm or cold—either way is absolutely delicious. A cold salad for lunch or a warm salad for dinner—your choice! All you do is cook the quinoa, then add the black beans and corn to the pot. Mix it up.
Add heaps of kale and some red onion to a giant salad bowl. Add the quinoa mixture over the kale. Mix up the spicy dressing. Pour the dressing over the chipotle-like "way healthier" salad. Mix again.
That's it! In under 30 minutes you have a filling, nourishing, absolutely delicious meal for 4-6 people. Or leftovers for yourself.
Spicy Kale And Quinoa Black Bean Salad
Serves :4
Prep Time: 15 min
Cook Time: 15 min
Ingredients:
1 cup quinoa, uncooked
6 cups chopped kale, de-stemmed
½ red onion, chopped
1 can black beans, drained and rinsed
1 cup corn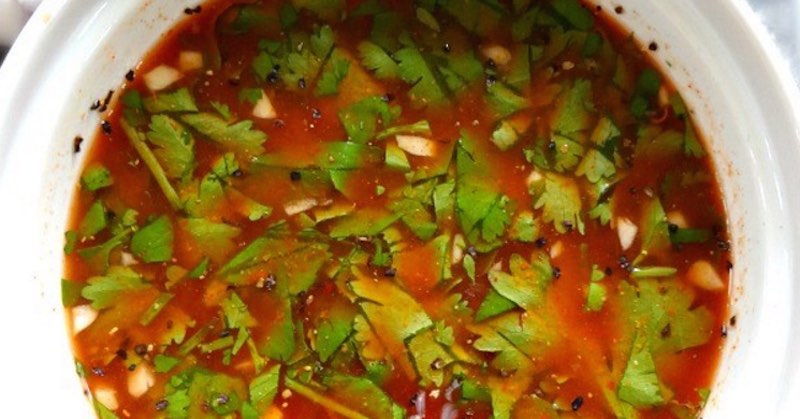 Spicy Dressing:
¼ cup fresh cilantro, chopped
1 clove garlic, minced
¼ cup apple cider vinegar
¼ cup hot sauce of your choice (I used a chili pepper sauce)
¼ cup water
1 teaspoon maple syrup
½ teaspoon cumin
sea salt and pepper, to taste
Instructions:
In a medium sized pot, combine 2 cups of water with 1 cup of quinoa and bring to a boil. Lower heat, cover and simmer for 15 minutes or until water is absorbed and quinoa is fluffy.
In a large salad bowl, add the kale and the onion.
Once the quinoa is done cooking, add in the black beans and corn to the pot. Mix it up. You could just add these over the kale but I wanted to warm up the beans and corn. Add the quinoa mixture over the kale and mix.
Prepare the dressing. Pour the dressing over the salad, mix and enjoy!
Notes:
Stays fresh in the refrigerator up to 2 days.
Can replace quinoa with rice and add any additional veggies you like. Bell peppers, tomato, avocado etc.
Source:
TheGlowingFridge.com in partnership with FamilyLifeGoals.com.
Some of the links I post on this site are affiliate links. If you go through them to make a purchase, I will earn a small commission (at no additional cost to you). However, note that I'm recommending these products because of their quality and that I have good experience using them, not because of the commission to be made.