Sorghum: The New Ancient Gluten-Free Grain
Last updated on
What Is Sorghum?
One of the rising stars of the grain family these days is an ancient grain called sorghum. Sorghum is believed to have originated in Africa, and is a grain that is much more tolerant to drought conditions than most crops. Bonus: Sorghum is gluten-free.
About half of the sorghum produced in the world today is used for food consumption, but in the U.S., sorghum is mostly used to make animal feed or to produce biodegradable packing materials.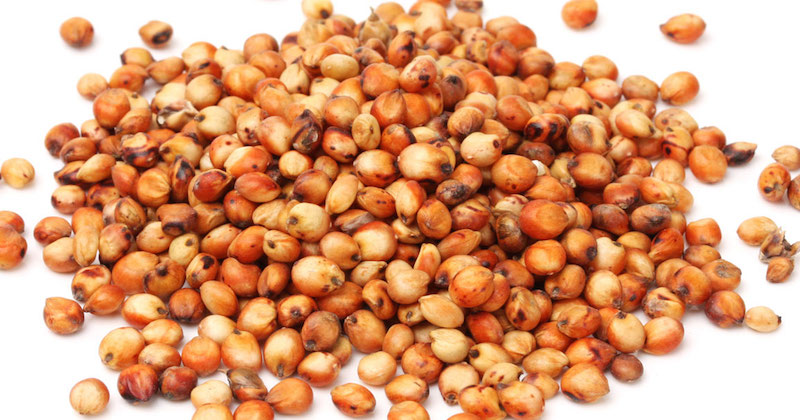 Types of Sorghum
Although much of the sorghum in the United States is used for non-food purposes, sorghum is a versatile grain that has many uses in the kitchen.
White pearled-grain sorghum has had the hulls removed and is a great alternative for rice or pasta.
White whole-grain sorghum has been milled just as pearled-grain sorghum has, but the hulls have not been removed. White whole-grain sorghum is great on salads or added to soups.
Whole-grain sorghum flour is a great gluten-free option for baked goods.
Health Benefits of Sorghum
Sorghum has also been shown to contain high levels of phytonutrients—a form of power-packed, disease-fighting plant chemical.
Digestive health:  The dietary fiber in from sorghum is great for the digestive system that helps prevent/reduce bloating, cramping, excessive gas, constipation and diarrhea.
Regulate sugar levels:  Sorghum has enzymes that inhibit the absorption of starch which helps to regulate insulin and glucose levels in the body.
Gluten-free:  Sorghum being a gluten-free grain makes it suitable for individuals who suffer from allergy to gluten, as in the case of celiac disease.
Health of red blood cells:  The copper and iron content in sorghum is helpful for reducing the risk of anemia or iron deficiency.
Bone health:  Calcium and magnesium are present in this grain that help development and strengthening of of bone tissues .
Vitality:  Sorghum contains a key ingredient, niacin (vitamin B3) that synthesizes starch stored in muscles and liver for eventual use as an energy source, keeping your energy levels stable throughout the day.
Sorghum Uses
Here are some ways you can incorporate sorghum into your diet.
Sprinkle whole-grain sorghum on salads. The nutty, crunchy flavor gives new life to your old standby salads.
Use sorghum flour as a gluten free alternative to wheat flour in cakes, breads and cookies
Use pearled-grain sorghum in place of rice or pasta in casseroles and/or soups
Add whole-grain sorghum to your stir fry dishes or your broiled or grilled vegetables such as asparagus or green beans
Use sorghum syrup to replace traditional syrup
Add sorghum syrup to real, organic butter (2-4 tablespoons per stick of butter) for a sweet-tasting butter that's great on biscuits
If you haven't heard of the sorghum grain, you're not alone. This not-so-well-known grain hasn't quite made it front and center to Western world store shelves. However, specialty companies such as Bob's Red Mill often carry sorghum products.
We encourage you to try sorghum when you find it, and see if this gluten-free grain might fit into your healthy eating lifestyle.
Source:
https://health.usnews.com/health-news/blogs/eat-run/2015/08/07/modern-america-meet-ancient-grain-sorghum
Some of the links I post on this site are affiliate links. If you go through them to make a purchase, I will earn a small commission (at no additional cost to you). However, note that I'm recommending these products because of their quality and that I have good experience using them, not because of the commission to be made.