Quick and Easy, Gluten-Free, High Antioxidant Mushroom and Broccoli Stir-Fry
Last updated on
Eating gluten-free is not always easy—as gluten seems to be everywhere. When you are trying to avoid gluten, you should build a collection of recipes that you can easily whisk together. Having a large variety of recipes will help you stick to your gluten-free diet.
What is Gluten?
Over the past few years, there has been a lot of news articles discussing the dangers of gluten and many websites promoting gluten-free lifestyles. Is avoiding gluten really necessary? The simple answer is that the only people that really need to avoid gluten are those that are gluten intolerant—including and especially for people with celiac disease.
Gluten is a protein that is used to give breads and other baked goods more elasticity. This helps the dough to rise and gives it shape. Some people believe that products made with gluten are more difficult for your body to digest, leading to bloating and other digestive issues.
Whether you are on a gluten-free diet, a raw food diet, or you want to find some healthier meal options, try using this quick and easy recipe. The following recipe will create two servings of gluten-free mushroom and broccoli stir fry.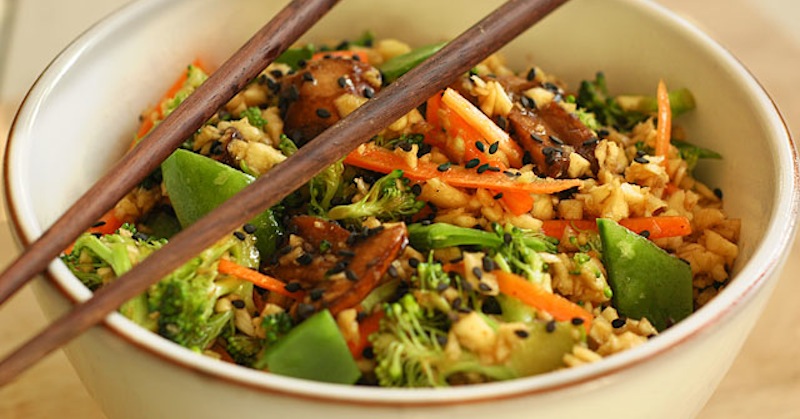 Mushroom and Broccoli "Stir Fry" Recipe
This is a raw recipe, which means that no baking is needed. This also means that this is not really a "stir fry" recipe, as you are not frying anything. To make your gluten-free mushroom and broccoli stir fry recipe, you will need these ingredients:
Ingredients for the Marinade
¼ cup of coconut avocado oil
2 tablespoons of soya sauce
1 tablespoon of raw honey
Ingredients for the Stir Fry
1½ cups of sliced mushrooms
1 cup of broccoli
2 carrots
1 cup of pea pods (or green peas)
Sesame oil
Black sesame seeds
1 large parsnip
Mushroom and Broccoli Stir Fry Directions
Start by whisking together the marinade, combining the olive oil, Nama Shoyu, and raw honey. Chop the broccoli and slice the mushrooms. Place the broccoli and mushroom in the marinade and stir until the ingredients are coated.
Next, cut the parsnip into small pieces. Place the parsnip pieces into a food processor and process until they are coarsely chopped. Cut the two carrots into small pieces, about the size of matchsticks. Chop the cup of pea pods into smaller pieces.
In a large mixing bowl, mix the processed parsnip, the chopped carrots, and the chopped pea pods. Pour the marinated broccoli and mushroom into the bowl and toss with your hands. For a bit more flavor, add a little bit of sesame oil and sprinkle with black sesame seeds.
This gluten-free mushroom and broccoli stir fry recipe is suitable for people on a raw food diet or a gluten-free diet. Using only fresh, whole ingredients, you can easily throw together a tasty meal for lunch or dinner.
If you need to store any leftovers, make sure that you place them in an airtight container and store in your fridge. You should try to consume the leftovers by the next day, while the ingredients are still fresh.
The next time you need a quick and easy recipe for your gluten-free or raw food diet, make your own mushroom and broccoli "stir fry".
Sources:
https://www.rawmazing.com/broccoli-mushroom-stir-fry/
https://www.livescience.com/39726-what-is-gluten.html
Some of the links I post on this site are affiliate links. If you go through them to make a purchase, I will earn a small commission (at no additional cost to you). However, note that I'm recommending these products because of their quality and that I have good experience using them, not because of the commission to be made.