Last updated on
The Norwalk Juicer is the ultimate hydraulic press juicer.
Dr Norman W. Walker
Dr Norman W. Walker (1886-1985) was the man who had greatly inspired me, through his books, to start juicing diligently and eventually built this website.  (This page is a tribute to this great man.)
Dr Walker was the guru of life, health and nutrition, in his time when very few understood the importance of, or relation between health and nutrition. He did a lifetime research into man's ability to live a longer and healthier life. He himself lived to a ripe old age of almost a hundred years old, by advocating the drinking of fresh vegetables and fruit juices.
He was also the leading expert in eating raw fresh foods for nutritional health. Understanding the phenomenal recuperative value of fresh fruits and vegetable juices, Dr Walker had developed the Norwalk Triturator Hydraulic Press to extract fresh juices that preserve the enzymes and nutrients
| | |
| --- | --- |
| | This book has inspired me so much that I've given out more than 100 copies to my faithful customers over the years |
The Ultimate Norwalk Juicer: The Built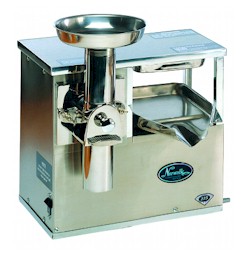 The Norwalk Juicer has evolved over time and is now a much smaller kitchen-top unit compared to a gigantic one when it was first invented. It is a fully stainless steel equipment and even come in eight colors to match your kitchen color.
Well, the machine weighs at about 58 pounds (~26kg)! It is built to last a lifetime. There are very few movable parts so it doesn't break. The only possible problem with this machine would probably be its motor bearings or any hydraulic mechanism issues.
The stainless steel body is easy to clean/maintain and is hygienic. Although the Norwalk comes with a 12-year limited warranty, obsolete spare parts in future, might be a consideration as this machine may probably last you till your next generation.
How It Works
This juice extractor works differently from the conventional juicers that we are so used to. There is a two-part process that takes a little getting used to. A little bit cumbersome but it does the job brilliantly.
Part 1 Process:  When the produce are being fed into the housing shaft, a spiraling cutter grinder (fancy name: vortex triturator) grinds them into very small pulpy pieces that are collected in a linen cloth filter bag (provided).
Part 2 Process:  The filter bag is removed, folded neatly and placed onto the hydraulic press tray. A lever is turned to activate the hydraulic press. A tremendous pressure is then applied to gently and completely press out the juice with all its sugars, vitamins, minerals, enzymes, phytonutrients, everything. The juice is collected in a bowl placed just under the pout from the tray. No foam, no froth, no oxidation. Just totally pure juice, fresh and sweet as it should be.
Juice Yield
Juice yield extracted from this juicer is said to be 50% more than its nearest rivals (other triturating/masticating juicers), and up to 100% more than the lower range juicers (centrifugal/manual).
It reduces the produce to very dry, pale and almost wafer-like pulp that shows how every drop of juice is pressed out. This is amazing because even with a masticating (gear juicer), the pulp still comes out a little moist and with color. But with the Norwalk juicer, even the plant pigmentation is pressed out, leaving the pulp pale in color! I'm even thinking that this juicer might make a very good industrial juicer for the very high juice yield. Definitely more cost-effective in the long run.
The only drawback I can see from this method of juicing, though, is that pressing leafy vegetables with low juice content might be tricky. It is not impossible but would not be as efficient as a gear juicer. The way to get around this is to press leafy vegetables with other "harder" produce like carrots or cucumbers. Certainly not practical if you want to extract pure wheatgrass juice.
Juice Stability
The method of juice extraction by hydraulic pressing allows almost no mixing of air with the juices. This minimizes oxidation of the juices, preventing it from spoiling quickly. And because all the enzymes and nutrients that make a produce whole have been extracted into the juice, they all work together to preserve the stability of the juices.
Juices extracted using the Norwalk Juicer may be kept for up to 3 days, filled to the brim in airtight opaque containers, and stored in the refrigerator. The quality of the juices, because they are whole and complete, is really outstanding and unequalled.
Being able to store the juices for a longer time, you can make your juices every other day. This is a trade off for the "long process" of the two-part juicing and washing-up.
What Else Can It Do?
Like what most gear juicers can do, the cutting-grinding function in the Norwalk juicer is useful for:
Chopping up vegetables for salad
Grinding nuts for making peanut butter
Food milling to make baby food
Making sorbet and ice cream from frozen fruits
Grinding herbs
Grinding coffee beans
Making flour from any grains
Assembly/Washing-up
This boxy machine is not a very complicated thing to assemble. Although there are a few parts to tear apart/assemble, eight to be exact, that need to be taken down for washing after juicing. Whether you extract a glass of juice or five gallons, the amount of washing would be the same.
There are eight parts to clean altogether: the filter bags, grid, grid holder, pusher, feed tray, housing shaft, cutter and the juice tray. They are all lightweight, easily taken apart and can be rinsed under running water. The only difficult part might be the washing of the filter cloth bags to ensure hygiene, and then can kept away in a ziplock bag and stored in the freezer until the next use.
The Proud Machine
Conclusion
This is definitely a very impressive machine but it's not for the "faint-hearted". The price of the machine from the Norwalk company is at a whopping US$2,495 per unit! Definitely a yes for you, if you are willing to pay the price for quality, and for a workhorse that will last you a lifetime. If you're serious about juicing, usually juice in huge quantities for a big family (or practicing Gerson Therapy), then this machine can be very cost effective.
If you still want the Norwalk Juicer but think that the price is too high to pay, there is a cheaper alternative to the Norwalk Juicer. Although not as efficient as the Norwalk, it is able to produce high yield and high quality juice. The only challenge is that this other hydraulic press juicer doesn't have the cutter grinder and does only the super press. You may want to explore the feasibility of the Welles Juice Press (a.k.a. Welles Peoples Press) by Samson.
The high juice quality using a hydraulic press ensures speedier healing and the ability to juice huge amount of juices that can be stored away, helps save a lot of time and money. The Super Angel Juicer might also be a good alternative as the Gerson Therapy encourages use of stainless steel juicers, though not mandatory.
If you're new to juicing, no matter how enthusiastic you're feeling, try a gear juicer first to see how you really like juicing every day. Gear juicers are definitely way easier to operate and easy to wash up. If even by that juicing is a chore, then the Norwalk Juicer is definitely not for you.
Buy Now:
Some of the links I post on this site are affiliate links. If you go through them to make a purchase, I will earn a small commission (at no additional cost to you). However, note that I'm recommending these products because of their quality and that I have good experience using them, not because of the commission to be made.