Nuts have a bad reputation for being high in fat and calories, but they shouldn't be avoided for weight loss. In fact, weight loss is a health benefit of regular nut consumption if they are consumed in moderation. Raw nuts contain healthy fat, vitamins, antioxidants, and fiber.
Eating nuts regularly has been linked to lower blood pressure and less risk for bad cholesterol, obesity, and high blood sugar. Nuts (walnuts, hazelnuts, pecans, brazil nuts, almonds) contain a special amino acid that offers vascular benefits to people with heart disease and risk of cardiac problems. Because of this, nut consumption is linked to cardiovascular health, lower risk for diabetes, reduced mortality, and a longer lifespan.
A 30-year Harvard study found that people who ate a small handful of nuts seven times per week were 20 percent less likely to die (including death from heart disease, respiratory disease, and cancer). Another study in the Annals of Internal Medicine found that middle aged women who consumed a Mediterranean diet including nuts were 40 percent more likely to survive longer without developing chronic diseases (including age-related memory deterioration).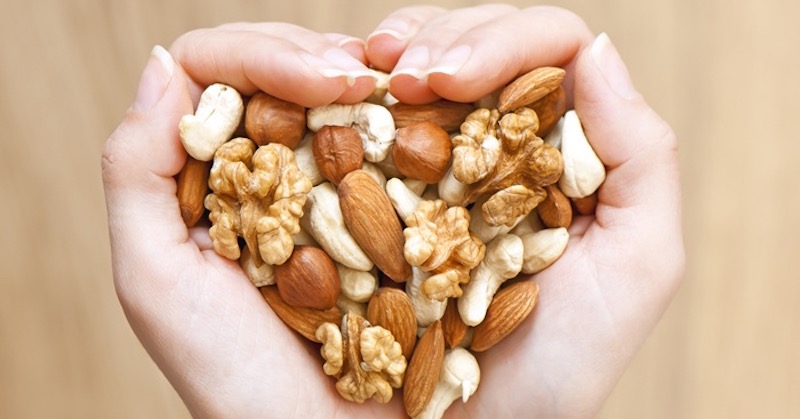 Walnuts are one of the best studied nuts and they have high amounts of omega-3's. Almonds, macadamia nuts, hazelnuts, and pecans are also heart healthy options. To avoid the unhealthy saturated fats typically found in nut butter, substitute a handful of nuts instead.
80 percent of nuts are fat, but they are healthy fats. However, nuts are still high in calories, and should be eaten in moderation. Nuts can be used as a substitute for the saturated fats found in meat, eggs, and dairy. The American Heart Association recommends four servings of unsalted nuts per week.
What Is So Heart-Healthy About Nuts?
Unsaturated Fats:  These are the "good" fats in nuts. Mono- and polyunsaturated fats both lower bad cholesterol levels.
Omega-3 Fatty Acids:  This is a healthy form of fatty acids that help the heart by preventing heart attacks. They are also found in many types of fish (like salmon), but nuts are a great plant-based source.
Fiber:  Fiber is known to lower cholesterol, make you feel fuller longer and eat less, and may play a role in diabetes prevention.
Vitamin E:  Vitamin E helps stop the development of plaque in the arteries. Plaque buildup leads to chest pain, coronary artery disease, and heart attack.
Plant Sterols:  These sterols are known for lowering cholesterol and are often added to products like margarine and orange juice to give them healthy benefits, but plant sterols occur naturally in nuts.
The Nut To Avoid—Peanut
Peanuts are technically not a nut. They are "nuts" only in their name, but are really a legume. They are grown in the ground, thus are also called "ground nuts".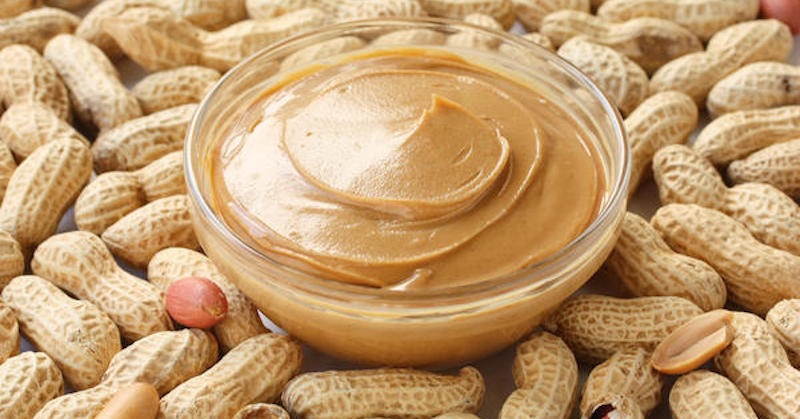 Although peanuts are usually considered relatively healthy, they might not actually be very good for you for various reasons:
Aflatoxins:  Peanuts are easily affected by aflatoxins that have been associated with various diseases, such as aflatoxicosis, that may also affect livestock, domestic animals and humans. Aflatoxins are poisonous and cancer-causing chemicals produced by certain fungi/mold that grow in soil, affecting decaying vegetation. Peanuts, being a legume grown in soil, are susceptible to this fungi.
Lectins:  Lectins are a type of protein that can bind to cell membranes. Our bodies aren't able to digest them, so we often produce antibodies to them. Ingesting lectins may cause flatulence in some people. It causes distress to the digestive systems, possibly even damaging the intestinal lining. Eating foods that contain lectins in excess may lead to a "leaky gut"—a condition where the damaged lining allows various molecules to pass back and forth through the gut wall. Food allergies and autoimmune systems often are a result of a leaky gut.
Most common food allergy:  Peanuts can cause severe and potentially fatal allergic reactions. Peanut allergies tend to be lifelong and are on the rise in children. This could be due to the lectin content that cause a leaky gut syndrome.
High in Omega-6 Content:  The word "Omega" may sound like healthy to most people. Peanuts are high in omega-6 fatty acids and low in omega-3. Your body needs both omega fatty acids but at the right ratio. When this ratio is out of balance, in favor of omega-6 fatty acids, you are at a higher risk of heart disease, diabetes, and stroke. According to various researches, when the ratio of omega-6 fats to omega-3 fats exceeds 4:1, people are more prone to health problems.
Inflammatory:  Inflammation is a bodily mechanism thought to be the cause of a majority of chronic diseases. Chronic inflammation can cause stress, and many ailments. Peanuts contain toxic mold, lectin, omega-6 and other properties that may be responsible for inflammation. It is also linked to arterial plaque deposits that increase the risk of thrombosis and blood clots.
Stay Away From Peanut Butter Too
For decades, peanut butter had been promoted to be a "healthy lunch" for kids. Parents are taught that peanuts are a complete meal of protein, carbohydrate and fats. This is far from the truth!
Peanut butter contains peanuts and the wrong fats. For all of the same reasons listed above it is also safer to avoid eating peanut butter. Some brands of peanut butter claim "zero transfats" but they can still contain up to half a gram of transfat per serving, especially if hydrogenated oil is listed as an ingredient.
Hydrogenated oil is another name for transfat. Transfat is artificial and processed fat, that has been linked to an increased risk of cardiovascular disease. "Reduced-fat" peanut butter isn't any better. The fat usually found in peanut butter is replaced with added sugar and there is no decrease in calories in reduced-fat peanut butters.
A healthy alternative to peanut butter is to make your own nut butter. Homemade nut butter saves money, you can control the levels of sodium and sugars, and completely cut out the preservatives found in commercial brands. Peanut butter can cause of a lot of unknown health detriments, so stay away from it by sticking to healthier nuts and homemade nut butters.