Studies Show Cruciferous Vegetables Like Broccoli, Cauliflower And Kale Help Beat Cancer
Last updated on
One of the key benefits of the nutrients contained in cruciferous vegetables, is their anti-inflammatory properties that are also definitely beneficial for preventing various types of cancer.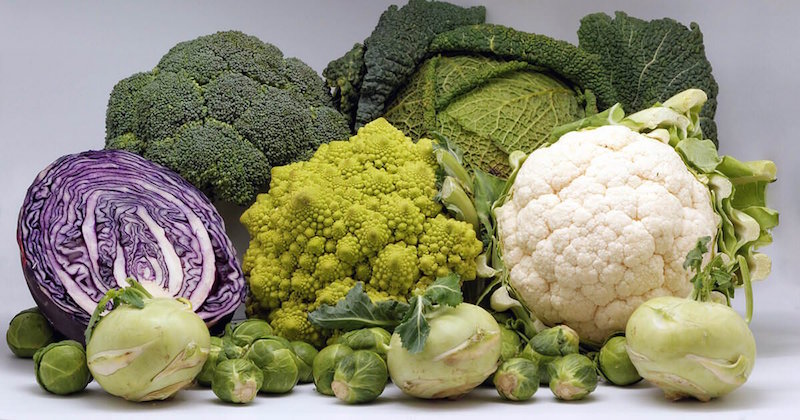 Kids just seem to hate green foods, don't they?
Little green trees and green orbs have all been tossed around on dinner plates, "forgotten" and unwanted. I am, of course, speaking of broccoli and Brussel sprouts.
We all know why kids don't like them: they're bitter and green. It's simple, in a kids mind that these veggies are bad news.
But it's exactly that reason—their bitter taste—that makes them so super!
What are Cruciferous Vegetables?
There is a long list of veggies that belong to the cruciferous family, but you can usually recognize them by their "crunchy-springy texture" and a little bitter taste.
Here's a list of some of the cruciferous vegetables. Check out each of their amazing health benefits:
They may also be called Cruciferae, meaning "cross-bearing" as their flowers tend to take on a four-petal pattern of a cross. More recently, this family of vegetables are increasingly referred to as the "Brassica vegetables" as the word "brassica" means "cabbage" in Latin, a vegetable that most people know belongs to this group.
Nutrients in Cruciferous Vegetables
This family of vegetables contain the highest amount of vitamin A carotenoids, vitamin C and K, folate, and a little of the other B vitamins. In the minerals department, these vegetables contain good amounts of potassium, phosphorus, calcium, magnesium, manganese, zinc, and respectful amounts of protein!
One of the key benefits of the nutrients contained in cruciferous vegetables, is their anti-inflammatory properties that are also definitely beneficial for preventing cancer.
Cruciferous Veggies May Cure Cancer
A new study has suggested that the high concentration of sulforaphane, the phytochemical that creates a bitter taste, in cruciferous vegetables may help protect people from cancers of the mouth, throat, head, and neck.
Previous studies conducted in large-scale trials in China have also shown that sulforaphane helps reverse the effects of carcinogens in the environment while other earlier studies link the compound to breast cancer prevention.
Studies of Sulforaphane
A few studies have been conducted to show that extracts of broccoli sprouts can protect against oral cancer. Mice that were predisposed to oral cancer were treated with sulforaphane, and over several months were reported to have reduced tumors.
"The clear benefit of sulforaphane in preventing oral cancer in mice raises hope that this well-tolerated compound also may act to prevent oral cancer in humans who face chronic exposure to environmental pollutants and carcinogens," says Professor Daniel Johnson, from the University of Pittsburgh School of Medicine.
Human volunteers not affected by cancer have also tried the extract with no ill-effects. Researchers noted the chemical created differences in the lining of their mouths that actually protected them against cancer.
They've concluded that sulforaphane can be absorbed and directed to body tissues at risk for cancer.
Read how Broccoli juice helps patient beat bladder cancer.
Learn to Love Cruciferous Veggies at a Young Age
The younger you start to love these veggies, the more you'll be eating them throughout your lifetime! So expose your children (and yourself!) to these vegetables early on to reap all of the great benefits they have to offer.
These juices can effectively mask the bitter taste of the sulforaphane and make green vegetables taste great! Broccoli is a good cruciferous veggie to start juicing with, so try out these recipes:
Sweet Summer Broccoli
½-1 head of broccoli – florets, stalks, and all!
1 cucumber
2 oranges
1 carrot
Cruciferous Trifecta
1 head of broccoli
1 head of cauliflower
5 kale leaves
5 carrots
2 green apples
½ lime
Reference:
https://www.ncbi.nlm.nih.gov/pmc/articles/PMC4432495/
Some of the links I post on this site are affiliate links. If you go through them to make a purchase, I will earn a small commission (at no additional cost to you). However, note that I'm recommending these products because of their quality and that I have good experience using them, not because of the commission to be made.