The Herbal Tea That Heals Gastritis, Stops Cramps, Regulates Menstrual Flow
Last updated on
Common Yarrow, or Achillea Millefolium, is a perennial plant native to Europe that has been used for centuries as a natural remedy to stop bleeding wounds, treat gastrointestinal problems, fight fevers, lessen menstrual bleeding and aid digestion.
How To Find And Identify Achillea
Achillea Millefolium is a perennial herb that grows up to between 30cm and 70cm tall. It has feathery green-grey leaves with small white, or light pink flowers with yellow centers, which form a roundish-topped cluster.
Achillea Millefolium grows abundantly in meadows, woodland, lawns and roadsides in temperate regions all over the world. It loves sunny spots and grows very well in poor soils. It is common in gardens, though often doesn't get to flower as it is cut by lawnmowers—so you may never even know it is there!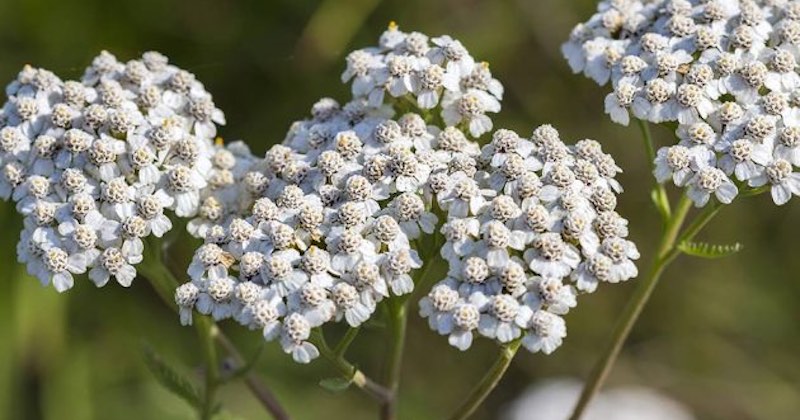 The plant flowers from late June till September in the Northern Hemisphere.
The name Achillea comes from the Greek hero, Achilles, who cured his soldiers wounds with Yarrow during the battle in Troy; and Millefolium meaning "a thousand leaves".
The Health Benefits Of Yarrow
Achillea Millefolium is a medicinal herb used as a natural remedy to treat heaps of problems. It has great anti-hemostatic, analgesic, anti-inflammatory properties that make it a perfect natural remedy for wounds.
It can be applied on the skin or taken orally as an infusion, herbal tea or tincture.
The main medicinal uses of yarrow are:
Anti-hemostatic: Promotes natural blood clotting to prevent hemorrhage. 
Speeds up wound-healing: It helps the healing process of cuts, sores, burns and stops the bleeding of wounds. To do this you can either:
—Put flowers and leaves (or a poultice) directly on the cut to stop the bleeding and to disinfect the affected area; or
—Tap the skin with a gauze soaked in yarrow infused water (5-7 gr for 100 ml water) and repeat it a few times throughout the day.
Achillea-infused oil can combat the symptoms of hemorrhoids: Apply the oil to the affected area.
Drink yarrow infused herbal tea to relieve menstrual cramps: You can add to the standard yarrow herbal tea recipe a few leaves of Melissa to make it sweeter.
Take yarrow juice to regulate menstrual flow: Achillea Millefolium can help stimulate blood flow in the pelvic area and uterus, which will regulate your menstruation cycle. Take 3 teaspoon a day of fresh yarrow juice.
Sore nipples: Apply yarrow ointment 2-3 times a day
Stomach/gastritis: Heals gastric mucus alterations and normalizes hydrochloric acid secretions.
Colitis: Yarrow is a fantastic antispasmodic so it's great to fight colitis.
Stimulates appetite and aids digestion. Achillea Millefolium improves digestion thanks to the azulene that relaxes internal muscles and stomach and has antispasmodic properties.
Relieves pains and cramps in the lower pelvis: Achillea works as a sedative and antispasmodic and reduces uterine contractions. Add it to a warm bath to alleviate these symptoms.
Improves blood circulation, varicose veins: Apply special liniment and rub onto varicose veins.
Has anti-aging properties when used in cosmetics.
Fades out brown spots: Soak a cotton gauze with yarrow tincture and apply on the spots twice a day.
The Active Ingredients In Achillea Millefolium
The main beneficial ingredients are: volatile oil containing azulene; flavonoids, including apigenin and rutin; tannin; isovaleric acid; salicylic acid, asparagin, sterols, bitters, tannins, sesquiterpene lactones, camphor and coumarins.
Achilleinean (a reddish-brown, active, bitter principle) is an alkaloid that speeds up coagulation. Tannins have an antiseptic function. Sesquiterpene lactones are natural coagulants. Camphor helps to relax muscles, has antibacterial properties and healing properties.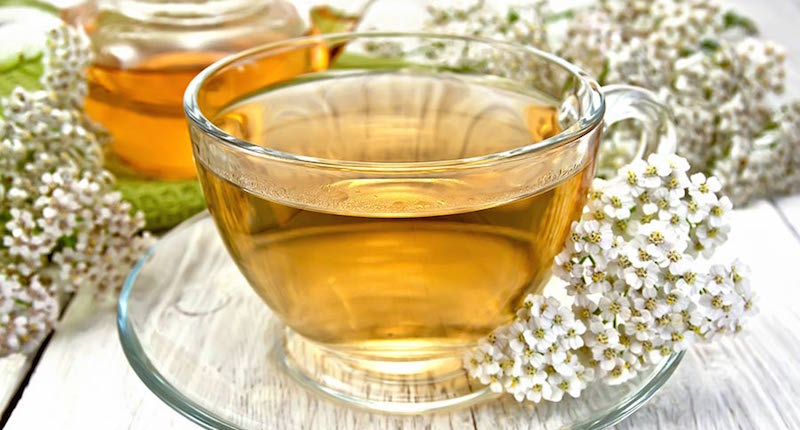 How To Use Yarrow As Home Remedies
The great thing about yarrow is that it is easy to find, and there are loads of ways you can use it: infusions, tincture, poultice, teas and herbal oil. You can either harvest your own or buy it dried out.
Make Your Own Yarrow Herbal Oil
Here's what you need:
200 grams of dried flowers and leaves
350 ml almond oil (or another oil of choice)
Mix the ingredients in a transparent glass jar and leave in the sun for 1 week in the sun, shaking or turning daily. After 1 week, move the jar to a dark place and store for 30 days. After this period, filter with a sterile gauze and transfer to a clean jar.
How To Make Yarrow Herbal Tea
Put 12 grams of dried flowers in 250 ml cup of boiling water. Leave it to infuse for 10-15 minutes, filter and drink. I recommend drinking 1-2 cups a day.
How To Make Achillea Tincture
To make your own tincture you will need:
50 grams of Achillea Millefolium flowers
1 liter of alcohol (diluted to 50% with water)
Let the flowers soak in alcohol for 2 weeks, then filter.
The suggested dose is 30/40 drops in a glass of water, 3 times a day.
How To Make Yarrow Liquor
To make your own yarrow liquor you will need:
50 grams of Achillea Millefolium flowers
800 ml of alcohol (50% dilution)
Let the flowers soak in alcohol for 2 weeks, filter and add 200 grams of sugar. Take 1-2 teaspoons of this medicinal liquor after meals to help improve digestion.
How To Make Yarrow Ointment
Mix 15 grams of ground fresh yarrow with 90 grams of shea butter. Warm up in a bain-marie until melted then leave to rest for 24 hours. Melt again and filter.
Apply to the affected area 3 times a day.
Keep in the fridge to prolong shelf-life.
FAQ: Achillea Millefolium
Is Achillea Millefolium edible?
Achillea Millefolium is an aromatic plant with a bitter aftertaste. The young, tender leaves can be harvested when the plant hasn't developed a stalk in early Spring. It's a great add for salads or soups.
Where does the Achillea grow?
Habitat: Achillea Millefolium prefers sunny spots along roadsides, in fields, lawns, in Sub-Alpine and alpine zones. It grows in Europe, North and South America, Asia, Australia, and Africa.
What color are yarrow flowers?
The ornamental flowers can be bright yellow, red, pink, purple or white. In the wild the flowers are white to pale grey, often with a pinkish hue.
Can yarrow cause allergic reactions?
Some of its compounds achilleina, aspargina, tannino can cause skin rush if rubbed on the skin.
How do you dry Achillea Millefolium flowers?
Tie the flowers in a bundle and hang upside down in a warm, dark, dry place with a good circulation of air.
How do you make yarrow tea?
Infuse about a teaspoon of fresh or dried yarrow flowers and leaves in a cup of boiling water. Drink between meals to aid digestion.
Some of the links I post on this site are affiliate links. If you go through them to make a purchase, I will earn a small commission (at no additional cost to you). However, note that I'm recommending these products because of their quality and that I have good experience using them, not because of the commission to be made.