Health Benefits Of Shea Butter And How To Make It
Last updated on
Your skin is the largest organ of your body, so it is extremely important to take good care of it. Many skincare products are filled with harmful toxins and chemicals, simply because they smell nice, lengthen shelf life, or make a product look a certain way. Rather than poisoning your skin, you can create a batch of your very own homemade shea butter.
Shea butter is a fat that comes from the seeds of the shea tree. It is extremely thick and rich, making it ideal for skin and hair. Even better, you can make a batch of this butter in the comfort of your home, and save money.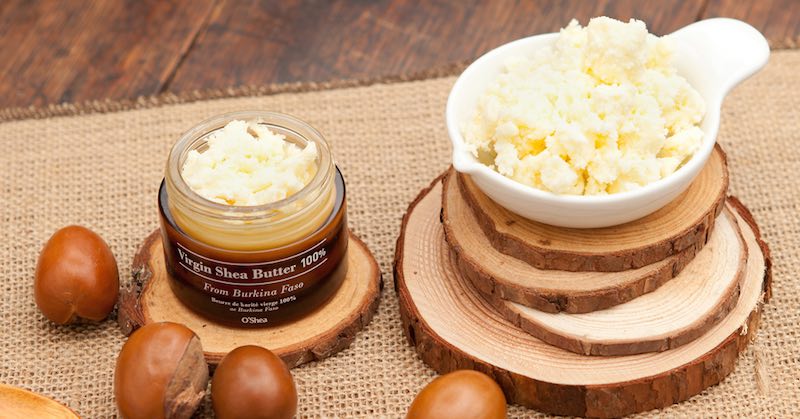 Benefits Of Whipped Shea Butter
Whipped shea butter has many benefits. This naturally moisturizing substance is an excellent source of vitamins A and E. Furthermore, it may offer some protection against the sun, as it has an SPF of 6.
Are you wondering if shea butter has any place in your beauty routine? Find out more about its most popular health benefits to see if you should give it a try:
Extremely moisturizing: Shea butter is a natural source of fatty acids and vitamins, so it has the perfect makeup to moisturize your skin and condition your hair.
Improves skin smoothness and texture:  If your skin has been harmed by the sun, age, harmful products, or anything else, shea butter may be what you need. When applied to the skin, shea butter fills in fine lines and wrinkles, giving your skin a smooth appearance and feel.
Minimizes inflammation:  Inflammation is a common skin problem. If you have ever suffered from acne, you know how uncomfortable and embarrassing skin inflammation can be. The lupeol cinnamate found in shea butter can minimize inflammation and keep your skin looking young.
Making Your Own Shea Butter
To make your own whipped shea butter, you must start with raw, minimally processed shea butter. With a few other ingredients, you can create the best moisturizer you have ever seen.
Ingredients:
¾ cup raw shea butter
½ cup coconut oil
6 to 8 drops of your favorite essential oils
Method:
Start by heating a pot of water on the stove. Place a glass bowl over the water, but not touching it.
Add the shea butter. Allow it to melt and stir in the coconut oil.
Remove the bowl from the heat and let it cool slightly. Pour the ingredients into a mixing bowl.
Turn the mixer on, allowing the oil mixture to become thick and creamy. Add the essential oils.
Store in a glass container.
Suggested Ways To Use Shea Butter
If you are wondering how to use your whipped shea butter, try these common uses:
As massage oil
As baby oil
Lip moisturizer/gloss
Minimizes/prevents stretch marks
Base for foundation and other makeup
Cuticle cream
Help scars fade and smooth out
Wrinkle remover, especially under the eyes
Whipped shea butter is something that you should always have around. It is one of the most versatile health and beauty products you can have in your home.
Sources:
https://wellnessmama.com/27324/shea-butter-benefits/
https://www.organicauthority.com/delicious-beauty/diy-whipped-shea-butter-for-skin-and-hair.html
Some of the links I post on this site are affiliate links. If you go through them to make a purchase, I will earn a small commission (at no additional cost to you). However, note that I'm recommending these products because of their quality and that I have good experience using them, not because of the commission to be made.