This lovely drink is special for all you beautiful women out there! Of course it is beneficial for the guys too!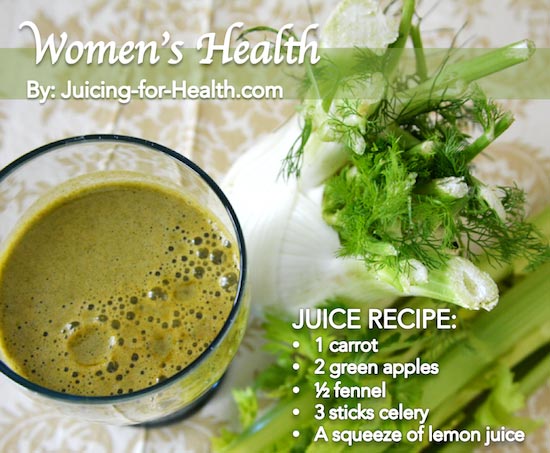 Benefits:
Prevent anemia (women are more prone to anemia due to our monthly loss)
Regulate menstruation cycle
Strengthen hair and reduce hair fall
Increase milk production in nursing mothers
Prevent cancer
Rebalance gut flora—reduce flatulence
Improve vision health
Add ½ fennel bulb in your diet daily for two weeks to see an improvement in your menstruation cycle/issues.
Fennel is very rich in vitamin A, C and many of the B vitamins. It is an excellent source of potassium, folate, molybdenum and manganese. Minerals like phosphorous, calcium, iron and copper can also be found in fennel.
The high concentration of essential oils in fennel gives it the aromatic fragrance and flavor. The anti-fungal and anti-bacterial properties in fennel make it immediately useful for relieving many health issues related to the gut flora.
Read more about the health benefits of fennel.
.
Juice Recipe:
1 carrot
2 green apples
½ fennel
3 sticks celery
A squeeze of lemon juice
.
.