5 Turmeric Drinks To Reduce Pain And Inflammation
Last updated on
Turmeric makes food delicious, is highly nutritious, and when added into your food it generally just improves pretty much everything. Turmeric is not just used in cooking curry. Or well, it is—if you're new to the world of alternative health.
Having understood the immense health benefits of turmeric, I've been using turmeric in almost anything—even in my beverages.  I've gathered up all my favorite turmeric drinks so that you can have a cheat sheet to getting all the benefits you can get out of turmeric.
Health Benefits Of Turmeric
Before we get to the recipes, there are some pretty nifty health benefits that you should know about turmeric.
First off, turmeric is a powerful anti-inflammatory. It is used as a safe remedy for inflammatory arthritis and inflammatory bowel diseases (IBD) such as Crohn's and ulcerative colitis. It has also been shown to limit damage in cystic fibrosis, a fatal disease.
Turmeric's anti-inflammatory effects have been shown to be comparable to the potent drugs hydrocortisone and phenylbutazone as well as over-the-counter anti-inflammatory agents such as Motrin. Unlike the drugs, which are associated with significant toxic effects (ulcer formation, decreased white blood cell count, intestinal bleeding), turmeric produces no toxicity.
Turmeric is also a powerful antioxidant. Antioxidants are responsible for neutralizing free radicals. Free radicals are harmful components your body makes naturally, but in large quantities can be very harmful. It is believed free radicals create much of the damage that causes Alzheimer's, Parkinson's, and dementia. Free radicals can damage cells, causing them to mutate into cancerous cells.
Due to the high antioxidant levels in turmeric, individuals who have significant amounts of turmeric in their diet are less likely to develop cancerous tumors. Laboratory experiments have shown that curcumin (a phytonutrient in turmeric) can prevent tumors from forming.
A research conducted at the University of Texas suggests from lab tests on mice, that even when breast cancer is already present, curcumin can help slow the spread of breast cancer cells to the lungs.
5 Turmeric Drinks
All right, you've been briefed on the really good bits about turmeric, so here is my collection of turmeric drinks to help you enjoy the health benefits. It's important to note the fats and/or black pepper can really bring out the benefits of turmeric, so it's important to include healthy fats when you eat your dose.
1. Golden Milk
2 cups of milk of choice (coconut milk, or any homemade nut milk)
1 teaspoon dried turmeric powder (or ½-inch fresh turmeric thinly sliced or diced)
1 teaspoon dried ginger powder (or ½-half inch fresh ginger thinly sliced or diced)
A sprinkle of black pepper.
Honey to taste (add when the drink is cooler)
Heat the milk gently on the stove. When it starts steaming add the spices. Leave it to simmer (stirring occasionally) for a minute or two. Let it sit for ten minutes (strain if you used fresh ingredients) and then drink at your leisure.
2. Turmeric Smoothie
There are so many smoothie recipes out there, but this one is probably my favorite.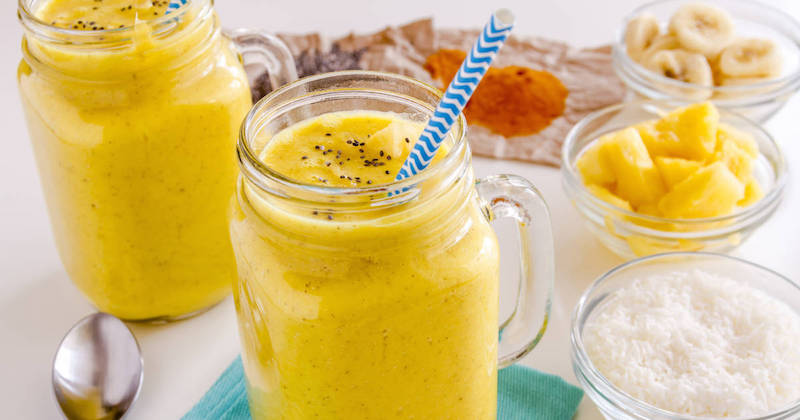 1 cup frozen mango
½-inch piece of fresh turmeric (or 1 tsp. of turmeric powder)
1 tablespoon of coconut oil
½ banana
1 teaspoon chia seeds
½ teaspoon cinnamon
Blend on high until smooth. Have for breakfast, or snack.
3. Turmeric Tea
1 tsp cinnamon
1 teaspoon fresh ginger root
A pinch of clove powder
A pinch of nutmeg powder
A pinch of fresh ground black pepper (optional)
1-2 teaspoon of turmeric powder
1-2 cups of water
Raw honey to sweeten as desired (when drink is cooler)
Boil the water in a saucepan. Add the ingredients, simmer for ten minutes. Strain. Add coconut milk and honey to your cup to get the good fats.
4. Turmeric Latte
1 cup unsweetened almond or coconut milk
1 heaping tablespoon freshly-grated turmeric root
1 teaspoon cinnamon powder
1 tablespoon freshly-grated ginger root
1 tablespoon coconut oil
Raw honey or sweetener of choice to taste
Pinch of black pepper (optional)
Heat your milk of choice in a saucepan. Add everything to the pot except the honey. Bring to a boil, reduce to a simmer for five minutes. Remove from heat and let stand another 5 minutes. Strain into mug, add honey and enjoy!
5. Turmeric Water With Black Pepper
1 tablespoon turmeric
1/2 teaspoon (or less depending on your feelings about pepper)
1 teaspoon olive oil (optional)
Put them ingredients into a glass of water, stir rapidly, drink quickly. See you on the other side.
Mini Immersion Blender
I use this mini immersion blender to froth all my turmeric drinks and hot beverages, especially when I add spices such as cinnamon and turmeric, or coconut oil/milk. It is a battery-operated frother and so easy to use, wash and put away. Makes my drinks taste magically delicious. Well … you have to try it to know … and you will love it! You can get this drink mixer here and it comes with a Lifetime Guarantee!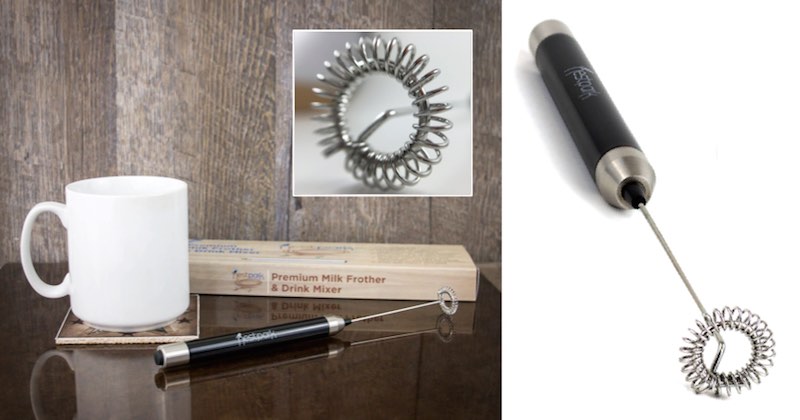 References:
https://www.webmd.com/vitamins-supplements/ingredientmono-662-turmeric.aspx?activeingredientid=662
https://www.whfoods.com/genpage.php?tname=foodspice&dbid=78
https://kaleandchocolate.com/recipe/creamy-turmeric-latte/
https://www.freshbitesdaily.com/turmeric-milk/
https://www.rebootwithjoe.com/turmeric-mango-smoothie-recipe/
https://www.meghantelpner.com/blog/tea-time-with-turmeric/
Some of the links I post on this site are affiliate links. If you go through them to make a purchase, I will earn a small commission (at no additional cost to you). However, note that I'm recommending these products because of their quality and that I have good experience using them, not because of the commission to be made.