If you don't like to juice green cabbage, try juicing the red/purple cabbage instead. The colored cabbage has a powerful anti-oxidant, namely "anthocyanin". Red cabbage does what green cabbage can do and more.
.
Read more about the health benefits of cabbage here.
This purple juice is a combo of anti-inflammatory foods that are beneficial for …
Reducing chronic inflammation pain (for gout, arthritis sufferers)
Balancing cholesterol levels and promoting heart health
Improving eye health
Blood building
Improving blood sugar levels in diabetics
Improving blood circulation and preventing numbness in limbs
Preventing wrinkles and signs of ageing
Healing of stomach ulcers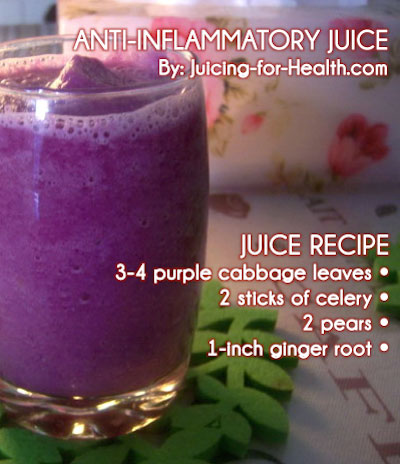 Juice Recipe:
ENJOY!!
.
.