Rub This Homemade Magnesium Ointment To Relieve Muscle And Leg Pains
Last updated on
Joint and muscle pain is something everybody experiences at some point in their lifetime. When people think of joint and muscle pain, they usually do not associate it with young children. But did you know that even children as young as 3 can experience these pains?
Growing pains effect approximately 25%-40% of children and usually strike during two periods: In early childhood, between the ages of 3 and 5 years, and later between the ages of 8 and 12 years.
Growing pains are generally reported to affect the legs, most children say that the pain is located in front of their thighs, in their calves or behind their knees. Growing pains often happen during the late afternoon or early evening, usually before the child is going to bed. The intensity of the pain varies from child to child. However, it has been shown to be painful enough to wake a sleeping child.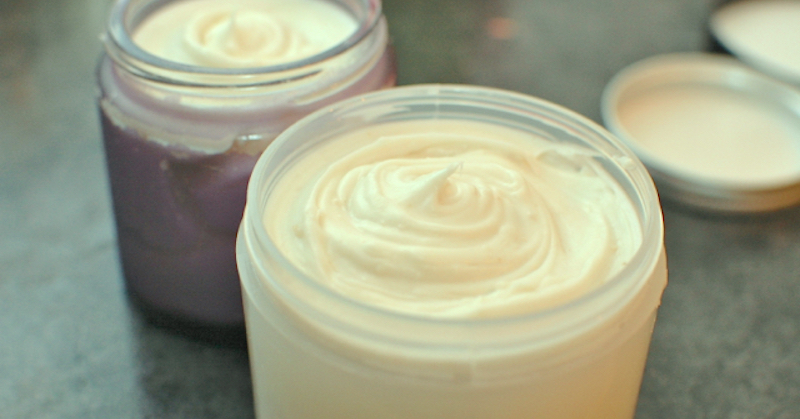 Fortunately, there is a natural solution to these pains. The recipe for a magnesium-based lotion has been circulating a lot around the homeopathic and alternative health community, and many people swear by its effectiveness at treating joint and muscle pains, and not only the ones caused by growing pains.
Before you look at the recipe for this "ointment", let's look at the amazing health benefits of its ingredients.
Magnesium Ointment Relieve Muscle And Leg Pains
1. Magnesium
First, we'll start off with the main ingredient, which is magnesium. Growing pains (and other joint/muscle pain) are often caused by a mineral deficiency issue. Your bones are made up of a substance called collagen, which bonds with calcium to form the structure of the bone.
If a child has a magnesium deficiency, then this calcium will not be stable within the bones which causes the cramps known as growing pains.
Many people use pure magnesium oil to treat these pains, however, over time it can irritate the skin, which is why this ointment that is filled with beneficial ingredients can help to cushion the use of magnesium oil.
2. Arnica
Extract from the arnica plant works as a great addition to magnesium oil. Its anti inflammatory properties can help provide pain relief from those suffering from joint and muscle pain, as the cause of these types of pain are often due to inflammation.
Arnica provides anti inflammatory effects by blocking the action of histamine, which is the compound released by your body that causes swelling.
Ingredients:
3 ounces of arnica and comfrey infused oil
½ ounce of beeswax
½ ounce of stearic acid
1½ ounces of shea butter
1½ ounces of magnesium oil
1½ ounces of aloe vera gel
Instructions:
To make the arnica and comfrey infused oil:
Put two tablespoons of dried arnica flowers and two tablespoons of dried comfrey leaves in a jar. Fill the jar with about 6 ounces of olive oil. Stir and place the jar in a pot containing about two inches of water. Keep the pan on low heat for two to three hours. Make sure to keep an eye on it so the water does not evaporate and the herbs do not get fried.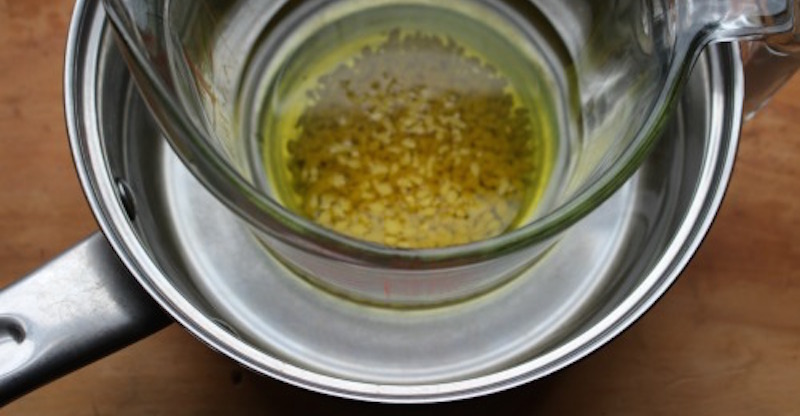 Place the arnica and comfrey infused oil, beeswax and stearic acid into a heat-proof bowl or measuring cup.
Place the bowl in a pan, with a few inches of water in it and put it on a heating element on medium-low heat until the beeswax has melted.
Turn off the heat and stir in the shea butter until it is melted. Take the pan off of the heating element.
Remove the bowl or measuring cup from the pan and let it cool until a layer builds up at the top (like in the picture above).
While this mixture is cooling, separately combine the magnesium oil and the aloe vera gel in a different heat-proof jar.
Place the jar in the pan full of water previously used to heat up the wax mixture to let it warm, do not place it back on the heating element.
Once both mixture are around body temperature it is time to combine the two.
Slowly pour the magnesium/aloe mixture into the wax mixture while beating with a mixer.
Continue to mix for another three to five minutes, until the mixture begins to thicken and cool down.
Once the lotion is finished mixing, it is time to place it into a container. Although you can put it into any type of container you want to, except for metal ones as it will cause rust, it is advisable to pour it into a squeezable container for easy application.
This article was originally published on TheNerdyFarmWife.com. It is republished here with permission (in partnership with FamilyLifeGoals.com).
Some of the links I post on this site are affiliate links. If you go through them to make a purchase, I will earn a small commission (at no additional cost to you). However, note that I'm recommending these products because of their quality and that I have good experience using them, not because of the commission to be made.