10 Herbal Teas To Boost Your Metabolism And Help You Burn Fat
Last updated on
If you look into drinks that improve your metabolism, it may seem that the majority of them are cold juices and smoothies. Those are nutritious and delicious, of course, but you may not subsist on cold drinks during the winter months.
If you like to start your cold winter days with a hot beverage, there are plenty of teas that are good for metabolism. Keep reading to learn more about the top 10 teas for metabolism and how they work.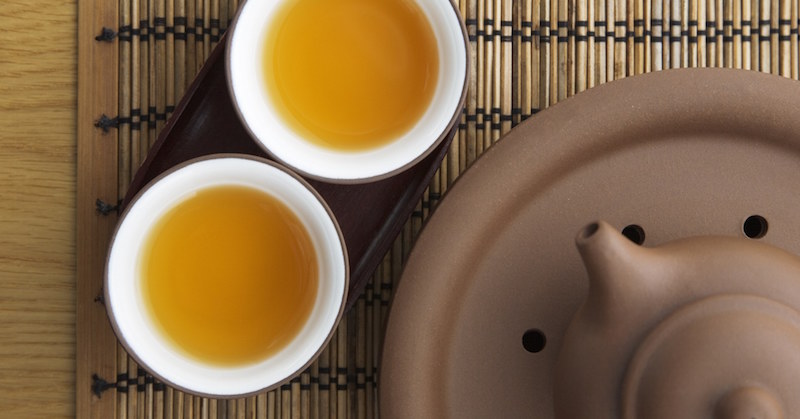 10 Herbal Teas To Boost Metabolism
1. Peppermint Tea
Peppermint helps to improve respiratory health during the cold weather and relieves nasal congestion. In addition, it speeds up digestion and supports your body during calorie burn.
2. Bladderwrack Tea
If you can handle teas with stronger flavors, you may like to give this one a try. Bladderwrack is a type of seaweed. It supports proper thyroid function, which helps balance body temperature.
3. Oolong Tea
When you drink oolong tea, you help your body more quickly metabolize fats. As a result, you may experience a drop in body fat and a boost in metabolism.
4. Sarsaparilla Tea
Sarsaparilla tea is a beverage that is primarily used for its metabolic benefits.
It stimulates your metabolism and helps your body use fat as its main energy source, rather than the food you are consuming.
Instead of drinking this tea on its own, look for it in a blend.
5. Matcha Green Tea
EGCG is the primary calorie-burning chemical in green tea, which is the compound found in many weight loss pills. Drinking 2 cups of Matcha green tea (concentrated green tea in powder form) per day may speed up your metabolism and help you lose weight.
6. Star Anise Tea
Star anise is an spice that naturally boosts your metabolism.
This tea is great for your stomach and digestive health to prevent digestive issues.
Soak a few star anise in hot water to make tea.
7. Ginger Root Tea
After you drink ginger root tea, you may notice your body temperature peak slightly. This is because ginger root raises your internal temperature as it boosts your metabolism. One or two cups of ginger root tea in the morning helps keep your digestive system healthy while speeding up your metabolism all day.
8. Rooibos Tea
If your body seems to hang onto fat longer than it should, rooibos tea is definitely one you may like to try.
This tea regulates fat storage hormones, allowing your body to burn fat more efficiently.
9. White Tea
White tea may be a good choice for you if you find the flavor and smell of other teas to be a little bit too strong. This tea is made from young, immature leaves, so it is a bit gentler. Drinking white tea may help your body to burn fat more quickly.
10. Yerba Mate Tea
Yerba mate is said to be beneficial for reducing the bad cholesterol level, and increasing the good cholesterol.
This tea not only keeps you warm in winter months, it is also excellent for your heart health.
Reference:
https://www.livingherbaltea.com/3-herbal-teas-boost-metabolism/
Some of the links I post on this site are affiliate links. If you go through them to make a purchase, I will earn a small commission (at no additional cost to you). However, note that I'm recommending these products because of their quality and that I have good experience using them, not because of the commission to be made.