A Healthier Option: Gluten-Free Focaccia Flax Bread
Last updated on
This Focaccia Flax Bread recipe is perfect for gluten-free diets. Flaxseeds are high in omega-3 essential fatty acids and in fiber as well. Also high in antioxidants, flaxseeds come in two varieties: light and dark.
Flaxseeds are ranked #1 in lignan content. Lignans are fiber-like polyphenols that have benefits for your heart, your blood, your hormones, and your gut-health. Flaxseeds aren't only ranked #1 for lignans content, but also omega-3 fatty acids—in 14 grams of flaxseeds you get 133 percent of your daily recommended value.
The colour may be the only difference, except from price. Of course, if you bake with the light seeds you'll get a lighter bread but the nutritional value isn't changed.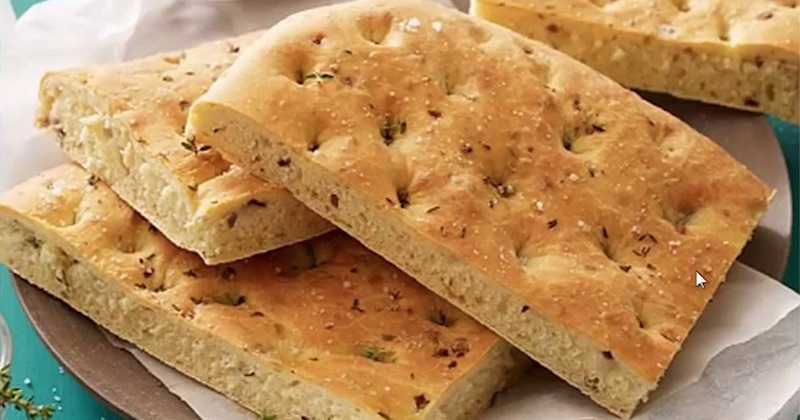 Grain-Free Focaccia Flax Bread—Vegan Option
You Will Need:
A 10×15 baking pan
2 cups flaxseed meal
1 Tbsp baking powder
5 beaten eggs (gluten-free alternative: Ener-G Egg Replacer)
1 teaspoon seasalt
1-2 Tbsp healthy sweetener (coconut sugar is a great option – try 1 scoop of stevia for candida-friendly option.)
½ cup water
1/3 cup coconut oil, melted (can substitute other healthy fats)
Preparation:
Preheat your oven to 350°F. Grease your pan using coconut oil if you'd like. It works well and has a great taste.
Whisk flaxseed, salt, and sweetener until mixed mell.
Mix the eggs, water, and oil into the dry mixture and mix until totally combined.
Let your batter sit for 2 to 3 minutes to thicken. Don't leave too long, or it will be become tough.
Spoon your batter into your pan and spread.
Bake for 20 minutes, or until the bread springs back when you touch the top. When finished will be browned.
Let cool before slicing.
If Grinding Your Own Flaxseed:
If you are grinding your own flaxseed: 4 cups of flaxseed = 6 – 6½ cups of flax meal. If you have more after grinding, try adding it to juices and smoothies.
If you like to bake in bulk, make 4½ batches:
9 cups flax meal
4 ½ Tbsp baking powder
4 ½ tsp salt
4 ½ Tbsp sweetener
22 eggs – or equivalent
2 ¼ cups water
1 ½ cups coconut oil
TIP:  If you use baking stone, clean up is a breeze. Plus you won't need to grease them, so preparation is even easier too. This bread will get eaten up quickly, so you might need to make more!
We found this recipe here, and the author mentions how loved it is across the internet:
"I realize now that this recipe is on numerous sites around the internet. I do not recall where this recipe came from, but obviously there are a lot of people who love it as much as we do!"
Related article:  Why Ezekiel Bread Is The Healthiest You Can Eat (contain gluten).
Source:
https://wholenewmom.com/recipes/focaccia-flax-bread/
Some of the links I post on this site are affiliate links. If you go through them to make a purchase, I will earn a small commission (at no additional cost to you). However, note that I'm recommending these products because of their quality and that I have good experience using them, not because of the commission to be made.