Contributed by Heather from USA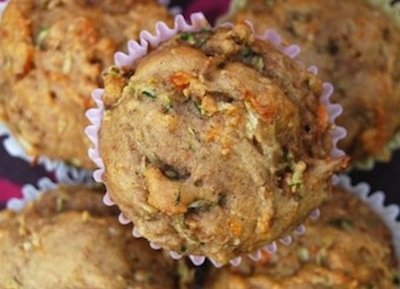 If you can't use the pulp right away, freeze it in a plastic bag and defrost before baking. You can also use grated carrots – equal amounts apply.
While I switched to whole wheat flour, you might experiment with other whole grains. Either way, it's a delicious way to get your veggies and a healthy dose of fiber, starting at breakfast 🙂
Makes 12-16 muffins:
2 Cups whole wheat flour

1 Cup extra virgin olive oil

1/4 cup water

1 Teaspoon sea salt

2 Teaspoons cinnamon

1 Teaspoon nutmeg

2 Teaspoons baking Soda

2 Teaspoons vanilla

3/4 Cup Sucanat or brown sugar

2 Cups carrot pulp which is CARROTS

4 Medium to large pastured eggs

1 Cup chopped pecans or walnuts (optional)
Preheat oven to 350 degrees. Grease approximately 12 muffin tins thoroughly. Mix the whole wheat flour, olive oil, water, salt, baking soda, eggs, and sugar first. After the first group of ingredients are blended, add in the remaining ingredients and mix again thoroughly. Put into muffin pan and cook for about 20 minutes. Let cool for about 10 minutes and serve!