Anti-Inflammatory Turmeric Tea As Remedy For Cold To Cancer
Last updated on
Turmeric is a type of ginger plant and is used a lot in Indian cooking. For years, the medical community has spoken about the health benefits of consuming turmeric.
Turmeric, they say, is helpful for almost any ailments from cold to cancer.  It is especially beneficial for eye health, respiratory health, liver health, act as a natural painkiller and has anti-inflammatory properties.
When you want a hot beverage, how about making yourself a delicious, antioxidant-rich, hot cup of anti-inflammatory turmeric tea?  Make it your daily drink to cancer-proof your body!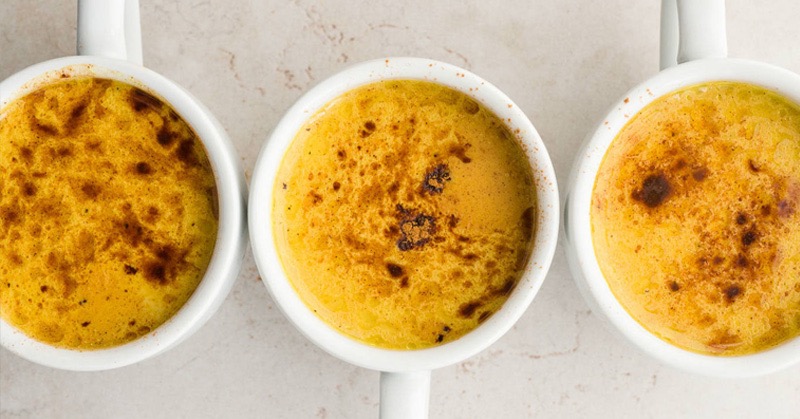 Benefits of Turmeric
Turmeric tea is an effective drink to ease sore throats. Along with that, it is recognized for being beneficial for many other health conditions.
This is just a small look at the health benefits of adding turmeric to your meals. New studies are constantly being carried out by researchers around the world to discover more medical uses for turmeric.
Anti-inflammatory:  Studies were conducted to examine the pain relief benefits for individuals suffering from arthritis and found that curcumin could work as an anti-inflammatory and help ease joint inflammation and pain.
Blood sugar level:  Curcumin may reduce leptin and insulin resistance, as well as reverse hyperglycemia.
Cancer cells:  When you combine turmeric with cruciferous vegetables, the combination may be able to stop or stunt the growth of prostate cancer. A study published in the Nutrition and Cancer Journal found that curcumin not only makes cancer cells more susceptible to chemo but it also protects healthy cells from the toxic effects of chemo.
Cold and Sore Throat:  Like ginger, turmeric tea has high antibacterial and antioxidant properties that makes it effective for easing a common cold and soothing a sore throat. Make this hot drink and sip it warm throughout the day.
Liver:  Turmeric may be used as a natural liver detoxifier. This could protect your liver against damage related to a faulty diet or excessive alcohol consumption.
Pain-killer:  A variety of studies have been conducted to look at the use of curcumin as a natural painkiller and anti-inflammatory substance. At least one of these studies showed that consuming turmeric could be as effective as ibuprofen for pain relief.
Tumors:  Studies have shown that curcumin can kill cells in meduloblastomas and glioblastomas, a couple of aggressive types of brain tumors.
Vision health:  Curcumin may protect your eyesight and possibly treat retinitis pigmentosa. This is a type of degenerative eye disease that could eventually cause blindness. Further eye benefits include using curcumin to treat macular degeneration.
Weight loss:  The various health benefits of turmeric help increase your body's ability to burn fat and convert the food you eat into energy.
Making A Delicious Cup of Anti-Inflammatory Turmeric Tea
Ingredients:
It's always best to use fresh ginger and turmeric, if you can. If not ground (powder form) can also be used.
You can use any type of milk that you want, but almond milk or any nut milk is a healthier option compared to dairy milk (unless you have access to grass-fed cow or goat's milk!). Also, use raw honey for taste, instead of regular sugar.
Directions:
Pour the water into a small stainless steel pot.
Bring the water to a boil and then add the ground turmeric and ginger.
Reduce the heat and allow to simmer for 5 minutes.
Add milk of choice and stir.
Pour the tea through a strainer into your tea cup.
Add the cinnamon powder and ground black pepper.
If you would like a bit more flavor, add a bit of raw honey and serve hot/warm.
Sip this tea to help ease your sore throat, or consider using turmeric tea for any of its other numerous health advantages.
Mini Immersion Blender
I use this mini immersion blender to froth all my hot beverages, especially when I add spices such as cinnamon and turmeric, or coconut oil/milk. It is a battery-operated frother and so easy to use, wash and put away. Makes my drinks taste magically delicious. Well … you have to try it to know … and you will love it! You can get this drink mixer here and it comes with a Lifetime Guarantee!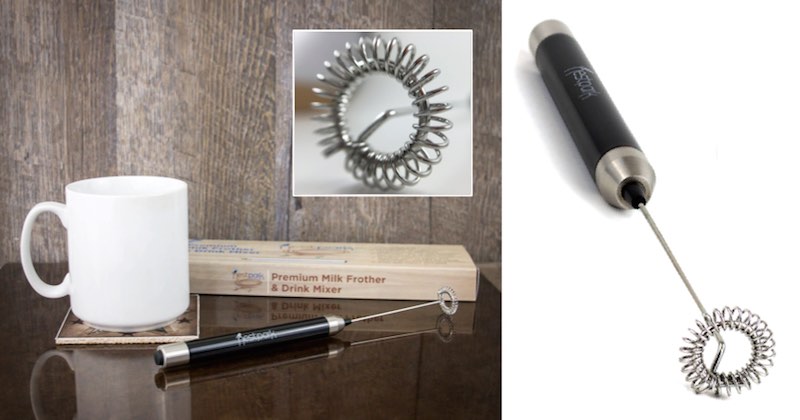 References:
https://www.mindbodygreen.com/0-12262/anti-inflammatory-turmeric-ginger-tea.html
Some of the links I post on this site are affiliate links. If you go through them to make a purchase, I will earn a small commission (at no additional cost to you). However, note that I'm recommending these products because of their quality and that I have good experience using them, not because of the commission to be made.