How To Add Aloe Vera To Your Juices To Boost Your Digestive Health
Last updated on
Most people don't want to drink pure aloe vera juice because of the taste, but love all the health benefits it offers. Studies show that aloe vera is very good for the skin, but that's just scratching the surface—aloe vera is a natural anti-inflammatory, immune booster (contains vitamins A, B1, B2, B6, B12, C, E, niacin and folate).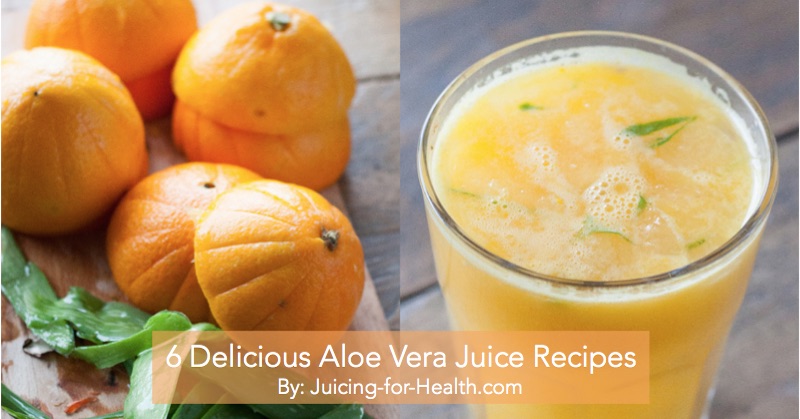 Aloe vera juice is also rich with healthy minerals: chromium, magnesium, manganese, zinc, copper, potassium, iron, sodium, and calcium among others. Good for our dental health, cardiovascular health, and part of an alkaline diet, what's not to love about aloe vera juice?
Well, some find the taste somewhat off-putting, so let's put you back on the aloe vera idea with these delicious juices. Try them with ice on a hot day.
How To Make Delicious Aloe Vera Juices
1. Lemon and Aloe
1 Cucumber + 1 Apple + 1 Lemon +
4 tbsp aloe vera juice
This blend will hydrate your body and refresh your mind.
2. Citrus Twist
2 Carrots + 2 Green Apples + 1 Orange
4 tbsp aloe vera juice
This juice has a sweet and zingy taste for the perfect aloe vera pick-me-up.
3. Exotic Aloe
2 cups fresh pineapple + 1 cup mango chunks + 1 Green Apple
2 tbsp coconut milk (optional) + 4 tbsp aloe vera juice
The green apple peps up the sweet pineapple and mango blend. Add the coconut milk for a luxurious, creamy taste.
4. Lemon and Ginger
2 Cucumbers + 1 Lemon + 2 tsps fresh ginger
2 Apples + 1 Bunch Spinach + 4 tbsp aloe vera juice
This aloe vera juice recipe is perfect for when you're feeling under the weather or need something to perk up your senses.
5. Aloe and Cranberry
2 cups cranberries + 2 red apples + 4 tbsp aloe vera juice
This classic cranberry and apple combination will leave you wanting more!
6. Simple Aloe Vera Juice
1 Apple + 1 Cucumber + 1 Lemon
4 tbsps aloe vera juice
This is a very simple and refreshing aloe vera juice recipe for when you want a natural, purifying drink.
Cautionary Note:
Recommended Dosage
In her book "Herbal Medicines" Joanne Barnes recommends that children over age 10 and adults have aloe vera juice three times each day in a dose of between 50 and 200 milligrams. Aloe vera juice can be a laxative when overdose.
Taking Medications
Aloe vera juice may interact negatively with medications, both over-the-counter and prescription especially stimulant laxatives, diuretic drugs and sevoflurane (which is used for anesthesia). Anyone on medication for diabetes or heart disease should consult their doctor before drinking aloe vera juice.
Precaution for Pregnancy and Breastfeeding
During pregnancy, you should limit your consumption of aloe vera juice due to its purgative and irritant properties. It should not be consumed while breastfeeding as it can cause severe diarrhea for the baby.
References:
lovealoeverajuice.com
https://www.newhealthguide.org/health-benefits-of-aloe-vera-juice.html
Some of the links I post on this site are affiliate links. If you go through them to make a purchase, I will earn a small commission (at no additional cost to you). However, note that I'm recommending these products because of their quality and that I have good experience using them, not because of the commission to be made.