5 Juice Recipes With High Dose of Vitamin C For Preventing Cancer
Last updated on
As you probably know, vitamin C can provide a wide variety of benefits. Typically, oranges are the first food that comes to mind, when thinking of vitamin C, but there are many other sources.
While you may already be aware that vitamin C can help improve your immune system and provide a boost to your energy, there are other potential benefits of getting more of this vitamin in your diet. It turns out that high doses of vitamin C may be able to help treat cancer.
Vitamin C Is An Antioxidant
For many years, it has been thought that the antioxidants found in vitamin C may prevent, or even delay, certain types of damage to your cells. According to some recent research, instead of protecting important cells, the vitamin C could help kill off cancerous cells—or at least impair the growth of the cancer.
After absorbing vitamin C, a portion of the vitamin called ascorbic acid, is oxidized and converted into a compound referred to as dehydro-ascorbic acid (DHA). Once your body receives this DHA, cancerous cells try to convert the DHA back into ascorbic acid. The cancer cells are unable to do this, so they eventually die out.
Bioflavonoids Promote Healthy Cells
While vitamin C may not directly protect your cells, bioflavonoids are cofactors that are necessary to promote healthy cells. Bioflavonoids, which are also sometimes called vitamin P, are a type of antioxidant found in many of the same foods that contain vitamin C. This is the beauty of how Nature package fruits and vegetables with nutrients that work together synergistically.
Studies show that bioflavonoids can support the formation of healthy cells, while suppressing the growth of unhealthy cells—including cancerous cells.
Which Foods Contain Vitamin C and Bioflavonoids?
Generally, fruits and vegetables provide the best way of getting more vitamin C and bioflavonoids. This is just a short list of such foods that you can include in your diet:
Red bell peppers
Strawberries and all berries/currants
Pomegranates
Guava
Kiwifruit
Grapes
Mangoes
Papayas
Tomatoes
Dark green vegetables
Broccoli
Brussels sprouts
Garlic
Spinach
Along with all of the produce listed, most citrus fruits contain healthy doses of vitamin C and bioflavonoids. This includes oranges, lemons, limes, and even peaches.
Five Juice Recipes High In Antioxidants
Are you looking for a way to add more of these foods to your diet? Try juicing. Using fresh fruits and vegetables to make your own juice is one of the easiest ways to give your body more vitamins and minerals. Also, eating raw produce ensures you do not miss out on any of the nutrients.
Here are five juice recipes that you can use to include some of the foods mentioned. You may also use a blender to make smoothies with these recipes.
1. Broccoli and Spinach Juice/Smoothie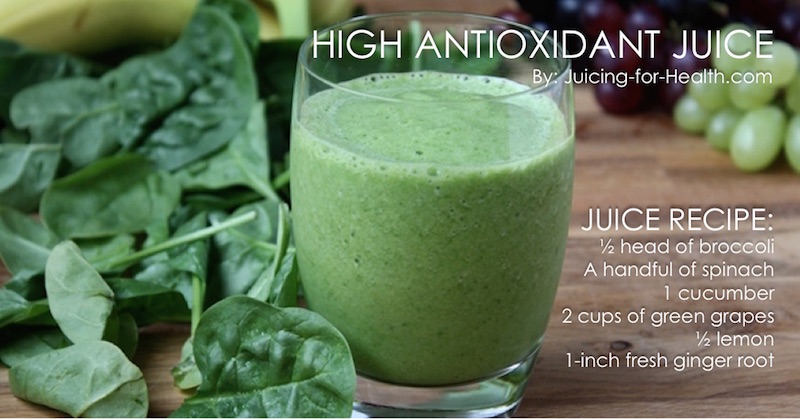 ½ a head of broccoli
A handful of spinach
1 cucumber
2 cups of green grapes
½ lemon
1-inch fresh ginger root (optional)
2. Citrus Juice
1 grapefruit
2 oranges
1 lime
3. Strawberry and Papaya Smoothie
10-12 strawberries
½ papaya
1 cup of kefir
4. Green Juice
6-8 large kale leaves
4-6 ribs of celery
1 cucumber
2 green apples
½ lemon
5. Bell Pepper Juice
2-3 red/yellow bell peppers (remove seeds)
2 large carrots
2 oranges
½ lemon
1-inch fresh ginger root
For all of these recipes, simply put all of the ingredients through your juicer. When adding oranges, you should peel the fruit first. You can leave the lemon peel on if you're using organic.
Try each of these recipes. Having a variety of produce will help ensure you receive more vitamins and minerals.
While more research is needed to fully verify whether vitamin C and bioflavonoids can help kill cancer, the signs are promising; though, there are plenty of additional advantages to adding these nutrients to your diet, so get your juicer out!
Some of the links I post on this site are affiliate links. If you go through them to make a purchase, I will earn a small commission (at no additional cost to you). However, note that I'm recommending these products because of their quality and that I have good experience using them, not because of the commission to be made.