3 Easy No-Bake, Gluten and Sugar-Free Vegan Muffin Recipes
Last updated on
When you are trying to follow a gluten-free diet, it can be hard to give up some of your favorite foods, such as bread, cakes, and muffins. These foods are often made with gluten and it can be difficult to find recipes that can recreate the flavor.
Pass on the calories and avoid a glucose crash by eating gluten-free treats. If you have been trying to find raw, vegan, or gluten-free snacks that actually taste great, then try using one of these three gluten-free muffins.
3 Easy Vegan Muffin Recipes
1. Raw Banana Nut Muffin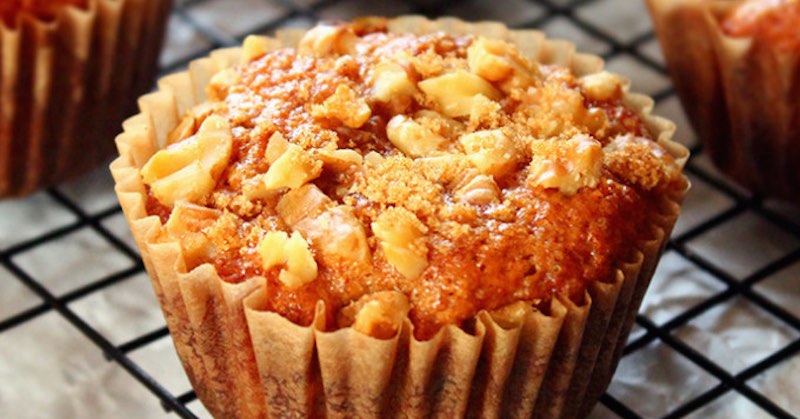 This first recipe is for raw banana nut muffins. This yummy treat is easy to make and is a raw recipe; though, you could dehydrate the muffins if you find them to be too moist.
Ingredients:
1 banana
1/3 cup of raw walnuts
1/3 cup of raw almonds
6 Medjool dates
1 tablespoon of coconut oil
2 teaspoons of raw honey
¼ cup of shredded coconut
½ a teaspoon of organic pure vanilla
1 pinch of Himalayan salt
Cupcake wrappers (this recipe should make 6 muffins)
Directions:
First, you will need to soak the walnuts and almonds for seven hours, before making this recipe. After soaking, combine the walnuts, almonds, and dates in a food processor. Blend the ingredients until you have a mixture that resembles fruitcake.
Next, add the banana, coconut oil, shredded coconut, raw honey, vanilla, and salt. Blend the ingredients thoroughly. Spoon the mixture into cupcake wrappers. If you would like, you can sprinkle some additional shredded coconut on the top of the muffins.
Store them in your fridge for at least one hour before eating. If the muffins do not firm up enough, you can dehydrate them for six hours on your oven's lowest setting.
2. Gluten-Free Carrot and Nut Muffins
Here is another muffin recipe that you could try, if you want gluten-free, vegan-friendly treats. These muffins have a sweeter, fruitier taste and should yield about 12 muffins.
Ingredients:
4 cups of carrot (grated—should require about 1 pound of whole carrots)
2 cups of Medjool dates (chopped and pitted)
2 cups of walnuts
2 teaspoons of ground cinnamon
1 teaspoon of ground ginger
¼ teaspoon of ground nutmeg
½ a teaspoon of Himalayan salt
2 teaspoons of raw honey
1½ cups of raisins
Directions:
Start by lining a baking sheet with paper towel. Spread the grated carrots on the baking sheet and then cover with another layer of paper towels. Place a second baking sheet on top of the covered carrots. Place a heavy object on the sheet, such as a heavy book, to help flatten and drain the carrots. This should take about twenty minutes.
While you are waiting for the carrots to drain, mix the dates and the walnuts in a food processor. Once you have a sticky paste, add the cinnamon, ginger, nutmeg, and salt. Blend until the ingredients are combined.
Remove the carrots from the baking sheet and squeeze any extra moisture from them. Add the carrots to the food processor, along with the honey. Blend until everything is evenly combined.
Add the raisins to the mixture and pulse the food processor until the mixture has a coarse texture. Scoop the mixture into a muffin tin. This should yield enough to fill 12 muffin cups. Allow the muffins to chill in your fridge for at least one hour before serving.
3. Raw Vegan Mini Pecan Pies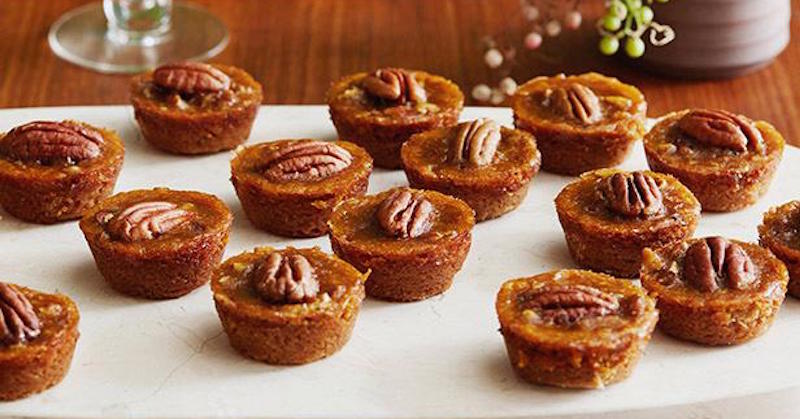 This last recipe allows you to enjoy the taste of pecan pies, without any gluten. This should make about 12 mini pecan pies; though, you could also add the ingredients to a single pie pan or a springform pan. If using a pan, double the recipe.
Ingredients (Crust):
1¾ cups of raw walnuts
4 large Medjool dates
2 teaspoons of cinnamon
Directions (Crust):
Remove the pits from the dates and then mix with the walnuts and cinnamon in a food processor. Mix until you have sticky, crumbly mixture. Spoon the crust mixture into mini-muffin tins. This should provide enough to fill 12 mini-muffin tins.
Ingredients (Pie Filling):
1 ¼ cups Medjool dates (pitted and soaked)
½ a cup of raw pecans
3 teaspoons of vanilla extract
2 tablespoons of melted coconut oil
2 teaspoons of cinnamon
¼ teaspoon of nutmeg
¼ cup of water
Directions:
Soak the Medjool dates for about an hour and then drain, but save the water. You will use a ¼ cup of this water later in the recipe.
Mix the Medjool dates in a food processor until you have sticky, smooth mixture. Add the rest of the ingredients and blend until thoroughly mixed. Spoon the mixture into the pie crusts and top with some additional pecans. Store this treat in your fridge or freezer until ready to serve.
These simple recipes allow you to continue eating some of your favorite treats while sticking to a vegan, raw, or gluten-free diet. If storing your muffins or pies, keep them in an airtight container in your fridge or freezer. They should remain fresh for several days when stored in your fridge and several weeks if stored in your freezer.
Sources:
https://fruitive.com/recipe-friday-raw-banana-nut-muffins/
https://www.seriouseats.com/recipes/2013/01/raw-gluten-free-carrot-cake-muffins-recipe.html
https://www.yummly.com/recipe/Raw-Vegan-Mini-Pecan-Pies-1385660?columns=4&position=4%2F70
Some of the links I post on this site are affiliate links. If you go through them to make a purchase, I will earn a small commission (at no additional cost to you). However, note that I'm recommending these products because of their quality and that I have good experience using them, not because of the commission to be made.