NOT All Coconut Oils Are Safe—This Form In Soaps And Shampoos Is Toxic
Last updated on
In recent years, coconut oil has become a buzzy ingredient in everything from skin care products to foods. But there's a chemically-modified form of coconut oil that became popular in shampoos that should be absolutely avoided.
According to a new report from the Center for Environmental Health, dozens of shampoos, soaps, and other personal care products, including some children's shampoos, conditioners and bubble baths that the nonprofit group tested contained cocamide diethanolamine, otherwise known as cocamide DEA.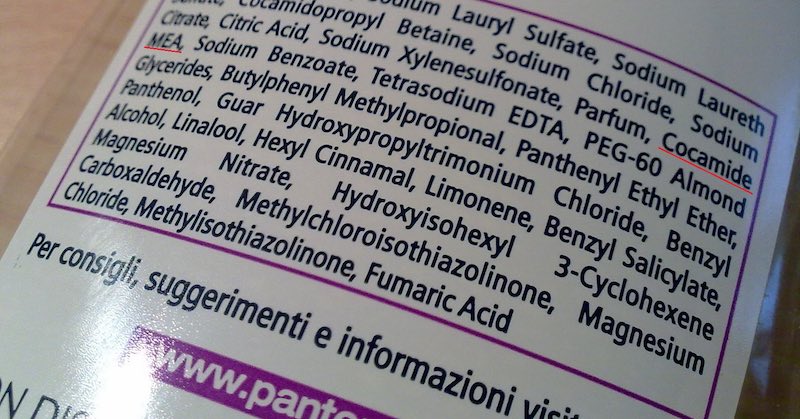 The basis of the chemical—coconut oil—seems innocent enough. But scientists tinker with the ingredient, modifying it into an unnatural, toxic form.
The ingredient, used as a foaming agent and to make products "creamy", was added to California's Prop 65 list of harmful chemicals in 2012 after the International Agency for Research on Cancer (IARC) warned that it's a carcinogen: "There is sufficient evidence in experimental animals for the carcinogenicity of coconut oil diethanolamine condensate."
The Center for Environmental Health recently filed a California lawsuit against four companies that sell shampoo and personal care products containing the toxic chemical without a warning label. The group detected cocamide DEA in shampoo ingredients sold in stores like Walmart, Target, Babies 'R' Us, and other major national retailers.
Some name brands contained the carcinogen, as did store brands sold at Walmart, Trader Joe's, Pharmaca, and Kohl's, according to the nonprofit. "Most people believe that products sold in major stores are tested for safety, but consumers need to know that they could be doused with a cancer-causing chemical every time they shower or shampoo", said Michael Green, executive director of the Center for Environmental Health. "We expect companies to take swift action to end this unnecessary risk to our children's and families' health."
While the ingredient has been removed from some products, it still remains in others. Choose natural, gentle products like California Baby, which contains no DEA. And be sure to read labels diligently and look for ingredients like:
Cocamide DEA
Cocamide MEA
DEA-cetyl phosphate
DEA oleth-3 phosphate
Myristamide DEA
Oleamide DEA
Stearamide MEA
TEA-lauryl sulfate
Triethanolamine
Lauramide DEA
Linoleamide MEA
Prevention.com also suggests the following:
Choose safer shampoo staples. Look for safer shampoos, such as The Honest Company Shampoo and Body Wash, John Masters Bare, or Intelligent Nutrients Harmonic. When you're on the road, old-fashioned non-toxic shampoo bars work well, too.
Republished with permission from CBnaturalliving.com and Prevention.com.
(in partnership with FamilyLifeGoal.com)
Some of the links I post on this site are affiliate links. If you go through them to make a purchase, I will earn a small commission (at no additional cost to you). However, note that I'm recommending these products because of their quality and that I have good experience using them, not because of the commission to be made.