Make Refreshing Fresh Summer Juices With This Mix And Match Guide
Last updated on
Summer time is here (hurray!) and sitting outside on a nice summer's day with a juice in hand is one the most relaxing things you could do this summer. A cold juice will certainly help to beat the heat!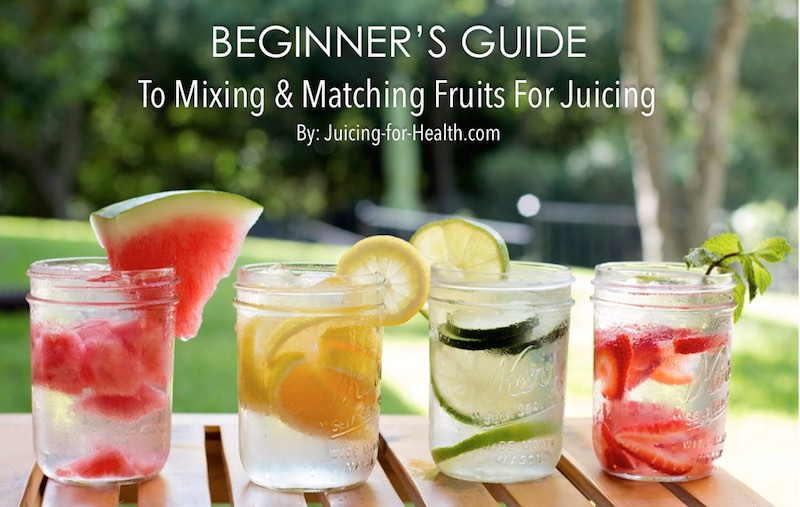 Summertime Fruit Combo Juices
Summer is a great time to experiment with different fruit combinations in your daily juices as most fruits are in peak season during the summer.
Experimenting by yourself can be hard though, so we're here to help with the taste testing and make your life a little easier in the kitchen! Because your time is much better spent outdoors under the sun this time of year.
Get to Know Your Fruits
Fruits can be divided into five categories:
Acid-Tasting But Alkaline-Forming Fruits
Think citrus! These fruits are high in vitamin C. Some acid fruits include oranges, strawberries, pineapples, lemon, kiwifruit, limes, and tomatoes. These fruits are best to bring out the alkalinity of other fruits for bio-absorption.
Moderately sour, these fruits include apples, sapodilla, blueberries, blackberries, cherries, lychee, peaches, and plums. These fruits enhance the taste of other bland fruits and vegetables and are good mix with especially green vegetables.
Most sweet fruits are abundant in B vitamins. A sweet fruit could be bananas, figs, papaya, dates, and mango. They are best to be eaten on their own to reduce sugar spikes in the blood.
Don't let the name fool you, these high fat fruits contain healing fats that can help boost metabolism to lose weight! They include coconuts, and olives. Use any one of these in your smoothie or eat just on its own.
Easy to spot – they're melons!
Watermelon, cantaloupe, and bitter melon are some of my favorites.
Melons are just great on their own and very thirst quenching! They provide some of the best juices for hydration to our cells and relieve water retention. Here's a recipe that will have your taste buds begging for more on a hot day.
Summertime Melon Melody
Juice, add in a few ice cubes, throw your feet up, and enjoy!
Some of the links I post on this site are affiliate links. If you go through them to make a purchase, I will earn a small commission (at no additional cost to you). However, note that I'm recommending these products because of their quality and that I have good experience using them, not because of the commission to be made.