Last updated on
Many people are not aware that they can and are poisoned by heavy metals that find their way into the body from the environment, commercial products, water and the food that they eat.
Mercury-amalgam fillings in teeth are one of the main sources of mercury poisoning.
Mercury fillings were common in my younger days and almost everyone I know from that era have at least one or two of these toxic fillings. I had six!
My Previous Ill Health
I grew up as a very sickly child that carried over into my young adulthood. From not understanding the meaning of nutrition and healthy eating, my poor choices of food and wrong methods of cooking had gotten me so sick that I had toxemia (poisoning of the blood) and a host of chronic diseases.
In my 20s and 30s, I was feeling so weak and tired all the time, that I was a complete mess. You can read more of my story here.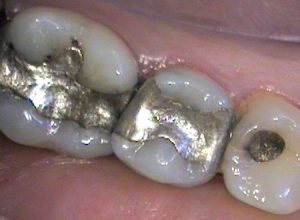 When I began to study nutrition, one of the first things I did was to throw out the microwave oven and aluminum pots. Next, I had all my six mercury fillings removed, in order to stop poisoning my body further. Step by step, I took action to heal myself from the extreme toxicity that was slowly killing my brain and my body.
When I found juicing and began to understand the miraculous health benefits of fruits and vegetables, cilantro was one of the things I used (and still use) often to continuously cleanse my body of the heavy metal poisoning.
How long did it take me to be completely cleansed of heavy metals? Well, it took me many years of poisoning before I became so sick, so I did not expect to be healed overnight. It took me at least two years of diligent juicing (of various fruits and vegetables) and eating clean before I felt "fully healed".
Symptoms of Heavy Metal Poisoning
Accumulation of heavy metal toxicity may take months or years before you begin to experience any of these symptoms, depending on your degree of exposure to them. Apart from poisoning by amalgam filling, metals get into your body through the environment, water that you drink, your cookware, and even seemingly "safe" household and cosmetic products!
Symptoms of metal poisoning are so common yet people rarely connect them as metal poisoning, as they are often misdiagnosed as other diseases.
At the peak of my ill health, I experienced all of these symptoms, although you don't have to experience all of them to know that you have been poisoned!
Chronic fatigue — feeling tired and sleepy all the time
Digestive issues and various digestive disorders
Chronic constipation
Aching joints
Candidiasis or yeast infections
Brain fog — forgetful, low mental concentration, and state of confusion
Numb and/or tingling nerves
Hormonal imbalance
Mood swings, depression, and/or anxiety
Related reading: Top strategies and heavy metal chelating foods to treat heavy metal toxicity
Cilantro and Garlic
There are many ways to detoxify heavy metals from the body. Using cilantro and garlic is one of my favorite methods.
Cilantro and garlic are a great combination to remove heavy metal toxins from the body. Other than including them in juices, using them as garnish is a delicious way to eat them.
I prefer to consume cilantro in juice form, so I put a handful of it in my juices every time I make a green juice. I use the leaves and stem, the stem is where the nutrients are richest!
A horizontal masticating (slow) juicer is best suited for this purpose rather than a centrifugal (high-speed) juicer.
If you are serious about cleaning out your body of toxins, I suggest that you invest in a horizontal masticating juicer as they are excellent for extracting juices of green leafy vegetables, grasses and small leaves like cilantro. I personally like the Omega J8000 series.
See this page for a heavy metal detox juice that I like to make when doing a juice cleanse.
Health Benefits Of Cilantro And Garlic Combined
Cilantro and garlic are excellent natural herbs that when consumed, are able to bind with the toxic metals and escort them out of the body.
By nature, both these ingredients are antiseptic, analgesic, antibiotic, fungicidal and natural stimulants. These remarkable properties alone are tremendously useful in our very toxic world today.
I have addressed all the health benefits in detail and you can read them all here: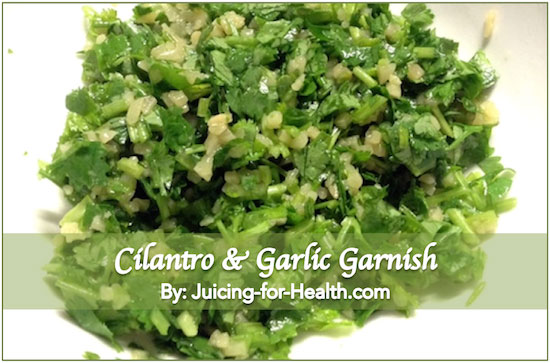 One of the ways that I like to eat cilantro and garlic is to use them as garnish on my foods. I add them in my all my meals, in omelettes, with fish, curry and just about anything!
I love this combination so much that I call it my "opium", simply addictive! Here's how I make it:
Method:
Chop up a handful of cilantro leaves and stems into about 2mm pieces
Chop 2 cloves of fresh garlic
Drizzle a little olive oil or sesame oil over them
Add a small pinch of seasalt
Squeeze a few drops of lime juice into them
Mix all the above in a bowl and voila!
Store the excess garnish in an air-tight container, refrigerate and consume within a week.
Do share below how you like to consume your cilantro!
Some of the links I post on this site are affiliate links. If you go through them to make a purchase, I will earn a small commission (at no additional cost to you). However, note that I'm recommending these products because of their quality and that I have good experience using them, not because of the commission to be made.