Protect Yourself From Cold, Flu and Seasonal Allergies With This Potent Drink
Last updated on
Drinking this tonic regularly could protect you from catching a cold or flu. It also protects against allergies and eases congestion, sore throats, and digestion.
Learn how to make fire cider with easily available ingredients.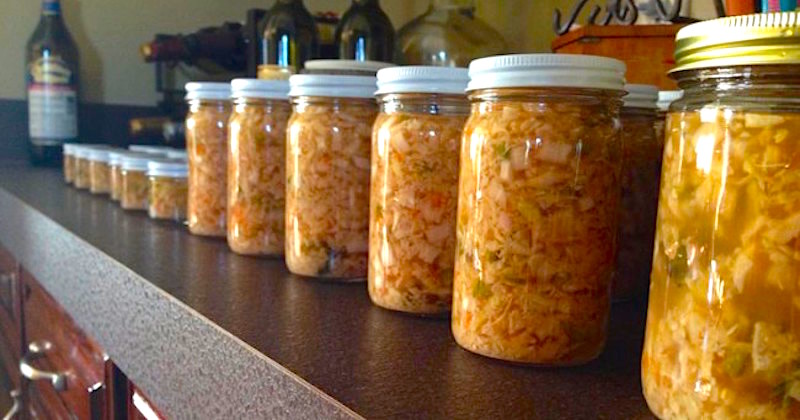 Fire Cider Is An Herbal Infusion
What is fire cider? Fire cider is a vinegar herbal infusion that is capable of extracting properties from any of the herbs and spices that you combine. The result is a warm drink that contains antiviral, antibacterial, antimicrobial, and antifungal properties.
These properties make it the perfect drink for combating the cold or flu. Many people use it for relieving their upset stomach, sinusitis symptoms, and seasonal allergies. The way that you take it depends on what type of relief you are seeking.
How Do You Take Fire Cider?
If you have a cold or flu, take a spoonful of fire cider every one to two hours. You could also mix the spoonful into a soothing tea. Taking one spoonful every day could also help to boost your immune system to protect against colds, flus, and seasonal allergies.
For a sore throat, combine an equal amount of raw honey and fire cider and take every hour. If you have congestion in your lungs or sinuses, take one spoonful of fire cider every couple of hours by combining it with a tea.
Take a spoonful of fire cider before each meal to ease digestion. Another use of fire cider is to help give you burst of energy – take a shot of fire cider to fight drowsiness.
Easy Fire Cider Recipe
Fire cider is easy to make. The primary ingredient is raw apple cider vinegar. Purchase a large bottle, or several smaller bottles, to ensure you have enough vinegar to last through the winter.
Read more about the many uses of apple cider vinegar.
Fire Cider Ingredients:
Raw apple cider vinegar
1 medium onion
2 tablespoons of coriander seeds
3 tablespoons of fresh rosemary
1 head of garlic
¾ cup of ginger root
2 cayenne peppers
¼ cup of fresh horseradish
Fire Cider Directions:
To make your fire cider …
First scrub the ginger root and the horseradish to remove their skin.
Next, grate the onion, ginger root, and horseradish into a bowl.
Crush the garlic and place in the bowl.
Slice the cayenne peppers in half, crush the coriander seeds, and chop the fresh rosemary.
Combine these ingredients in the bowl and mix.
Pour the herbs from the bowl into a glass pint jar.
Fill the rest of the jar with raw apple cider vinegar and put on the lid.
Store the fire cider in a cool, dark place. Each day, shake the jar once.
Allow the fire cider to age for four weeks and then strain into a bottle.
You now have your own fire cider!
Use the directions above, for consuming fire cider, and ward off colds and flus. Other options include adding a tablespoon of fire cider to marinades, salad dressings, and sauces. Fire cider is a versatile herbal infusion for seasonal illnesses that every home should have.
Reference:
https://www.holistichealthherbalist.com/winter-preparations-fire-cider/
Some of the links I post on this site are affiliate links. If you go through them to make a purchase, I will earn a small commission (at no additional cost to you). However, note that I'm recommending these products because of their quality and that I have good experience using them, not because of the commission to be made.