5 Unique Recipes For Making REAL, Delicious, Healthy Mayonnaise
Last updated on
Mayonnaise is almost anyone's go-to condiment when making a sandwich. It tastes great on turkey, BLTs and even avocado sandwiches. Unfortunately, as you get older you begin to see the harsh realities of this world and with them the harsh reality of consuming certain foods.
While it tastes delicious, adding both a tang and a kick to your sandwich, the cons of store-bought mayonnaise far outweigh the pros.
What's Really Inside Store-Bought Mayonnaise
This is the list of ingredients in Hellmann's Real Mayonnaise:  Soybean oil, whole eggs and egg yolks, vinegar and sugar. As you can see, this so-called "real mayonnaise" is packed with GMOs. While GMOs are not yet proven for human health (FDA does not require independent testing of genetically engineered food) we are still consuming them.
What's Wrong With GMOs?
More like what's good about GMOs! When GMOs were introduced in 1996 chronic illness in Americans jumped from 7% to 13%. They lead to organ damage, gastrointestinal and immune system disorders, they can accelerate aging, and infertility. Genetically modified food can leave toxins inside our bodies that can lead to long-term problems.
Calories, Fats, Sodium And Cholesterol.
One tablespoon of store-bought mayonnaise contains about 90 calories. Individuals that are eating mayonnaise are regularly overshooting their recommended caloric intake without even realizing it.
A tablespoon contains 10 grams of fat, 5 mg of cholesterol and 90 milligrams of sodium. Excess fat can lead to diabetes and other heart conditions. Too much cholesterol can build up in your arteries, which can lead to heart disease and stroke. And too much sodium can lead to high blood pressure.
The good news is, you don't have to rule out ALL mayonnaise. Here are some healthy versions of this creamy condiment that you can make yourself.
5 Healthy Homemade Mayonnaise Recipes
Making homemade mayonnaise is easy, and it tastes better than most store-bought versions. In addition, you can choose to include only healthy ingredients in your mayo. This way, you can avoid the refined vegetable oils that most commercial brands use. You can also experiment with your mayo, adding many different ingredients and flavors.
Here is a very basic recipe to make your own homemade mayonnaise:
Ingredients:
2 raw egg yolks (remove the white)
1 cup quality oil like avocado oil or light olive oil
2 tablespoons fresh lemon juice
1 tablespoon water
Instructions:
Before you start, make sure all the ingredients are at room temperature.
Put the egg yolks in a food processor or blender. Sprinkle with salt and add water.
Start blending while slowly pouring the oil into the feed tube.
After the mayo has gotten thick, add lemon juice slowly to taste, and gently mix with a spoon.
Note that the egg yolks in mayo are consumed raw. If salmonella is a problem where you live, then this may be a problem.
And, while the basic recipe above is great to start with, there is more to mayonnaise than just oil and eggs. It can be prepared using many different ingredients.
5 Healthy Mayonnaise Recipes
Here are five unique homemade mayonnaise recipes that are pretty healthy.
1. Paleo Miracle Mayo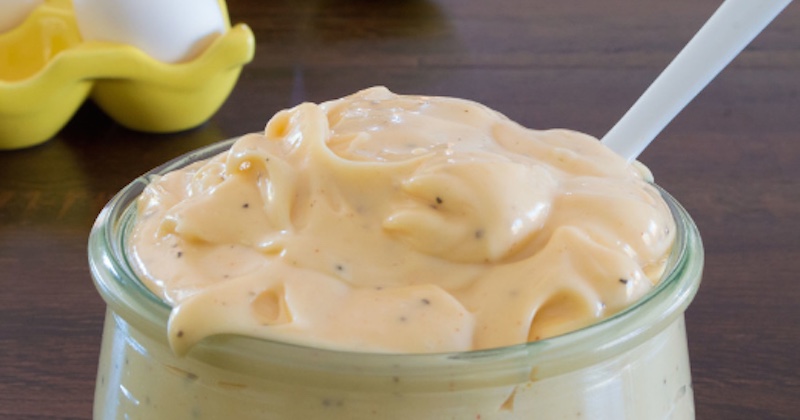 Ingredients:
Eggs
Lime juice
Honey
Dry mustard
Sea salt
Black pepper
Smoked paprika (optional)
Avocado oil or olive oil
2. Roast Garlic Mayo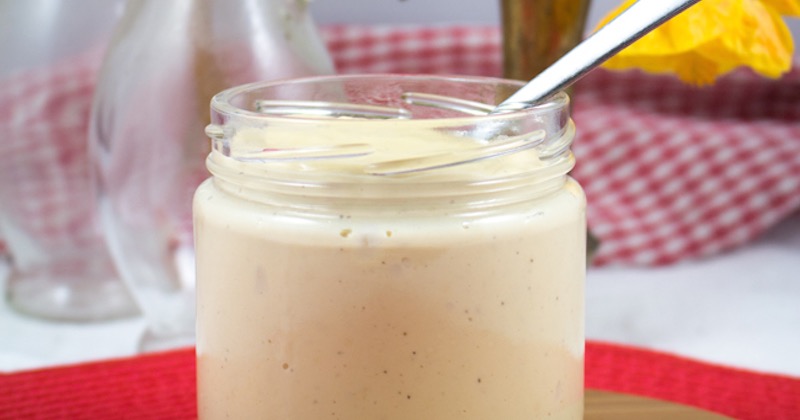 Ingredients:
Garlic
Olive oil
Dijon mustard
Egg yolks
White wine vinegar
Water
Black pepper
Salt
3. Basil and Parmesan Mayonnaise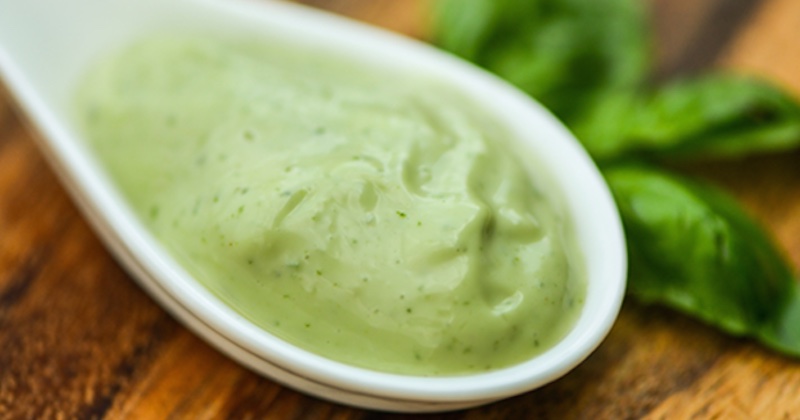 Ingredients:
Fresh basil leaves
Parmesan cheese
Egg yolk
Anchovy fillets
Water
Lemon juice
Garlic
Dijon mustard
Olive oil
Extra virgin olive oil
Kosher salt
4. Egg-Free Avocado Mayo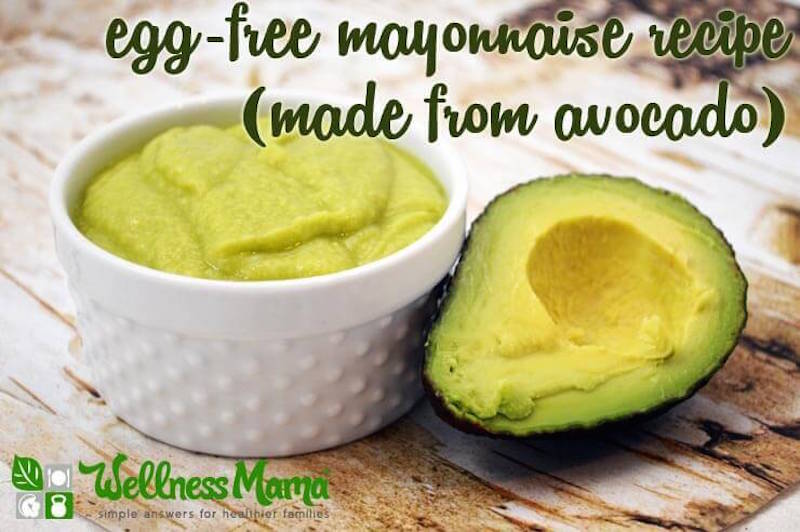 Ingredients:
Avocados
Olive oil
Lemon juice
Garlic powder
Salt
Dijon mustard
Black pepper
5. Spicy Cashew Mayo
Ingredients:
Raw cashews
Water
Lemon juice
Sea salt
Dates
Sriracha sauce
More Ideas For Adding Flavor
Mayonnaise can be prepared in a variety of ways, using different oils, condiments or herbs and spices.
Above are just a few recipes for you to try. However, there are so many more ingredients you can use to add flavor, including:
Fresh herbs like rosemary, tarragon, thyme, dill or cilantro
Curry powder
Chili powder
Chopped nuts
Minced ginger
Prepared horseradish
Sun-dried tomatoes
Sliced scallions
Jalapeños
Miso paste
Capers
Anything Else?
You can store the mayo in an airtight container in the fridge for up to a week.
There are many ways you can enjoy your homemade mayo. You can spread it on a sandwich, include it in a chicken salad or use it as a base for dressings and dips.
However, keep in mind that homemade mayonnaise is still very high in calories, so be mindful of your portion sizes.
At the end of the day, a bit of homemade mayonnaise with high-quality ingredients is a delicious way to add healthy fats to your diet.
Some of the links I post on this site are affiliate links. If you go through them to make a purchase, I will earn a small commission (at no additional cost to you). However, note that I'm recommending these products because of their quality and that I have good experience using them, not because of the commission to be made.