3 Wholesome Delicious Spaghetti Recipes That Are Gluten-Free
Last updated on
What is spaghetti squash? It is the perfect pasta alternative for those trying to cut down on their carbohydrates intake, or want to eat a grain-free diet. It is a nutrient-packed vegan option that resembles pasta in both taste and texture. While it is not an exact match for pasta, it can be used to create some delicious pasta dishes.
Learn more about this amazing vegetable, including why you should use spaghetti squash instead of regular pasta, how to prepare spaghetti squash and three simple recipes that you can use to create your own vegan-friendly pasta.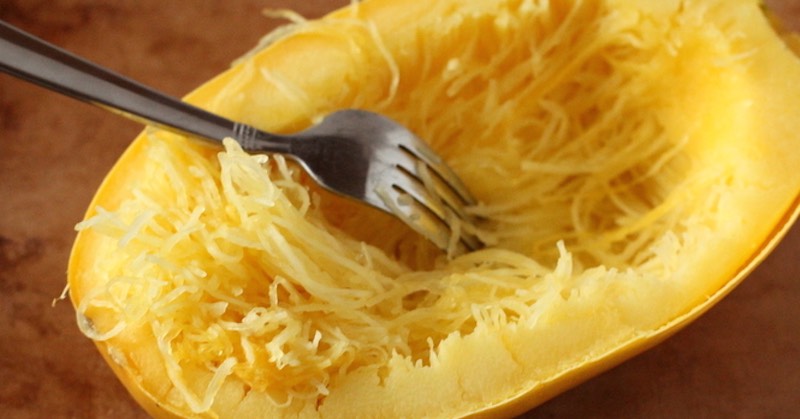 Spaghetti Squash Tastes Similar To Pasta
Spaghetti squash gets its name from the simple fact that it resembles the taste of pasta when cooked. It is also sometimes referred to as noodle squash, vegetable spaghetti, and vegetable marrow.
Wheat and rice pasta are known for containing a lot of carbohydrates. The carbs found in pasta can be difficult for your body to process, which is why many diets restrict or remove pasta from their meal plans. If you want to eat healthy, you do not need to leave out your favorite pasta dishes.
Along with making your own pasta meal, you can use spaghetti squash in soups and stews.
The Health Benefits Of Spaghetti Squash
Not only does spaghetti squash contain fewer carbs and no gluten, compared to regular pasta, it is also a great source of beneficial vitamins and minerals. One serving contains 457 percent of your daily recommended amount of beta-carotene (vitamin A). It also provides you with vitamin C and antioxidants.
The B vitamins found in spaghetti squash are useful for promoting better cardiovascular health, lowering blood pressure, and providing your body with folate – an important nutrient for pregnant women.
This squash is also a wonderful source of potassium and omega-3 fatty acids. These two nutrients also help promote better heart health. The potassium can improve metabolism and calcium absorption while the omega-3 fatty acids can prevent inflammation and improve brain function.
How To Cook Spaghetti Squash
Would you like to make the switch from regular pasta to spaghetti squash? Try using the following recipe to prepare your spaghetti squash. Once cooked, you can use the spaghetti in any pasta dish that uses spaghetti. This basic spaghetti recipe will be used for all three of the following recipes, giving you a good base to experiment with.
Ingredients and Tools
1 medium spaghetti squash (about 2 to 3 pounds)
Soup spoon
Knife
Fork
Cutting board
Roasting pan or baking dish
Directions
Preheat your oven to 400 degrees Fahrenheit. While you are waiting for the oven, you can begin preparing the squash. Slice the squash in half, from stem to tail. Be careful when cutting. The outer skin of the squash is tough, so cut slowly. You may even want to place the squash on a bunched-up dish rag to keep the vegetable steady.
After cutting the squash in half, use the soup spoon to scrape out the seeds. You can remove the stringy bits of flesh, but try not to dig out the actual flesh of the squash. When you are done, the inside of the squash should be fairly smooth. You can save the seeds for roasting or toss them.
Set each of the squash halves in a roasting pan or baking dish, placing them cut-side down. Add a small amount of water in the pan. Pour just enough water to cover the bottom of the pan. Cook the squash for about 30 to 45 minutes. When you can easily insert a fork into the squash then it should be ready.
Allow the squash to cool for a few minutes and then scrape out the flesh. Use a fork to gently remove the flesh from the peel. As you remove the flesh, separate the flesh into strands. To remove these strands, rake your fork in the same direction as the strand.
You squash is now ready to serve. If you are making a sauce for your pasta, you should start preparing it while the spaghetti squash is cooking in the oven. This way you can serve the pasta as soon as the squash is ready.
Now that you know how to prepare spaghetti squash, take a look at the following three spaghetti squash recipes:
3 Wholesome Delicious Spaghetti Squash Recipes
1. Spaghetti Squash And Broccoli With Garlic Miso Sauce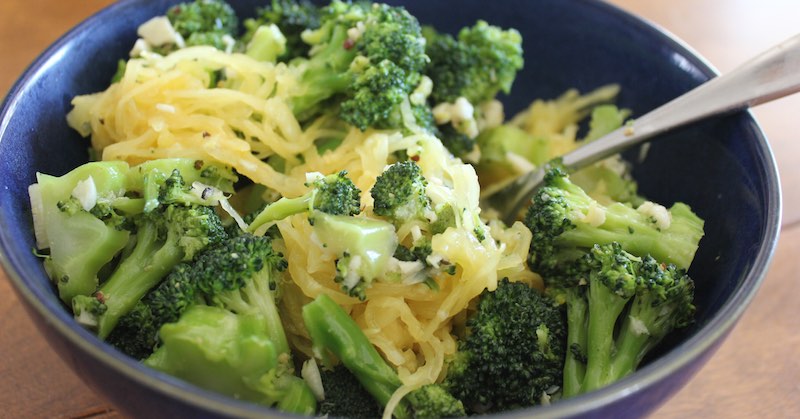 Start by preparing the spaghetti squash using the provided recipe. One medium squash should create one serving of spaghetti. You will also need one cup of chopped broccoli per serving and the following garlic miso sauce.
For the garlic miso sauce, combine these ingredients, except for the sesame seeds, in a blender until smooth. After blending, stir the sesame seeds into the mixture
2 tablespoons of miso
1 clove of garlic
2 tablespoons of tamari
2 tablespoons of rice vinegar
2 tablespoons of almond butter
2 tablespoons of sesame seeds
You can adjust the amounts to fit your tastes. You may even want to use a small amount of water to slightly dilute the mixture. Once the squash is ready, place the spaghetti on a plate, along with the chopped broccoli. Pour the fresh miso sauce over the spaghetti and then serve.
2. Green Pasta Mix with Avocado Sauce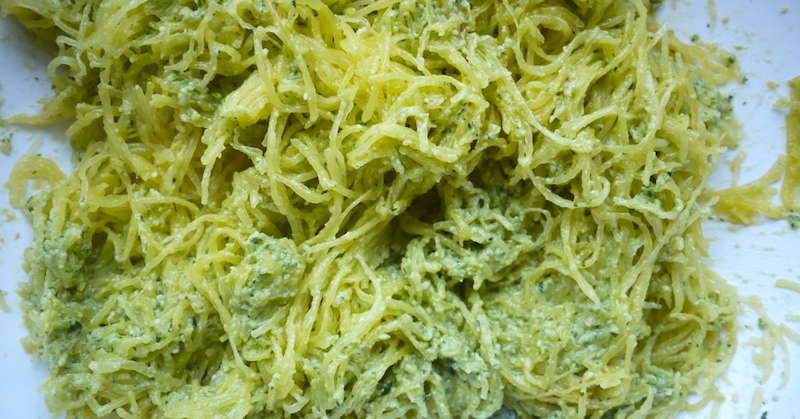 This next recipe combines spaghetti squash with a variety of fresh greens, including the avocado hemp sauce. To make the hemp sauce, gather the following ingredients:
½ an avocado
1 garlic clove
3 tablespoons of tamari
2 tablespoons of hemp seeds
A small amount of water
Blend all the above ingredients together. You can add a small amount of water, to get a smoother consistency. Stir in the hemp seeds, after blending the other ingredients.
While you are cooking the spaghetti squash, heat a cup of assorted green vegetables on a frying pan with a small amount of coconut oil. Use vegetables such as green beans, peas, broccoli, or even spinach. When the spaghetti squash is ready, add the vegetables and the sauce.
3. Spicy Pasta Stir Fry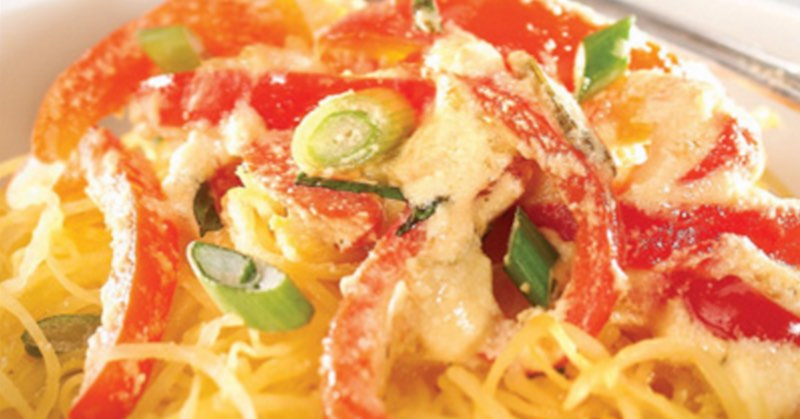 For this spicy pasta stir fry, you will again use the previous directions of preparing the spaghetti squash; though, you may want to remove the squash a few minutes early. This stir fry contains a mixture of fruits, vegetables, spaghetti squash, and a spicy sauce.
To make your spicy pasta stir fry, you will need these ingredients:
1 medium spaghetti squash
1 red pepper – sliced thinly
½ cup of broccoli (chopped)
2 tablespoons of oil (almond oil, coconut oil, or extra virgin olive oil)
Spicy sauce (directions below)
Prepare the squash following the previous instructions. While the squash is cooking, prepare the spicy sauce and chop the fruits and vegetables for the stir fry. When the squash is ready, add the spaghetti to a frying pan with two tablespoons of oil. Heat on low for several minutes, stirring in the chopped fruit and vegetables.
Once the produce begins to soften, add the spicy sauce and continue heating on low heat until the fruits and vegetables are heated and the sauce is warm. Thoroughly stir the ingredients and serve.
To make the spicy sauce, combine all of the following ingredients in a blender until smooth:
Spaghetti squash is easy to prepare and it can be used in a variety of dishes. When you are trying to limit your carbs or avoid gluten, spaghetti squash is the perfect solution. Try some of these recipes or feel free to experiment with your own meals.
Sources:
https://www.thekitchn.com/how-to-cook-spaghetti-squash-in-the-oven-178036
Some of the links I post on this site are affiliate links. If you go through them to make a purchase, I will earn a small commission (at no additional cost to you). However, note that I'm recommending these products because of their quality and that I have good experience using them, not because of the commission to be made.