Spice Up Your Life With This Ancient Saffron Flower
Last updated on
Some folks are just mad about saffron, and why not? The Crocus sativus flower, from which saffron comes, looks beautiful and yields the beneficial spice. Whether you're simply taken by the flower's beauty, or you've taken saffron for it's healing power, you'll love this spice.
Although expensive, saffron does seem to be quite a beneficial spice. The reason it's so expensive is because it can take up to 75,000 flowers to produce a pound of the spice. These flowers are typically cultivated by hand.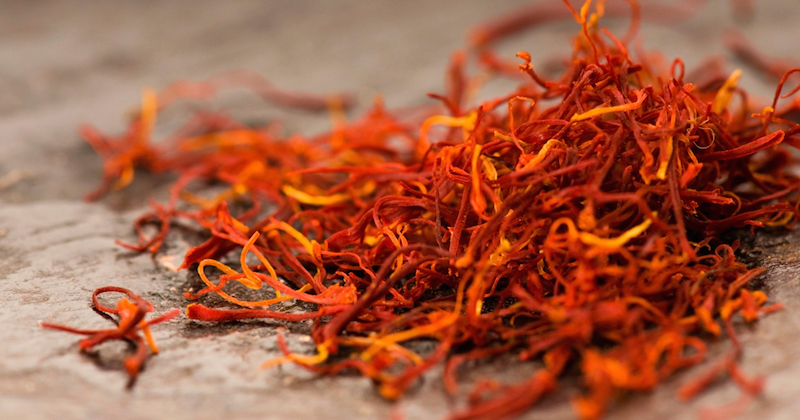 A Very Complex Healthy Spice
Although it can cost $1,000 per pound you shouldn't need to buy that much saffron. Which is good because production can be slow—each plant only bears four flowers, each with three crimson stigmas from which the spice is derived. Each flower, therefore, produces the equivalent of 30 mg (0.011 oz) of fresh saffron, or 7 mg (0.00025 oz) of dried spice.
This spice has been cultivated like this for hundreds if not thousands of years. Saffron has been used medicinally ever since.
Mad About Saffron
Even more amazing, 50,000 year-old depictions of prehistoric Iran contained saffron-based paint pigments, showing that the relationship between humans and this amazing, multi-use spice is as old as time. That's a pretty strong relationship.
There's a reason for this strong, long-held relationship: saffron's complexity and versatility. In recent times saffron is being put back on the plate, so to speak, as a weight loss promoter, thanks to its appetite suppression. But what else is saffron known for?
Amazing Flower
A 22-week randomized, double-blind study tested saffron's ability to manage mild-to-moderate Alzheimer's disease showed that 15 mg twice a day was as effective as leading drugs, with considerably less side effects. In another 16-week, randomized, placebo-controlled study also showed 15 mg of saffron twice a day was not only effective, but safe for mild-to-moderate Alzheimer's patients' cognitive function.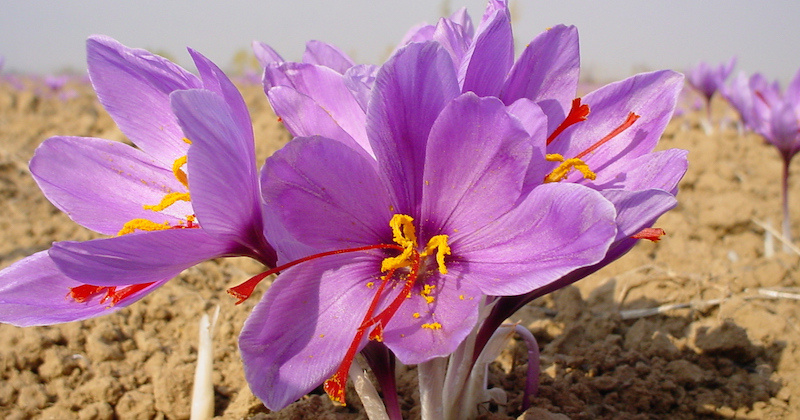 Saffron has also been known to be used as an aphrodisiac, and by men to prevent premature ejaculation and boost fertility. It may even have infertility-reversing effects, and women can use saffron to eliminate menstrual cramps, premenstrual syndrome symptoms like headaches, bloating, and trouble sleeping.
How Do They Do It?
Health Benefits of Saffron
Saffron is said to be beneficial for over 150 ailments, and this is just a very short list:
Asthma
Cough
Whooping cough
Phlegm—saffron is an expectorant
Insomnia
Cancer
Atherosclerosis (hardening of the arteries)
Intestinal gas
Neurodegenerative disease—Alzheimer's and potentially more
Hemoptysis—spitting up blood
Heartburn
Dry skin
Aches and pains
Saffron can also be used to fight depression. According to a 2007 study published in Progress in Neuropsycho-pharmacology and Biological Psychiatry, 15 mg of Crocus sativus petals were as effective as 10 mg of Prozac in treating mild to moderate depression. 25 percent of the participants claimed to have totally overcome their depression.
Of course, the term depression has a wide breadth and is a serious condition—saffron could help with mild to moderate cases, but in more serious cases, seeing a doctor is your best bet.
Source:
https://www.ancient-origins.net/news-general/saffron-ancient-healing-powers-confirmed-science-001660
Some of the links I post on this site are affiliate links. If you go through them to make a purchase, I will earn a small commission (at no additional cost to you). However, note that I'm recommending these products because of their quality and that I have good experience using them, not because of the commission to be made.