Seven 5-Minute Raw Food Dinner Recipes Free of Meat, Corn and Bread
Last updated on
Whether you are following a raw vegan diet or looking for healthier meal options, try this collection of recipes from around the web that are no-cook recipes. Each of these 5-10-minute raw food dinner recipes are easy to make and do not include any meat, corn, bread, or cooking.
These seven recipes are suitable for anyone on a raw food diet, a vegan diet, the Paleo diet, or for anyone looking for a healthy meal.
1. Hiyayakko (Cold) Tofu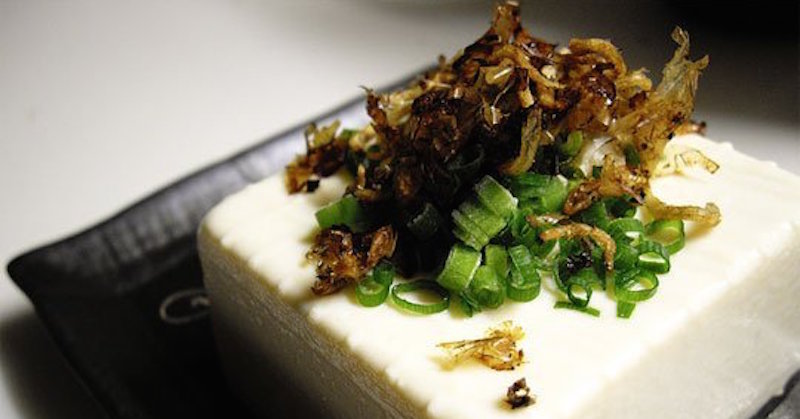 This simple tofu meal is made using a block of tofu topped with soy sauce and herbs. You can use soft or firm tofu, depending on your preference. Here are the ingredients needed to make Hiyayakko tofu:
1 block of firm or silken tofu
3 teaspoons of soy sauce
Toppings
To prepare your tofu, drain the water from it and cut the block in half. If you prefer, you can cut the tofu into smaller sections. Drizzle the soy sauce on top of the tofu. Next, add the toppings that you choose. This could include freshly grated ginger, chopped green onion, sesame seeds, or bonito flakes.
You could add just about any topping that you would like. Experiment with different toppings until you find the combination that you like best.
Source: thekitchn.com
<
2. Red Cabbage And Apple Salad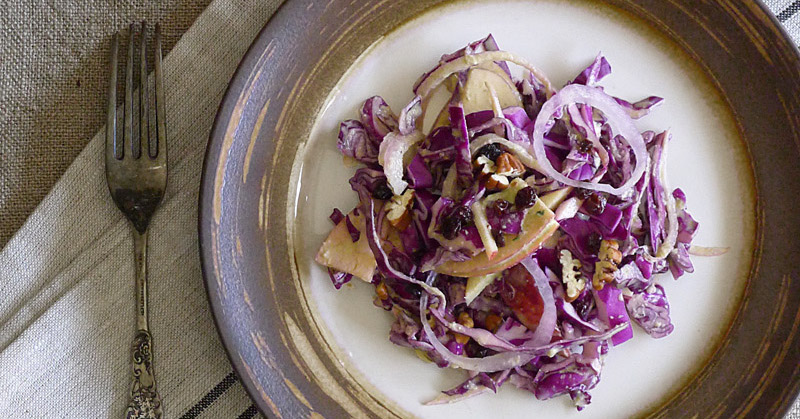 Red cabbage and apple salad is not only a great dinner option it also makes for a filling lunch. To make red cabbage and apple salad, you will need these ingredients:
1 large head of red cabbage
1 apple
1 red onion
½ a cup of pecans
½ a cup of dried currants
A sprinkle of Himalayan salt
Start preparing your meal by cutting the apple and the onion into thin strips. Chop the pecans into small pieces, which may be easier with a food processor.
Next, slice the red cabbage into thin pieces. Place the cabbage strips into a large bowl. Sprinkle some Himalayan salt and toss the cabbage with your hands. Allow the cabbage to sit for five minutes.
Add the apple slices, the onion, and the currants to the bowl and mix thoroughly. Scoop out a serving onto a plate and sprinkle the chopped pecans over the salad.
If you would like to make your own salad dressing, try this Tahini-ginger dressing recipe. Simply combine all of the following ingredients in a blender and blend until you have a liquid dressing:
¼ cup of tahini
3 tablespoons of lemon juice
¾ cup of orange juice
1 tablespoon of olive oil
1 tablespoon of raw honey
2 cloves of garlic
2 inches of fresh ginger
½ teaspoon of fine Himalayan salt
1 teaspoon of ground black pepper
Source: pureandsimple.typepad.com

<
3. Raw Macro Bowl With Knock-Off Dragon Sauce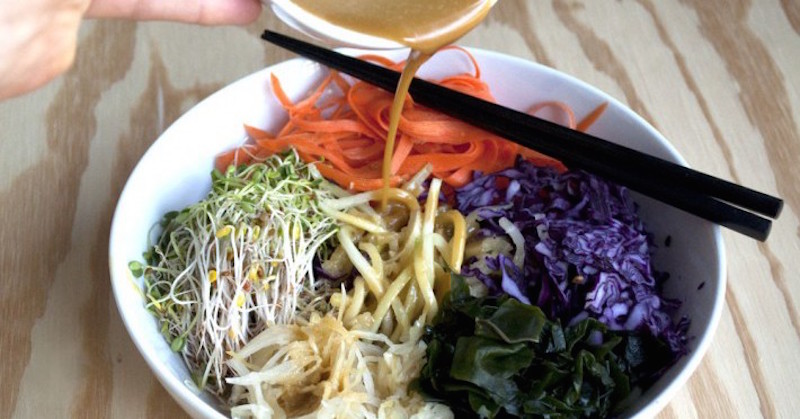 This raw macro bowl with knock-off dragon sauce recipe may look complicated, due to the long list of ingredients, but it is relatively easy to prepare. Start by gathering these ingredients:
2 carrots
1 zucchini
½ a cup of raw sauerkraut
A pinch of clover sprouts
½ a head of red cabbage (shredded)
Cut the zucchini into noodle-sized strips and lay around the bowl. Stack the remaining ingredients on top of the zucchini. Top off with the dragon sauce, which is made by combining all of these ingredients in a blender until smooth:
1/3 cup of olive oil
¼ cup of raw honey
¼ cup of tamari
¼ cup of tahini
¼ cup of water
1 garlic clove
½ a cup of nutritional yeast
Source:  rawfoodrecipes.com
<
4. Carrot Ribbon Pasta Bowl With Coconut Almond Satay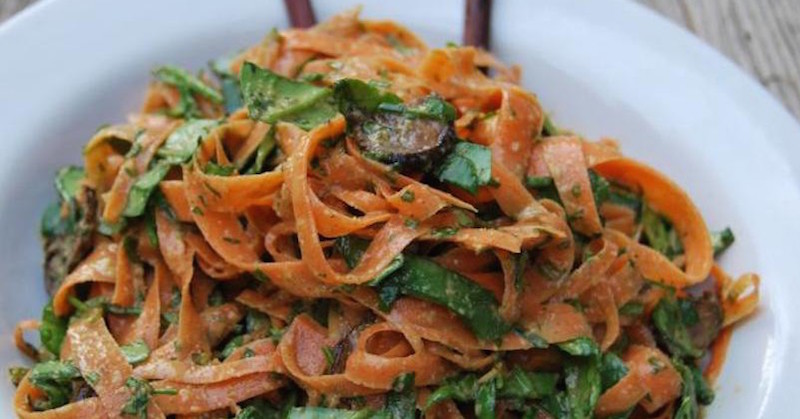 Next up is the carrot ribbon pasta bowl with coconut almond satay. This recipe may require a few attempts to get it down right. Do not worry if it does not turn out perfectly on your first attempt. Here are the ingredients needed for the carrot ribbon pasta:
To make satay sauce:
½ cup of almond butter
1 tablespoon of date paste
1 tablespoon of apple cider vinegar
3 tablespoons of green onion (minced)
½ a teaspoon of ginger
¼ teaspoon of cayenne powder
1 teaspoon of curry powder
¼ cup of coconut cream
¼ cup of water
1 cup of chopped spinach
Garnish:
½ a cup of dried Cremini mushrooms
¼ cup of mint leaves (minced)
¼ cup of chives (minced)
¼ cup of cilantro (minced)
Peel the carrots to get carrot ribbons. Make the ribbons as thin as you can handle. Place the carrot ribbons in a large mixing bowl and set aside. Next, prepare the sauce by whisking together all of the non-vegetable ingredients. Place the sauce in an airtight container and place in your fridge for 30 minutes.
Mix the remaining vegetables with the carrot ribbons and serve. Top off with the satay sauce.
Source: rawfoodrecipes.com
<
5. Raw Tuscan Kale Salad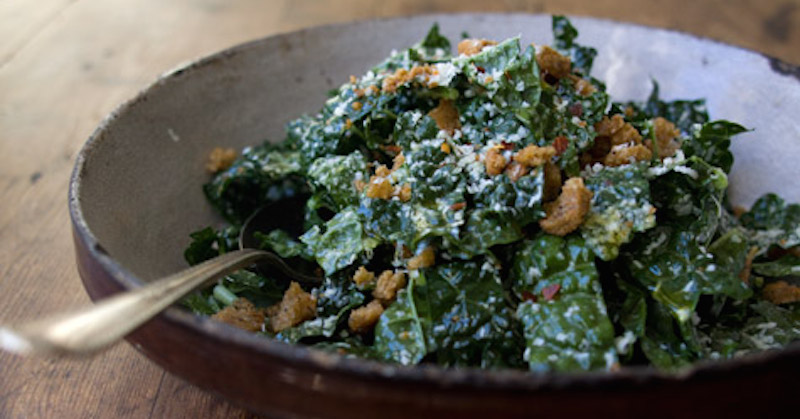 A fresh Tuscan kale salad is another option that is good for dinner or lunch. While this recipe calls for Tuscan kale, you can use other varieties of kale – if you prefer. Here is the ingredient list for the raw Tuscan kale salad:
1 handful of Tuscan kale
½ a clove of garlic
¼ teaspoon of Himalayan salt
¼ cup of grated cheese
3 tablespoons of extra virgin olive oil
1 lemon (freshly squeezed)
1/8 teaspoon of red pepper flakes
Freshly-ground black pepper (to taste)
Trim the bottom of the kale leaves to remove the stems. Slice the kale leaves into ¾-inch strips. Place the kale strips in a large mixing bowl.
Use a mortar and pestle to mince the garlic and salt to create a paste. Place the paste in a small mixing bowl. Add the cheese, olive oil, lemon juice, pepper flakes, and fresh black pepper to the garlic paste. Whisk this mixture until smooth.
Pour the dressing on top of the kale and toss the salad with your hands and then serve.
Source: 101cookbooks.com
<
6. White Bean Salad with Zucchini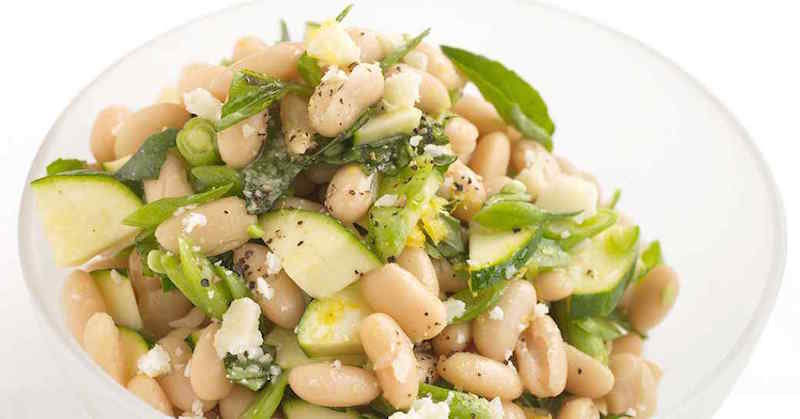 This filling salad includes a large dose of protein—so if you are having to for dinner, you may want to eat it several hours before bedtime. Here are the ingredients needed to make white bean salad with zucchini:
30 ounces of cannellini beans
¾ pound of fresh zucchini
4 ounces of green beans
2 ounces of Parmesan cheese
½ a cup of fresh basil leaves
1 tablespoon of olive oil
2 lemons (juiced)
Fresh black pepper (to taste)
Drain and rinse the cannellini beans and place in a medium mixing bowl. Next, trim the zucchini into thin strips. Trim the green beans into small pieces. Combine all the ingredients in the mixing bowl and toss with your hands. Scoop out servings onto a plate and enjoy.
Source: marthastewart.com
<
7. Shaved Raw Asparagus With Parmesan Dressing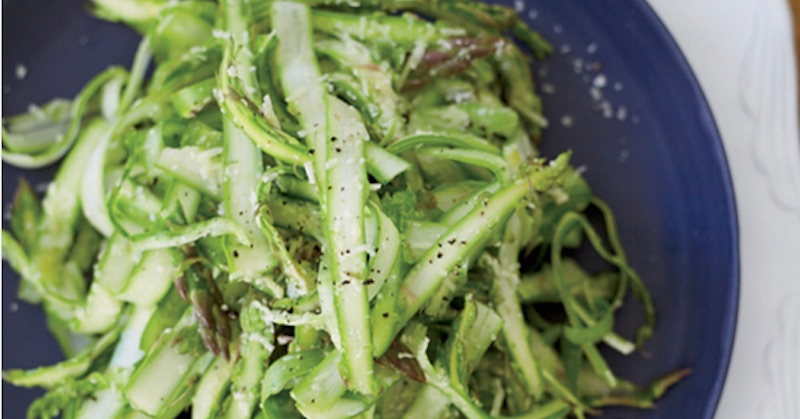 This recipe for shaved raw asparagus with Parmesan dressing will yield six servings, make it a good family meal. Use the following ingredients:
2 pounds of asparagus
3 tablespoons of lemon juice (freshly squeezed)
2 tablespoons of water
1 cup of Parmesan cheese
¼ cup of extra virgin olive oil
1 pinch of Himalayan salt
1 pinch of black pepper
Use a vegetable peeler to shave the asparagus into long strips. Place the strips in a large mixing bowl. In a small mixing bowl, mix the olive oil, water, lemon juice, and Parmesan cheese. Pour this mixture over the asparagus and toss with your hands. Serve the salad and season with a pinch of salt and pepper.
Source: foodandwine.com
Some of the links I post on this site are affiliate links. If you go through them to make a purchase, I will earn a small commission (at no additional cost to you). However, note that I'm recommending these products because of their quality and that I have good experience using them, not because of the commission to be made.