This Roasted Stuffed Squash Recipe Is Rich With Fiber And Beta-Carotene
Last updated on
This recipe for roasted squash stuffed with tomato and spinach chickpea stew is a creamy delight and is high in nutrients. This recipe will keep you full and satisfied, thanks to the fantastic tomato sauce that is rich with flavor.
It's absolutely mouth-watering, but what really makes the recipe awesome is the fact that it's packed with health-enhancing ingredients that provide you with beta-carotene.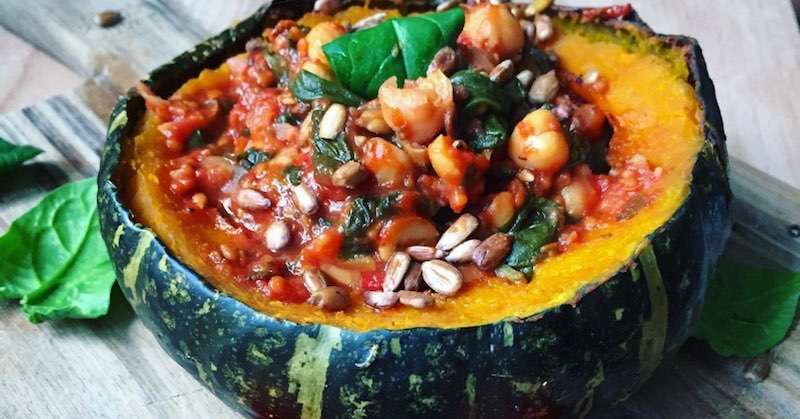 What Is Beta-Carotene
Beta-carotene is simply precursor to Vitamin A. It is the phytonutrient that exists in vegetables and fruits that give them their color. In this recipe, beta-carotene is found in mainly the spinach, carrots and squash. Vitamin A is essential for mucus membranes, and in keeping our skin and eyes healthy.
Benefits Of Beta-Carotene
The advantage of having beta-carotene rather than taking Vitamin A supplements is that dietary beta-carotene only converts as much as your body needs. This is essential since consuming too much vitamin A in supplement form can be toxic to your body.
Beta-carotene is fundamental to our body because it has powerful antioxidant functions. Antioxidants fight off free radicals, which cause chronic inflammation and can do serious harm to our body. This recipe is the perfect introduction to adding more beta-carotene into your life.
Roasted Squash Stuffed With Tomato
And Spinach Chickpea Stew
Serves: 2
Prep time: 10 minutes
Cook time: 50 minutes
Ingredients:
1 small squash (I used Kabocha squash)
½ tin of chickpeas (about 200g)
1 jar of Passata or 1 tin of tomatoes, 400g
Handful of cherry tomatoes, around 50g
1 carrot, grated
½ red chilli, (use a whole one if you like it hot)
1 clove of garlic
100g of spinach, frozen will work fine
½ tsp of rosemary
½ tsp of thyme
½ tsp of sage
Salt and pepper to taste
Sunflower and pumpkin seeds
Squash
Instructions:
Preheat the oven to 180oF
Carefully slice the top off the squash, empty the seeds and drizzle in olive oil and a pinch of salt
Place in oven for 50 minutes
Tomato Chickpea Mix
Instructions:
Chop the garlic and chilli and place in a pan with a drizzle of olive oil, and cook on medium heat for 5 minutes
Add the tinned tomatoes, drained chickpeas and cherry tomatoes to the garlic and chilli
Grate in the carrot and give the pot a stir
Add all the seasoning (rosemary, thyme and sage) and leave to cook on low heat for 35 minutes
Add salt and pepper and give the mix a taste, adding additional seasoning if needed.
Final steps:
Add the spinach and cook for five minutes
Take squash out of the oven after around 45 minutes, and then add the chickpeas
Sprinkle the seeds on top of the mix and place back in the oven for an additional 5-10 minutes to combine all the flavours
Take out of the oven, let cool a little and enjoy!
The recipe above is shared with permission from our friends at drstevenlin.com.
Some of the links I post on this site are affiliate links. If you go through them to make a purchase, I will earn a small commission (at no additional cost to you). However, note that I'm recommending these products because of their quality and that I have good experience using them, not because of the commission to be made.