5 Calming Reasons For Drinking Peppermint Tea
Last updated on
Peppermint tea isn't just delicious, it is nutritious! Vitamins A and C, folates, and beta carotenes are just part of the goodness peppermint has, and when you've got peppermint tea you're ready to get the goodness inside you. So drink up!
From easing an upset tummy to loading up on nutrients, peppermint tea won't just make you feel better, it'll have you breathing easier. Peppermint is great for your bronchial tubes and nasal passageways.
So how else will peppermint tea help you? Brew a pot, and while the water is heating and the tea is steeping, read through this short list of how peppermint tea helps with a number of health problems.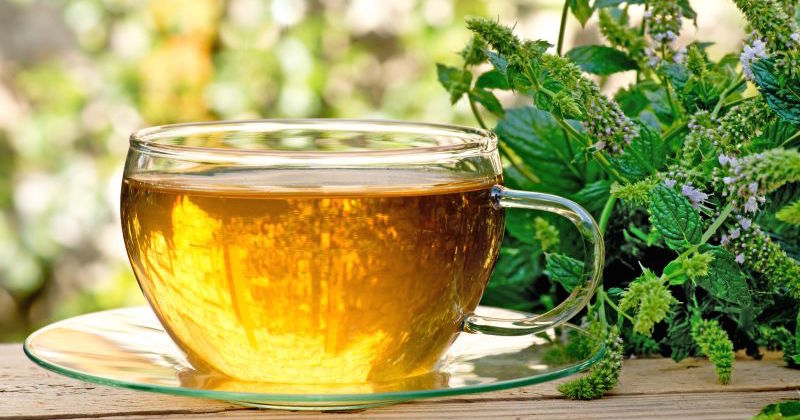 Destress
Peppermint tea can be an ally when battling stress and anxiety. The menthol that lives naturally in peppermint relaxes and soothes muscles. Not only will muscle relaxation help when you're over-stressed or anxious, but it will also help you fall asleep. Whether you're stressed or just sleepy, get rid of the crankiness with a cup of peppermint tea.
Peppermint tea also has properties that help you sleep deeply, so after you have a cup of the healthy tea, tuck yourself in for a healthy, restful sleep.
Breathe Easy
Whether it's cold season or you're just feeling stuffed up, peppermint tea is your friend. It won't cure sinusitis, but it will help fight the symptoms by fighting congestion. The warm water and compound in the tea will soothe your throat and clear your sinuses. Peppermint tea in particular is known as a natural decongestant.
Make peppermint tea part of your bedtime routine, especially when you're too stuffed to sleep.
Lose Weight
There is no natural medicine for weight loss, but there are helpful tricks. One of these tricks: peppermint tea. It can act as an appetite suppressant, and helps to settle your stomach. If you drink a peppermint-green tea blend you'll increase your metabolism, which will make losing weight that much easier.
Clear Skin
Peppermint tea can be a natural solution to hormonal skin problems like acne, because it boosts estrogen levels which curbs the hormonal problems. It will also help improve hormone-related acne. One suggestion: try adding peppermint tea to your bath water. This way your skin will get all of its benefits!
Peppermint tea also helps sooth burns and rashes, and has anti-inflammatory properties that help with many skin problems.
Calm Your Stomach
Peppermint tea is a great natural remedy for stomach problems like bloating and gas. Even IBS symptoms and colonic muscle spasms may be relieved with peppermint tea. The tea soothes intestinal muscles, which also helps with indigestion, and the menthol in peppermint is certainly a key reason for this.
So tonight, after dinner and before bed make yourself at least one cup of peppermint tea and reap the benefits!
Source:
https://www.organicauthority.com/health/5-fantastic-health-benefits-of-peppermint-tea.html
Some of the links I post on this site are affiliate links. If you go through them to make a purchase, I will earn a small commission (at no additional cost to you). However, note that I'm recommending these products because of their quality and that I have good experience using them, not because of the commission to be made.