Lemon-Ginger-Turmeric Tea To Detoxify Your Liver
Last updated on
Did you know that drinking lemon-ginger-turmeric tea is a healthy, natural way to detoxify your liver and boost your immunity?
Your liver is responsible for a large variety of functions. Almost everything that you eat will pass through your liver. Without a healthy liver, you would have difficulty receiving nutrients and vitamins from the food that you eat and may even face clogged arteries, as your liver filters blood.
Over time, a buildup of toxins can cause your liver to become less effective at doing its job. That is why even occasional detoxification of the liver can do so much. This will kick start your digestive system and make you less susceptible to colds, sore throats, seasonal allergies, bowel and digestive issues.
Protecting Your Liver
While this tea will help detoxify your liver, you should also consider avoiding certain foods in order to protect your liver. Try to reduce your intake of sugar and sodium. A high consumption of sodium or sugar can put a lot of stress on the liver, making it work harder than it should.
The same is true with fats. Try to ensure that your total fat intake is less than 30 percent of your total calories for the day. Cutting back on sugar, sodium, and fats will help prevent the build-up of toxins that required you to detoxify your liver in the first place.
Making changes to your daily lifestyle is not overly difficult, if you take it one step at a time. Start by drinking this tea each morning for several mornings, as you begin cutting back on sugar, sodium, and fats in processed foods. Include more fresh produce in your diet and stay hydrated.
Lemon-Ginger-Turmeric Tea Recipe
Most detoxification drinks for your liver involve a combination of ingredients that can help remove toxins and cleanse your system. Drinking lemon ginger turmeric tea is one of my favorite ways to start this process.
Making your own lemon-ginger-turmeric tea will naturally cleanse and detoxify your liver. Use the following recipe to make this healthy tea. If possible, try to find fresh turmeric root.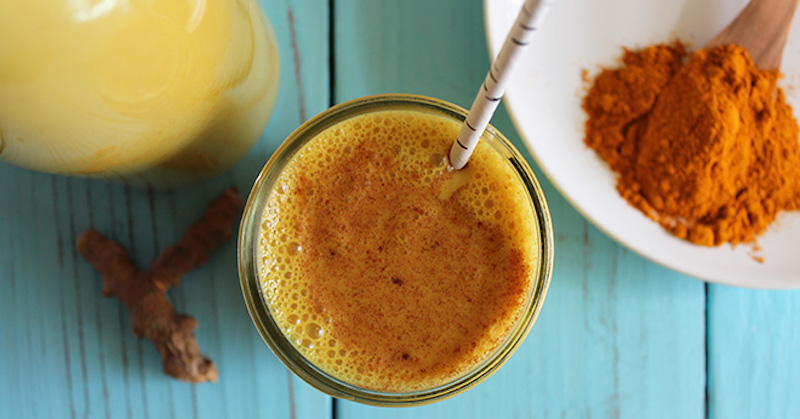 Ingredients:
1½ cups of filtered drinking water
1 teaspoon of fresh grated turmeric root (or ½ teaspoon of turmeric powder)
1 teaspoon of fresh grated ginger root (or ½ teaspoon of ginger powder)
½ a lemon (juiced with peel)
2 to 3 twists of fresh black pepper
1 tablespoon of raw honey or to desired taste
Directions for Making Your Liver Detox Tea
To make your tea, combine the turmeric, ginger, and the filtered water in a saucepan. Turn the heat to medium-high and simmer for about 5 to 10 minutes. Do not let the mixture come to a boil. Strain the hot liquid and pour into a cup or mug. Stir in the lemon juice and honey. Your tea is now ready to drink.
If you are not on any medication, you may safely drink this drink daily. Best time to drink this tea is in the morning. Some people prefer to drink it first thing in the morning before food, some like to drink it with food. Either time is fine and both works as well. Enjoy!
Source: https://blogs.naturalnews.com/lemon-ginger-turmeric-tea-medicinal-elixir-winter-wellness/
Some of the links I post on this site are affiliate links. If you go through them to make a purchase, I will earn a small commission (at no additional cost to you). However, note that I'm recommending these products because of their quality and that I have good experience using them, not because of the commission to be made.