Improve Digestion and Reduce Digestive Disorders With This Juice Recipe
Last updated on
Whether you are trying to maintain your current level of health, get started with a new healthy lifestyle, lose weight, or simply improve your diet, you probably have tried juicing. If you haven't, then what are you waiting for? Juicing is a great way to get the nutrients your body needs.
In particular, your body can benefit from juice that contains apples, celery, and carrots. This combination of produce strengthens your digestive system and minimize your risk of digestive disorders. Keep reading to find out why this combination is so powerful and how you can make your own apple, carrot, and celery juice.
Health Benefits of Apples, Carrots, and Celery
These are just a few of the health benefits that are found in this juice combo:
Carrots are packed full of calcium, B vitamins, C vitamins, and Vitamin A
Celery is a natural source of phthalide, which lowers blood pressure and supports and calms the nerves throughout the body
There is a huge list of nutrients found in apples, including enzymes that are especially beneficial for the digestive system
Why Juice?
You may be wondering why you should consider juicing, rather than simply eating more apples, celery, and carrots every day. Juicing strips the fiber and the pulp out of produce, but retains the nutrients. If you try to eat the amount of produce that you can put in juice, you will get full long before you finish.
However, when you juice, you can take in far more nutrients than you could if you are eating whole food. Literally anyone who starts their day with a fresh glass of apple, carrot, and celery juice stands to benefit so much more in terms of health and energy!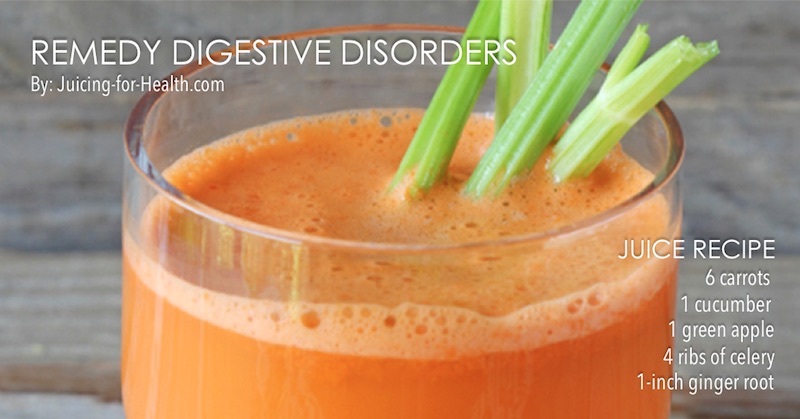 Make Your Own Apple Carrot Celery Juice with This Recipe
It is easy to make your own juice. I suggest starting with this recipe and seeing how it tastes. From there, you can start adjusting amounts and ingredients to suit your tastes. You can add additional fruits and vegetables or even herbs to change up the flavor of this juice. First, prep these ingredients:
6 carrots, washed and brushed, with both ends chopped off
1 cucumber
1 green apple
4 ribs of celery
1-inch ginger root
Now, simply put these ingredients into your juicer. You do not have to cube, slice, or otherwise prepare these ingredients. The juicer takes care of it all. Choosing a widemouth juicer makes it possible for you to put whole fruits and vegetables through.
If you are particular about texture, consider sifting the juice to remove the extra pulp. This makes the juice tastes smoother.
Sources:
https://www.fitnessblender.com/blog/juicing-for-weight-loss-apple-carrot-celery-juice
https://www.livestrong.com/article/267199-the-benefits-of-apple-carrot-celery-juice/
https://www.healthambition.com/celery-juice-benefits/
Some of the links I post on this site are affiliate links. If you go through them to make a purchase, I will earn a small commission (at no additional cost to you). However, note that I'm recommending these products because of their quality and that I have good experience using them, not because of the commission to be made.