6 Ways To Strengthen Your Immune System This Cold And Flu Season
Last updated on
Flu season is here again, which means it's time to prepare yourself NOT to have any runny noses, sore throats, nor an irritable household. While that is the norm, you can take steps to prevent colds and flus.
By eating more fruits, vegetables, and various herbs and spices, you can strengthen your immune system and protect yourself from catching a cold or flu. These healthy ingredients can be enjoyed in a number of ways, but with an easy to follow herbal tea recipe, you can gain all the benefits in one drink.
Discover six ways to boost your immune system, complete with an herbal tea recipe for combining all six ingredients.
1. Lemon
Lemon has high antioxidants content, antibacterial properties, vitamin C, and is capable of detoxifying your liver. These benefits will help to defend your body against bacteria. Citrus fruits have bioflavonoids that are anti-viral, anti-inflammatory and anti-allergy properties. Bioflavonoids have been shown to help fight infections, prevent free-radical damage, and reduce the severity of cold symptoms.
2. Turmeric
Turmeric is one of the best ingredients that you could use to prevent colds or flus. It has strong anti-inflammatory, anti-viral, and anti-septic properties. Turmeric is a major part of many Indian dishes and has been used in traditional Indian medicine for hundreds of years.
3. Ginger
Ginger is another herb that is known for its superior healing abilities. It can also help to calm an upset stomach and relieve pain from minor aches and sores. Another benefit of ginger is that it can help relieve sore throats and ease congestion.
4. Cayenne
Cayenne warms the body and helps to release built-up mucus in the sinuses. Cayenne is useful for easing the symptoms of colds and flus, including fever. Eating cayenne helps you sweat, lowering your fever and releasing toxins from your body.
5. Cinnamon
Including cinnamon in meals and drinks can soothe aches and pains. It has a natural pain-relieving effect and includes anti-bacterial and anti-fungal properties. Cinnamon is also known to improve circulation and expel toxins from the body.
6. Raw Honey
Raw honey is one of the most beneficial items listed. It contains an abundance of enzymes and nutrients that are often lost when honey is pasteurized. Consuming raw honey helps soothe your sore throat and build up your immune system. In addition to using honey in recipes, you can eat it raw.
Easy Herbal Tea Recipe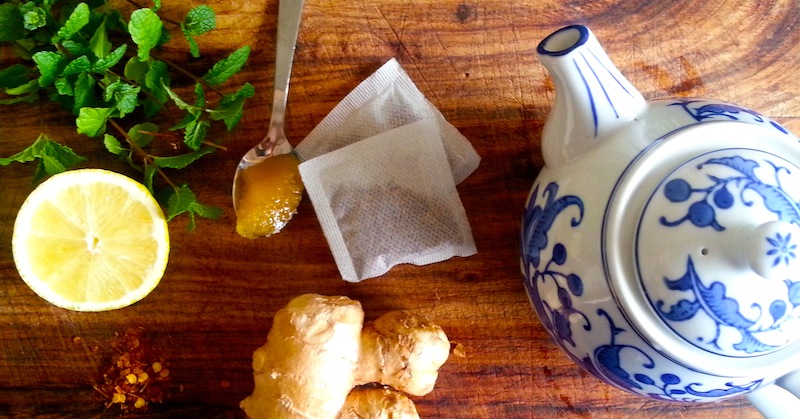 To benefit from all the ingredients listed above, use the following herbal tea recipe. You will need all the ingredients mentioned, in the following quantities:
Herbal Tea Ingredients:
1 cinnamon stick
3 slices of fresh ginger
¼ teaspoon of cloves
½ tablespoon of turmeric
1 pinch of cayenne
1½ tablespoons of raw honey
Juice from half a lemon
3 cups of water
Herbal Tea Directions:
Combine all the ingredients, except the raw honey, and place in a large pot. Mix the ingredients and bring it to a boil. Once the ingredients begin to boil, reduce heat and simmer for about five minutes. Stir in the honey and add more for taste, if desired. Pour the tea through a strainer and consume while still warm.
Additional Immune System Boosting Teas
Along with the foods listed above, and the herbal tea recipe that was provided there are other teas that may help strengthen your immune system. By drinking some of the following teas, you can boost your immune system, reduce tissue inflammation, and prevent muscle weakness and fatigue. Try including more of these teas in your diet:
Dandelion tea
Chamomile tea
Picrorhiza tea
Ginseng tea
Dandelion tea contains compounds that can help clear toxins from your body, improving the ability of your immune system to kill infections. Drinking chamomile tea or picrorhiza tea can increase the production of macrophages and B-lymphocytes. These white blood cells can destroy bacteria and fungi.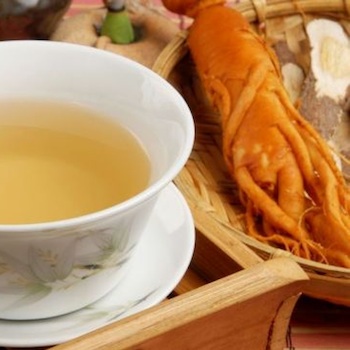 Ginseng tea is widely regarded as one of the most useful drinks for fighting illness. Ginseng can ward off infection, increase white blood cell production, and fight inflammation.
Now that the cold and flu season has arrived, take steps to prevent falling sick.
Start boosting your immune system by drinking more herbal teas or by eating more of the ingredients used in the herbal tea recipe mentioned above.
The best way to avoid a cold or flu this year is to strengthen your immune system. Make sure that you take steps to improve your health and prevent illness.
Sources:
https://www.chatelaine.com/health/wellness/flu-fighting-tea/
https://www.livestrong.com/article/371912-herbal-teas-that-boost-immunity/
Some of the links I post on this site are affiliate links. If you go through them to make a purchase, I will earn a small commission (at no additional cost to you). However, note that I'm recommending these products because of their quality and that I have good experience using them, not because of the commission to be made.