Your Bra Could Be Causing Restricted Lymph Flow And Toxic Buildup
Last updated on
Bras are considered to be one of the most significant accessories in your journey through womanhood; from training bras and first-ever A-cup bras, to very sexy push-up bras with all the embellishments and lacy trimmings in between, bras have been there with you every step of the way.
The question of whether or not your bra is damaging to your health may seem like a silly concept to think about, but has actually been a recent topic discussed within the health community.
According to research, there are several health risks that are caused by bras that don't offer the correct support and need. Complications include constricted breathing, back pain, restricted circulation, muscle strain and even irritable bowel syndrome.
Bra Causing Restricted Lymph Flow And Toxic Buildup
The connection between wearing bras and painful, bothersome non-malignant breast fibrocystic disease, as well as malignant breast cancer, was hardly mentioned until the book Dressed to Kill: The Link Between Breast Cancer and Bras by researchers Sydney Ross Singer and Soma Grismaijer came out in 1995.
They surveyed 5,000 women and discovered that women who wore bras for 12 hours or more daily, greatly increased breast cancer risk than women who wore bras for less hours.
Dr. Gregory Heigh of Florida discovered that over 90% of women with fibrocystic breast disease find improvement when they stop wearing their brassieres. There are case testimonies (source below) from breast fibrocystic disorders who realized this when they stopped or at less lessened brassiere use.
The connection between breast tumors—non-malignant or malignant—and bras has merit when considering the lymph drainage issues from wearing bras too often. The lymph system, which includes lymph nodes in the breasts, requires body movement to pump out the lymph nodes accumulation of toxic waste materials. Bouncing on a rebounder helps to improve lymphatic drainage flow.
Not only are breasts' movements inhibited by bras to not allowing proper lymph nodes draining, but the actually tight enclosures of bras constricts the breasts and restricts lymph material flow.
If a Florida doctor has observed 90 percent healing from fibrocystic breast disorders upon not wearing bras or wearing them less, and many other women have written in with positive results on their bra abstinence, it follows that wearing bras less, or not at all, helps prevent breast cancer.
What About Sports And Fashion Bras?
Other research has shown that sports bras and fashion bras can cause breathing difficulties, because they are designed to hold the breasts in place and constrict the ribs more than normal. It can also lead to circulatory problems and digestive complications due to the intense pressure that is being pushed on the diaphragm.
Wearing sports bras and fashion bras for a short amount of time seems to be fine, but keeping them on more frequently than necessary can be an issue.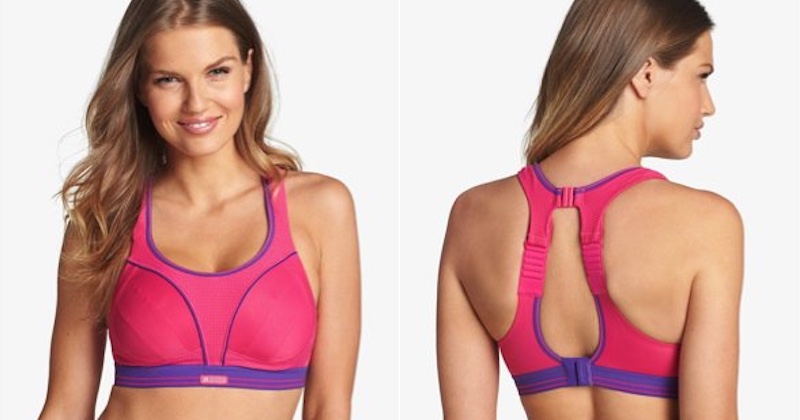 When shopping for a bra, choose a material that is soft and that is cushioned to give you proper support. Make sure that the straps are comfortable and that they are not digging into your skin, since that can cause skin problems.
If your breasts are spilling over the top of the bra or out the sides, go up a cup size—nothing wrong with that! And, most importantly, make sure that the band around your ribcage is at a comfortable and healthy size.
Most of the health problems associated with an ill-fitted bra involve bras that are too tight around the diaphragm, so take this step seriously!
Lastly, don't be afraid to ask for help. Most lingerie store employees are trained to fit women of all shapes and sizes and want to make sure you walk away with the best one!
References:
https://all-natural.com/bras.html
https://www.breastnotes.com/aware/aware-bra.htm
Some of the links I post on this site are affiliate links. If you go through them to make a purchase, I will earn a small commission (at no additional cost to you). However, note that I'm recommending these products because of their quality and that I have good experience using them, not because of the commission to be made.