Beetroots are a very nutritious food, and they happen to taste great. They include a large amount of useful vitamins and minerals and are a natural source of sugar. With the abundance of nutrients and various ways of using it, there is no reason not to include beetroot in your regular diet.
Use a beetroot juice recipe to improve your blood pressure and cardiovascular health, and discover some of the other benefits of consuming this super food.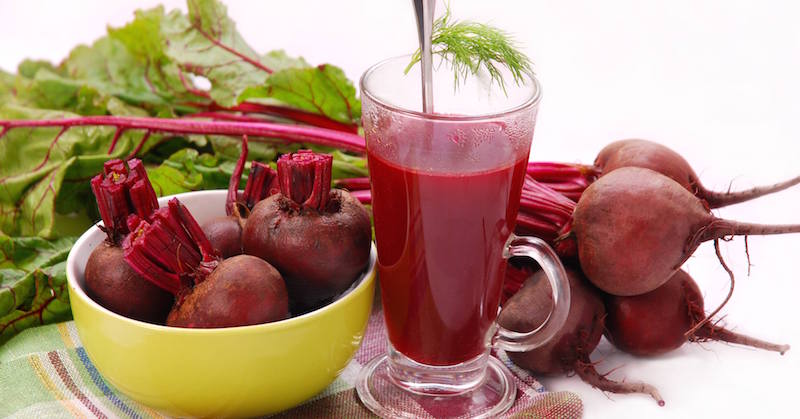 Beetroot Contains An Abundance Of Nutrients
Beetroot has a large variety of vitamins and minerals. Eating beetroot provides you with vitamins A and C, the B vitamins along with folate, iron, calcium, and potassium. Drinking beetroot juice will also give you more of the antioxidants to fight disease and prevent cell damage.
The B vitamins, folate and iron found in beetroot are especially helpful for pregnant women. These nutrients help with the growth of new cells during pregnancy and replenish iron.
Beetroot Is Rich In Betaine
Another benefit of eating more beetroot is the steady source of betaine. Betaine is a compound that can stimulate liver cell functions and reduce homocysteine levels. Homocysteine is a non-protein amino acid that is known to increase the risk of cardiovascular disease.
Studies have shown that drinking just a glass of beetroot juice can help lower your blood pressure. The study in question noted that three hours after drinking 17 ounces of beetroot juice, volunteers showed a decrease in blood pressure that lasted up to 24 hours.
Beetroot Caution
Beetroot juice can be very potent if you are not careful, so don't go overboard. If you're just starting off with beetroot, you may want to dilute the juice by adding other water-rich vegetables, such as cucumber or celery. It is also advised that men avoid drinking beetroot juice every day as they don't lose blood like women do. Over-consumption of beetroot can lead to an increase of iron in the blood (beneficial for anemics).
Beetroot Juice Recipe
Gather the following ingredients to make your own beetroot juice. This recipe makes about 16 ounces:
5-6 large raw beetroots
1 large cucumber
2 green apples
½ lemon with peel
1-inch of ginger root
Beet Juice Directions
If your beetroots have smooth skin, just use a vegetable brush and scrub them clean under running water. If they are rough and uneven, peel them so you remove all soil that may be hidden in the uneven surface.
Gather all the above ingredients, wash and cut them to sizes that will fit your juicer chute. Run everything through your juicer and pour into a pitcher. Stir the juice in the pitcher.
Remember to avoid drinking this beetroot juice every day. Consuming a glass of this juice two or three times per week should be enough to provide you with the cardiovascular benefits.
If you want to promote better heart health, you may also eat steamed beetroots when not juiced.
Sources:
https://juicing-for-health.com/health-benefits-of-beets
http://healthiertalk.com/heart-disease-cancer-many-healthy-benefits-beets-3303