4 Light and Healthy 4th of July Drinks to Make
Last updated on
For many people, the best way to celebrate the Fourth of July is with friends, barbecue, and a few cold drinks. But have you ever looked at the calorie counts and sugar levels for most popular and commercial drinks? Or beers? A day of indulging is not worth waking up the next morning feeling bloated, puffy, and achey.
Instead of reaching for sugary mixers and too-sweet wine this weekend, try these non-alcoholic drink recipes. They'll give you a chance to relax without ruining your diet!
4th Of July Drinks To Make At Home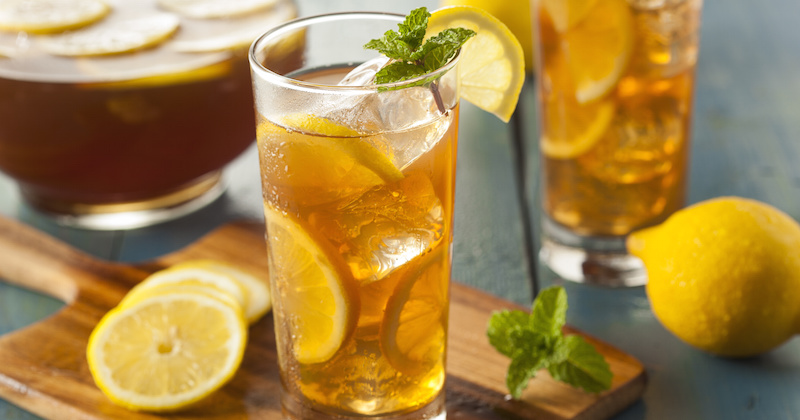 1. Kombucha Iced Tea
Kombucha has a well earned reputation as a probiotic powerhouse. This fermented tea can help you boost your health by improving your body's efficiency at absorbing nutrients, improving your mood, and helping you lose weight.
Before we begin, here's my recipe on how to make your own homemade kombucha tea.
Once you have your own fresh batch of homemade kombucha, here's what you'll need:
One tablespoon of raw organic honey.
½ liter of homemade kombucha (you can also buy bottled ones from Whole Foods)
½ liter of pure drinking water
2 organic lemons.
Here's what you'll need to do:
Mix your homemade kombucha and the water in a large pitcher. Add the raw organic honey and stir. Cut the lemons into slices and place them inside. To cool down, add a generous amount of ice.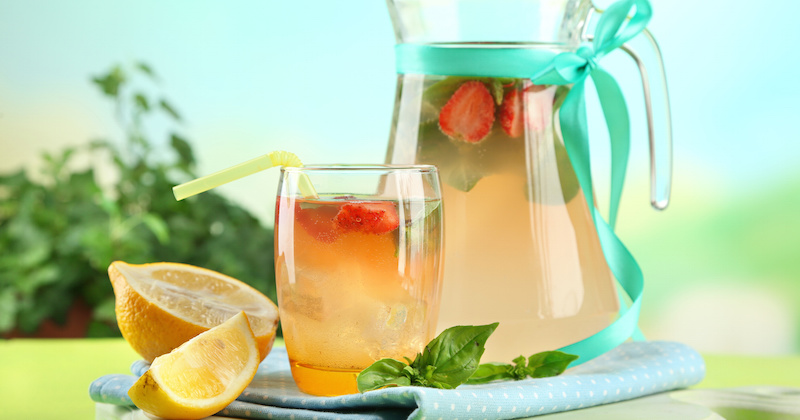 2. Spicy Sweet Strawberry Drink
By preparing this mixture ahead of time, you can simply enjoy this unique drink that can cheer up any 4th of July celebration!
To make this drink, mix:
1 pound of organic strawberries
¼ cup of agave nectar
A sprig of basil
A pinch of crushed peppercorns
Let the mixture sit overnight and then strain the liquids into a container.
When you are ready to drink, mix ½ cup of this mixture with 1 cup of sparkling or seltzer water (with juice from ½ lemon). Add warmed honey to taste, and serve chilled.
3. Pina-Baya Slushie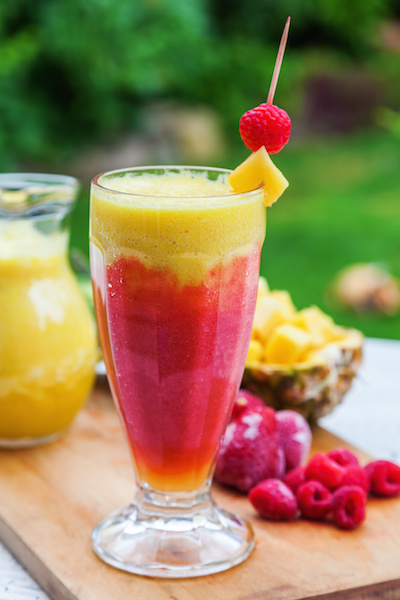 Obviously, fruit is an important part of healthy summer drinks. This blended drink feels like a dessert and beverage at the same time.
In a large blender jug, add all these and blend:
1 pound of mixed berries
(I personally prefer raspberries, strawberries and blackberries)
1 whole pineapple—remove skin and cut up in smaller pieces (you can also used canned but without the sugar water)
½ cup of lime juice
Stevia, or raw honey, to desired sweetness
2½ cups of sparkling or seltzer water
3 cups of ice.
Blend and serve chilled!
4. Mint NOjito (Non-alcholic Mojito)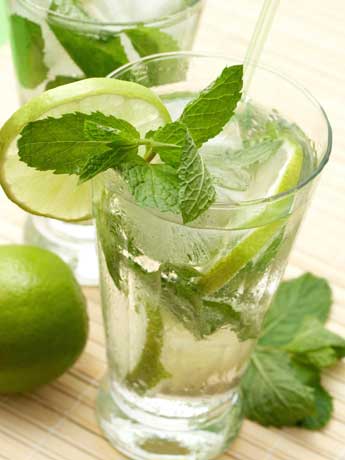 This drink is light, fizzy, and refreshing. It is very easy to whip up and low in calories.
For this you'll need (for one portion, multiply as necessary):
1½ ounces of organic agave nectar (or 1 tablespoon raw honey)
3 ounces of lime juice
8 mint leaves
2 ounces of ginger ale
Crushed ice
Here's what you'll need to do:
Using a sturdy pint glass, fill it with roughly up to 1/3 third of its capacity with ice, then add the mint leaves and lime juice. Then gently crush the ice and leaves using a wooden pestle.
Add a bit more ice and then the ginger ale or club soda. Voila! You now have one of the most refreshing and tasty drinks for the summer.
Vitamin Water
Water is almost the perfect drink to keep you and your family happy and hydrated. For an extra oomph, I recommend making your own homemade vitamin water.
The best part with this drink is that it can be made to suit any taste by experimenting with multiple fruit combinations.
Here's my complete guide to making your own vitamin water.
Living a healthy lifestyle doesn't mean that you can't enjoy the things you love. With these light and healthy drink recipes, you can still kick back with your friends and family without paying for it for several days. Try out these recipes to find your new Fourth of July favorite.
Reference:
https://www.everydayhealth.com/columns/recipe-of-the-day/healthy-summer-drinks-july-4th-bbq/
Some of the links I post on this site are affiliate links. If you go through them to make a purchase, I will earn a small commission (at no additional cost to you). However, note that I'm recommending these products because of their quality and that I have good experience using them, not because of the commission to be made.